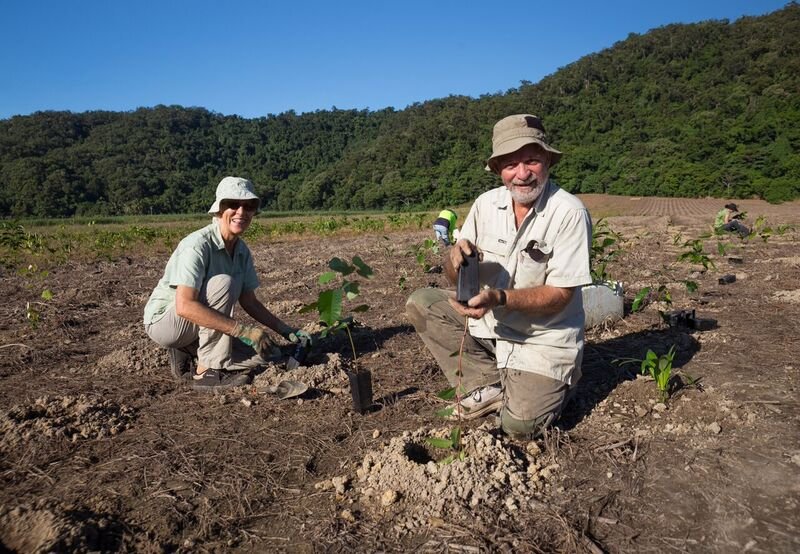 Thanks to your support, a 27th block of rainforest has been rescued in the lowland Daintree Rainforest. Lot 32 Cape Tribulation Road, Kimberley, makes it the third connected Rainforest Rescue property recently purchased to build a new wildlife corridor connecting Lowland Daintree National Park and Nature Reserves in the Cape Kimberley Queensland region.
The Lowland Daintree Rainforest lies between the Wet Tropics of Queensland and Great Barrier Reef UNESCO World Heritage Areas and has a vital role in connecting these two significant ecosystems.
The recent bleaching of significant areas of the Great Barrier Reef is a striking reminder of the impact of human activity on our ecosystems.
However by creating permanent rainforest corridors and by connecting protected landscapes, we give the unique flora and fauna of the Daintree a strong chance of survival while protecting river catchments flowing onto the Great Barrier Reef.
Thanks to you we have managed to do just this, by rescuing Lot 32.
Rainforest Rescue's CEO, Julian Gray, has created a thank you video to acknowledge your support. You can view it here.
Soon volunteers will begin helping Rainforest Rescue plant around 500 seedlings to help restore damaged rainforest here. On Lot 32 there is also a road which needs to be blocked off to eliminate any cars driving over freshly planted seedlings.
What seemed a problem initially is looking to potentially have a very positive solution – by undergoing research and development we have found that by using recycled tyres, we may be able to work with suppliers and funders to turn these scraps into protective barriers to prevent roads entering the newly protected property.
Thank you for helping us Protect Rainforests Forever.