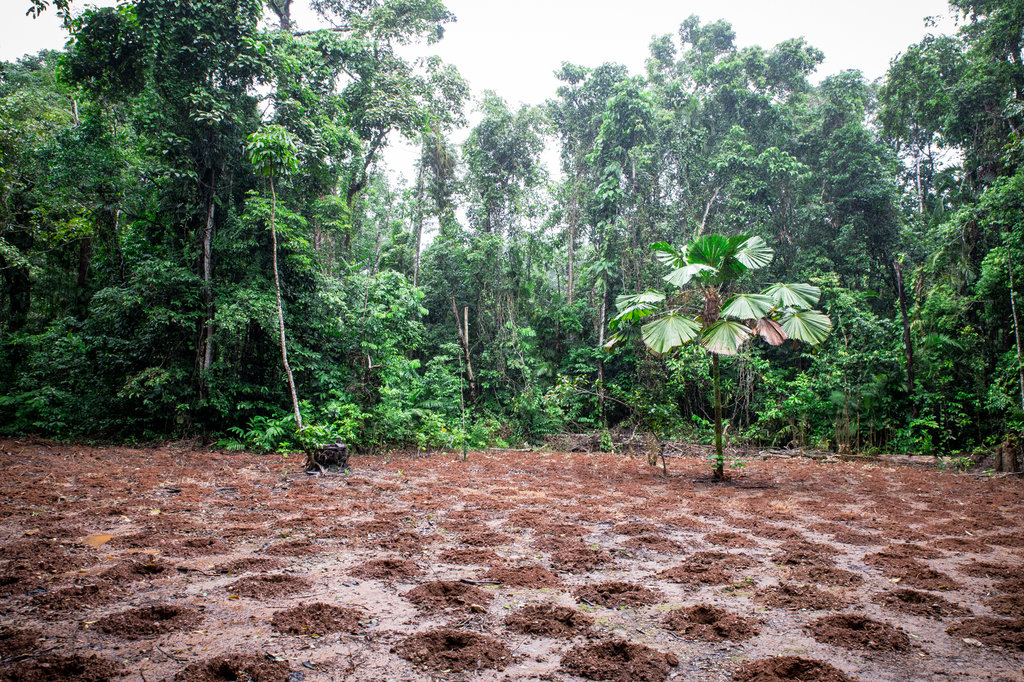 Restoring rainforests to its former glory takes time, heavy lifting and lots of back-bending but the end result is rewarding and incredibly fulfilling said our Daintree Land Manager, Joe Reichl.
In early 2012, gifts from donors enabled us to secure another two special rainforest properties. We were very keen to purchase lots 82 and 83 Rosewood Road Cow Bay as they had council building approval rights and posed the risk of more dwellings being built.
We already owned six properties in this area, so these two additional ones enabled us to extend the Baralba Corridor Nature Refuge - a valuable wildlife corridor that links the Daintree National Park and the World Heritage area.
Flora and fauna surveys verified their high conservation value. The presence of rare plants with limited distribution (like the Rhaphidophora hayi vine), significant sized buttress trees, and limited clearing (at the time we estimated 80% undisturbed rainforest), further increased our desire to protect this rainforest forever.
Once we had secured their purchase, restoring the 20% of disturbed forest did provide some interesting challenges and work for Joe and his team - work that they have just now completed.
For the last two and a half years our team toiled in the heat and the wet to bring the rainforest back.
Joe describes it as "it was like someone took a cookie-cutter and removed a chunk of pristine rainforest from each of the properties". These chunks were meant to be house blocks (neither of which were ever built) instead a massive stockpile of debris and sheds accumulated and these were eventually overgrown with weeds that were knee-high and covered the old infrastructure.
Our purchases ensured these precious rainforest was not cleared and the properties are now protected forever with no chance of potential development.
There is no rest for Joe and his team of volunteers and part-time staff – they are now back at other properties donors have helped us saved forever - weeding and watering trees they have planted in the last two years and removing younger oil palms.
The purchase and restoration of these two properties would not have been possible without the support of our donors – thank you very much. Your support in adopting rainforest helps Protect Rainforest Forever.
We now have our sights set on another two pieces of land to buy and restore and with your support we will save them!

What we have achieved together:
40 tonnes of debris was removed - including sheds, cement, tyres, caravans, water tanks and water tower

4,975m2 of land weeded - Singapore daisy was knee deep

1.4 hectares of land was planted with rainforest seedlings grown in our nursery

Weed clearing also enabled the natural regeneration of an additional 30 square metres

1,764 trees planted

Equivalent of 31 days taken to remove debris, weeds and oil palms

Two more pieces of land restored to their natural rainforest