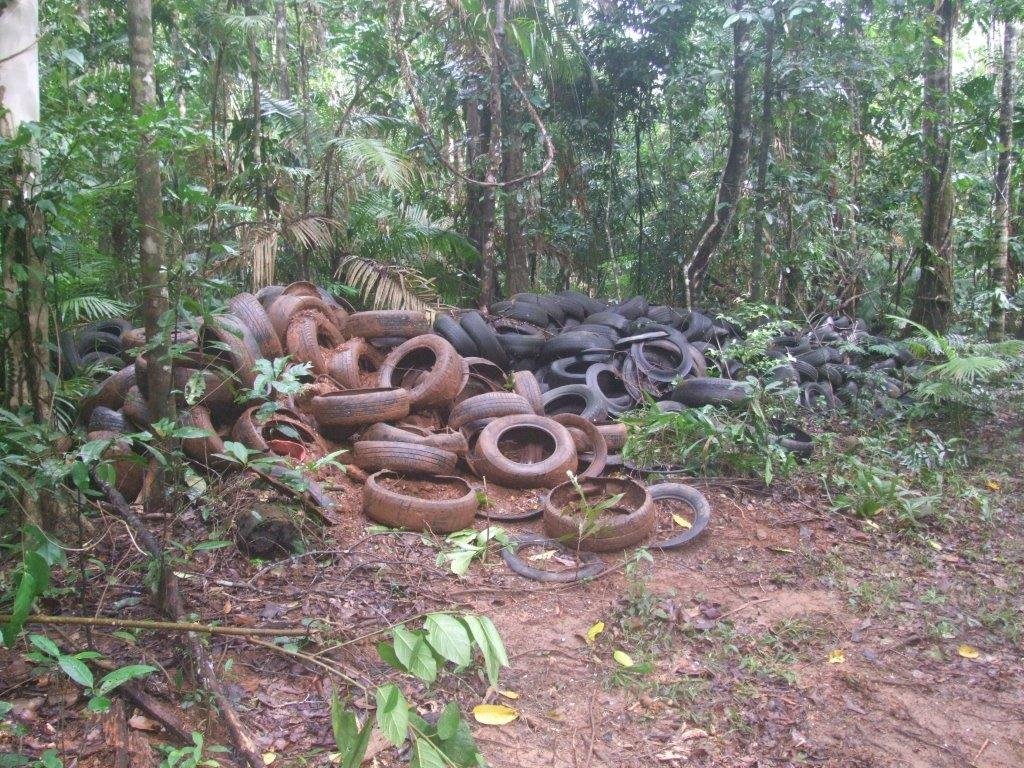 As always, our team in the Daintree has been kept busy as dry weather turned to wet, and then Cyclone Ita hit the coast!
At LOT 46 Cape Tribulation Road nine semi-trailer loads of rubbish, including 13 car bodies, a shed, a tank stand and a 24 foot boat trailer were removed. An additional five tonnes was carted out by hand so as not to disturb the delicate plants. A large concrete slab was broken up and buried three metres underground and another 56 oil palms were poisoned.
Rainforest Rescue's Daintree Property Manager Joe Reichl says: "Oil palms are very aggressive and their roots can spread 60 metres from the trunk. We have to chainsaw the crown and then they implode creating very little rubbish but providing much-needed mulch."
At the Baralba Corridor Nature Refuge in Rosewood Road, three sheds and a tank stand were cleared but there are still around 1,000 vehicle tyres waiting to be removed.
Since the 1960s Lot 46 was used successively as a pineapple and banana plantation (access too difficult to get the fruit out), a palm oil plantation (conditions too wet for oil production) and later for cattle grazing, until Rainforest Rescue purchased it in 2010, with support from donors.
Almost 4,300 trees were planted in January and February, which were wet months, bringing our Daintree tally to almost 54,000. The new trees are growing vigorously as are the weeds, which are sprayed as the weather allows. At our Daintree Rainforest Plant Nursery, more than 10,000 plants are flourishing in readiness for our volunteer planting event on 14 and 15 June.
In areas that have been re-planted, invasive weeds must be controlled until the canopy closes over. This generally takes at least two years.
In early April, Tropical Cyclone Ita hit the Far North Queensland coast. Although classed as a category 2 cyclone, winds of up to 200km/hr brought down trees and branches, closing roads and cutting off access. Our team has been using machetes and chainsaws to free the new plantings of fallen debris. Luckily there was no damage to the nursery infrastructure.
As always, we are very grateful to you, our donors, who make it possible to purchase these properties to protect them forever. Restoration at Lot 46 is supported through funding from the Australian Government. Restoration at Rosewood Road is supported a grant from the Queensland Government.