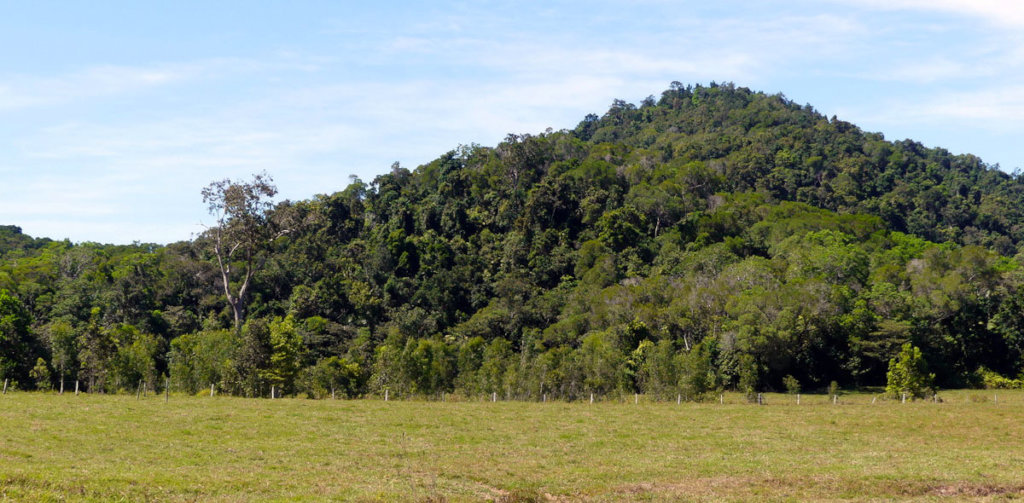 LEVERAGING THE POWER OF PARTNERSHIP FOR THE DAINTREE
Our partnership with Queensland Trust for Nature is strong and making great strides. Together we are rescuing Lot 83 Cape Tribulation Rd – a massive Daintree block. This is a huge 376-hectare (929 acres!) Daintree property which will now be protected forever.
Alongside other opportunities for restoration and extending the Daintree's habitat footprint and continuing our restoration at NightWings, planting trees is the best strategy for mitigating climate change and providing the Daintree's best chances for survival through the years ahead. Trees are the answer!
To accomplish this, we are scaling up our nursery operations by planning and building a new, high capacity nursery on Lot 83, taking our tree production up from 12,000+ trees per year to up to 150,000 trees per year. This is huge! And we're partnering with Jabalbina Aboriginal Corporation to staff and grow this initiative, as well as provide employment opportunities for the local community.
Lot 83 is a largely intact block with several distinct ecosystem types represented from the Daintree River on up to the rainforest-rich peak. Approximately 90 hectares need to be restored through tree planting and management. With our years of rescuing and regenerating the unprotected Daintree lowlands, Rainforest Rescue is perfectly placed to do this; to date, we have planted over 310,000 trees—and with a new nursery planned to be built on this property, we envision producing many hundreds of thousands more. With this new capacity we can begin to imagine when we can count the number of trees in the millions!
TREES ARE THE ANSWER
Rainforest Rescue's mission is to protect rainforests forever. We do this through buy back and restoration of damaged rainforest land. and we undertake significant restoration to transform degraded properties and return them to lush rainforest habitats. Rainforest health is crucial and hundreds of species – many endemic species that are rare and many that are endangered – rely on resources in their established ecosystems for food and shelter. We've now saved thirty-five properties in the Daintree lowlands where they remain forever protected and out-of-reach of destructive activities.
Now we have a place that can support a large-scale nursery which, in turn, will support large-scale restoration. To ensure our success, we'll also be relying on our partnership with Jabalbina Aboriginal Corporation and the expertise and support of their rangers and growing ranger program.
There's a tremendous amount to be done yet, from planning to raising the funds that will deliver a new nursery at the Gateway to the Daintree. The possibilities are very exciting – and the realities of being able to provide more Daintree-sourced, genetically-appropriate trees for restoration is core to our restoration program.
Rainforest Rescue will continue to buy back and protect land, and soon we'll be able to restore more damaged Daintree rainforest than ever before. And of the 250 acres that have been lost to cattle on this block, that is prime rainforest restoration opportunity.
You're going to be hearing more about this initiative and we're very excited that you're on this journey with us. In addition to this new initiative, we're continuing to rescue unprotected rainforest in the Daintree. Together we are making a real and important difference in the Daintree and for Nature.
It's time to grow!