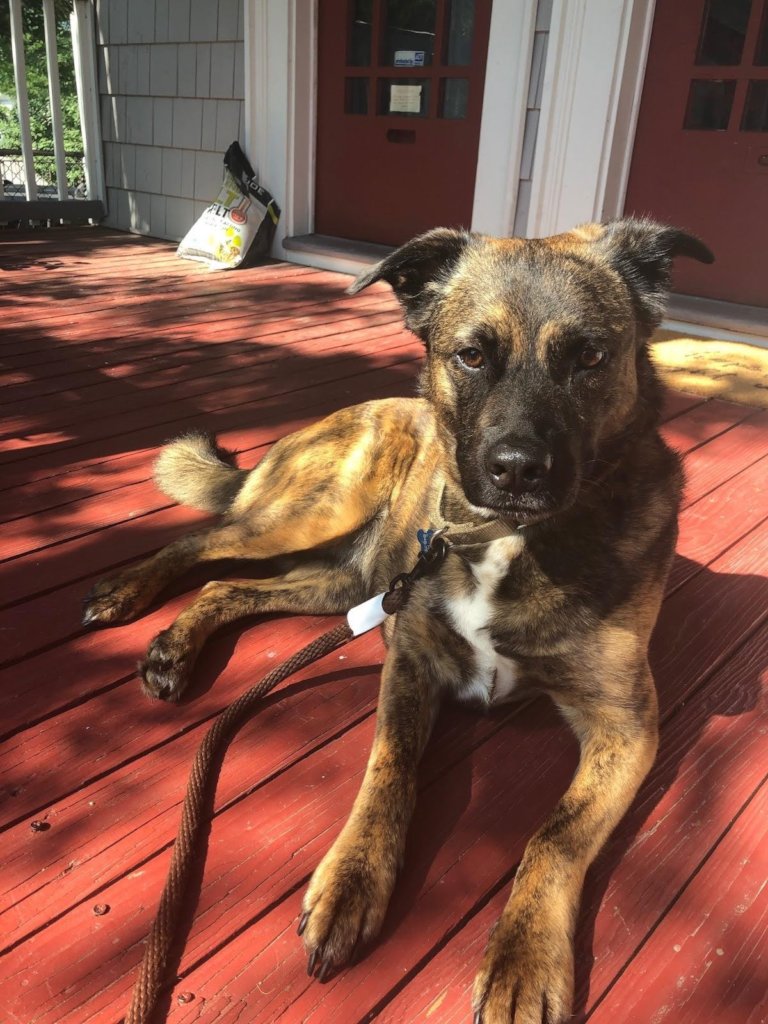 October Report for GlobalGiving
The past few months have been busy at Paws New England! We thank you for your support and are pleased to share with you some of the stories you've helped us achieve.
Dani-Marley
Sweet Dani-Marley needed some time to learn what being a dog meant. She came to us from a place that didn't teach her life beyond a crate. She learned to eat from a bowl, to slowly explore new spaces, and to relax on the couch. Over about a month of time we focused specifically on leaving the house during daylight hours; once she knew the outdoors were hers whenever she went to the door, she would want to stay out all day long. Dani was adopted into a home with a fur-brother who is a registered therapy dog, and the huge strides she's made by having him as her guide is heartwarming! She settled into her new home so much faster, and adores her big brother who continues to show her all of the ways to have fun!
Tanker
Tanker was surrendered from a home that could no longer care for him. Most of his fur was gone, and he needed treatment for skin allergies to regrow his hair. Despite the discomfort he was in, he loved every second he was with you. He settled right into his foster home with me, and from what his new mom says, he owns all of his new home. His fur has come back in, and what a coat he has! This little guy is a spunky fella who knows it and requests ALL of the love, even with his new brother around (who's also a PAWS alum)!
Sweetie
Sweetie was rescued from the place where she was born in Tennessee where she was kept in a kennel /barn stall for the first 5 years of her life. She had no socialization - no human touch besides the handler that fed her daily in her pen. Sweeties paws/legs initially white were stained from the excrement she had to endure standing in.
Coming to Paws New England, Sweetie was very withdrawn. She would stay in her crate and face the wall. She had never touched grass and would tiptoe outside in the yard on the grass and almost be on her front paws so her back feet didn't touch the grass.
Her foster started working with a volunteer behaviorist who suggested we hand feed sweetie. She would not leave the house as she was terrified for leaving the front doog. Little by little her foster family was able to get out and take a walk in the woods.
She made such great strides in foster care she would sometimes make eye contact ..allow for some pets and be hand fed. She was adopted by a wonderful family who has continued to work with her and now named Ellie has a loving family full of cuddles and hikes!
Coralen
Sweet Coralen was rescued from a life on the end of a chain in TN. She and her puppies lived outside in often chilly conditions (we rescued the puppies too!!). Coralen went through alot after being rescued- she was heartworm positive so was treated for that and then had to have FHO surgery to repair her hip. Throughout all of this, she just wanted human attention and love. She deserved the best and when she came up to be fostered in New England, she was able to find her forever home. She is spoiled, loved and doted on everyday. She has a dog neighbor she loves playing with. She takes hikes around the land of her new home. The family who adopted her is immensely grateful to PAWS for helping them to find this sweet girl!