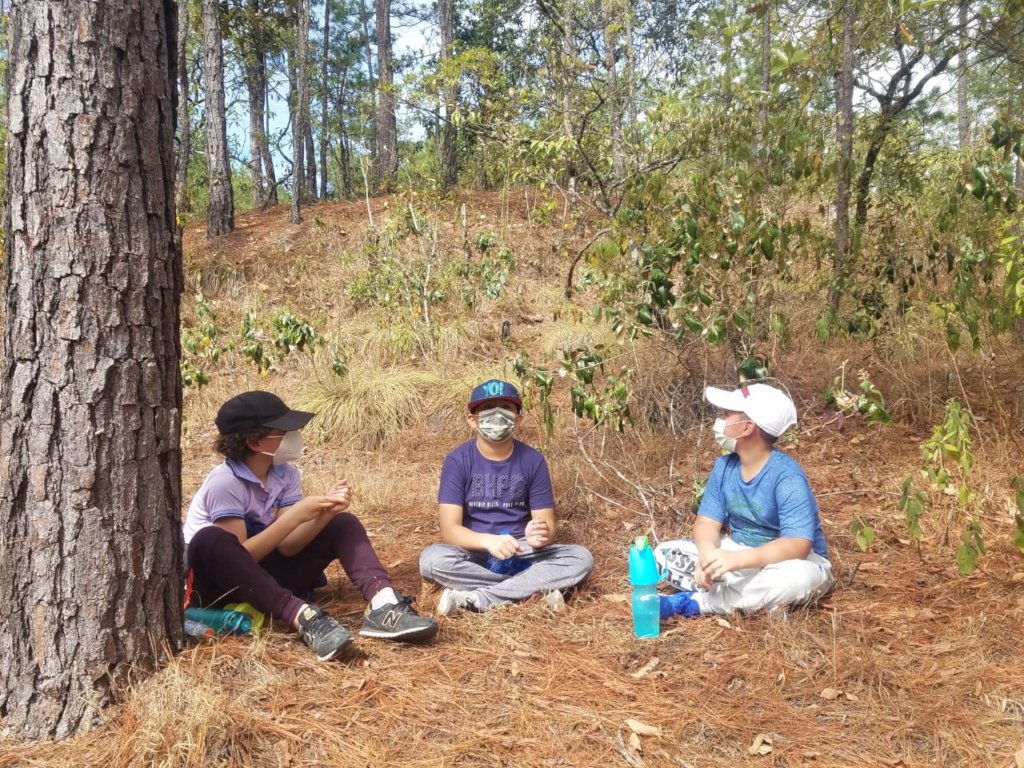 It's a bit hard to believe that we are almost to the middle of 2021. Here at Amun Shea we continue to push through the COVID-19 pandemic. Our students came back to school in person on April 6th and, oh, what fun it has been! But it has also been a challenge as we continue to face the realities of an ongoing pandemic and remain in major need of financial support--but more on that a little later. Let's get into some good news!
Have you heard? We were in the news! Amún Shéa students were recently featured in Prensita of La Prensa Gráfica in El Salvador as Earth Heroes! This feature is a testament to the hard work our students, teachers, and staff do every day in honor of climate action and generating real change in rural El Salvador. Check out the images below.
We've also made a concerted effort to strengthen our presence in social media. Please be sure to follow our accounts on Facebook, Instagram, and Twitter. The more followers we have, the better--so please share with your family and friends as well. You can find us on all platforms via @peofelsalvador.
Speaking of social media, please check out our Instagram account where we have featured our students' recent participation in a photovoice project centered on ecological consciousness. Through photo artwork in collaboration with FLASCO and UNICEF El Salvador, Amún Shéa students showcased their knowledge, talent, and skills while addressing the tough reality of a changing climate and environment degradation and those most affected by this reality--communities living in poor, rural areas.
Aligned with our school's focus on ecological consciousness to inspire innovative solutions, we were able to raise $2,050 during the Climate Action Campaign here on GlobalGiving. This campaign occurred on April 19-23rd where every donation of $100 USD or less per unique donor was 100% matched. This was our first year participating in this campaign and we're excited to participate next year if given the opportunity.
On another note, we've been making some important internal changes on the foundation side of things. One major change to note is our new mailing address. We are now based out of Delaware at 9135 Memory Rd, Greenwood, DE, 19950. Please send all mail correspondence to this new address.
Now here's a painful moment of honesty: Our fundraising has fallen substantially short since the start of the pandemic--in fact, the first quarter of 2021 has been hit the hardest. Even more, it has been a real challenge to self-generate funds on the ground due to pandemic restrictions. Nevertheless, our economic needs remain the same as past years, averaging a need of $10,000 USD monthly. Here at PEOF + Amún Shéa we are constantly growing and are always looking for more sustainable ways of funding. If you have any ideas or propositions, please send us an email at learn@peofoundation.org.

Thank you for your continued support of PEOF + Amún Shéa. Your support directly goes towards student tuition, meals, and materials, along with teacher and staff wages. More importantly, when you your support is an investment for a brighter future for families in rural Northern Morazán--a future full of innovative and responsible education, sustainable economic development, and life-changing opportunities.
May the showers of April continue to bring new blossoms moving forward.
peace & love,
Michelle, Ron, and the entire PEOF + Amún Shéa team