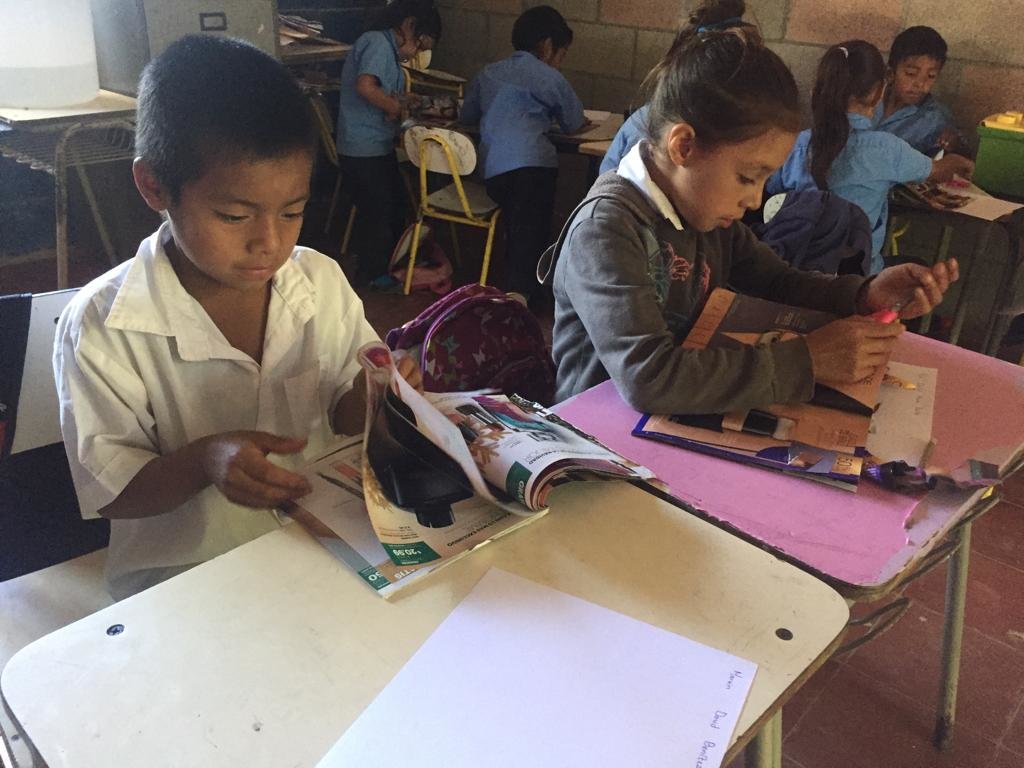 Faced with the emergency by COVID-19, uncertainty arises in the heart of humanity. We are currently facing a situation that tests our life skills and as Amún Shéa today our commitment grows, our efforts unite to guarantee the educational quality in the rural areas of the country.
As PEOF for many years we have joined efforts with the Ministry of Education with the objective of guaranteeing a pertinent rural education in the northern area of the department of Morazán, it has been possible to incorporate the methodology of Problem Based Learning in the eight schools that make up the System Integrated of Perquín (SIPER), literacy alternatives such as the Global Functional Communicative Method, multi-grade classroom strategy, incorporation of productive systems through school gardens, learning life skills.
The conditions of the municipality of Perquín are different from those of the rest of the country, the difficulty is not only to access territorially but also the limitations to innovate in education using technological tools, the internet and electronic devices. Now, given the emergency, the challenges in the eight SIPER schools have increased.
There is a team of 59 teachers who strive to keep in touch with the 1,300 students who receive classes in different Educational Centers in the municipality of Perquín, some without internet access in their entirety, with difficulties for the telephone signal, among other difficulties that mean a Pleasant in a moment of crisis where it is essential to have a device with internet to receive your classes.
A good part of the student population is receiving their virtual classes but the most disadvantaged are looking for alternatives, we are very pleased that there are committed teachers and even with all the limitations, they are doing their best to guarantee pertinent rural education.
Let us know their experiences:
Joya de Talchiga School Center, Educational Center located in the border area with Honduras, does not have access to transportation, internet and some resources such as energy are limited and the access they have has been thanks to the effort of the community.
Carolina Martínez, director of the Joya de Talchiga School Center "We have prepared guides through the multigrade strategy, because this is how we were working throughout the year, we provide books to the students and as director I go out house by house to deliver the weekly guides" because of a total of 40 children we serve, only two have access to WhatsApp at home through their parents' devices. It is not easy for us but we are doing it. "
The efforts are great, we are proud of the effort that each teacher is making, our commitment as a foundation is to be able to continue providing support in the different processes, to work together, to unify efforts, ideas and strategies so that the school year of the fruits that we set ourselves in january.
Elizabeth Vigil, director of the El Chagüitón School Center "We are facing great challenges, the conditions of our children are different from the urban areas of the country where there is greater accessibility to the internet or tools such as a computer or a smartphone, many of the parents do not know how to read and write, so helping children children is a very difficult task for them ".
Now our challenge is to revolutionize education in a digital way, it will not be easy but even from home we are looking for alternatives that allow us to generate optimal learning spaces, always under the methodology of Problem-Based Learning. The Amún Shéa team is generating learning experiences through various means, in a personalized way, attending to the conditions of each child, their learning rhythms.
We know that today we must look for alternatives to adapt and it will not be an easy task, but these years we have built a path by which to walk, as a strengthened system that takes slow but safe steps, trained teachers, strategies implemented in the classroom, monitoring processes and follow-ups for the processes that we are guaranteeing even from home.
All this is possible thanks to your contribution, with your help we have managed to move forward here and now we know that education must be in constant change, innovation and commitment to always provide educational quality by whatever means possible.