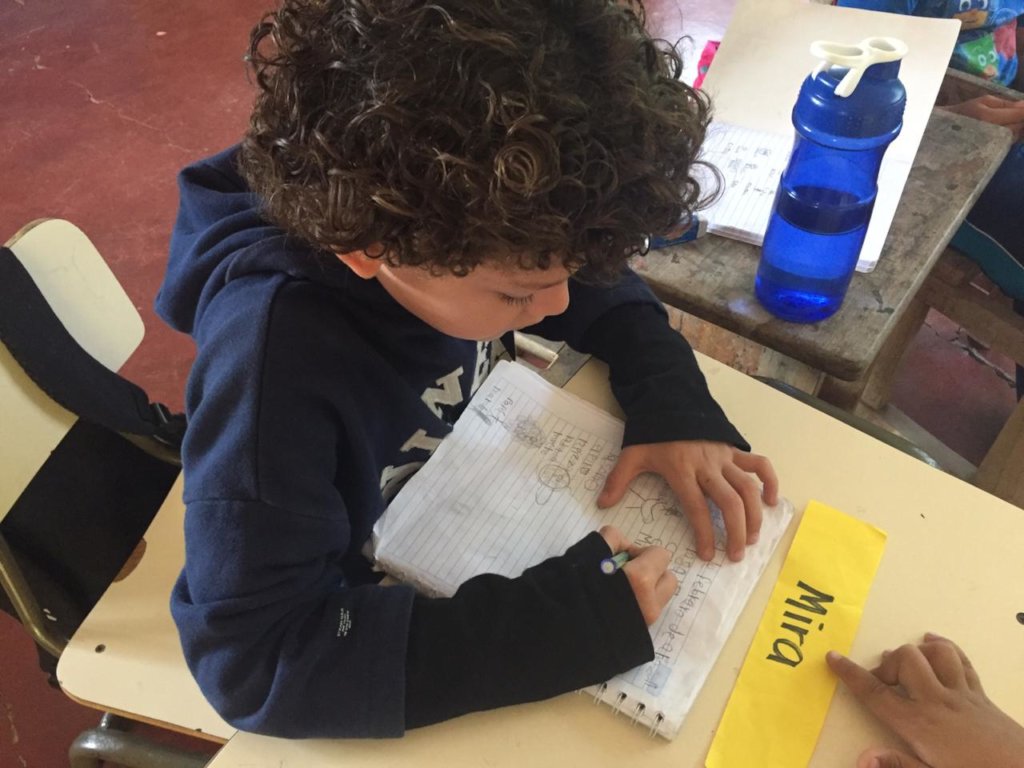 The learning of literacy is fundamental from the first years of study and it is important to have bases that ensure that students will have an effective and meaningful learning, which at the same time enhances their understanding and reasoning skills. In our interest to achieve success and development through quality education we look for alternatives that direct the processes in the right way, so Amún Shéa adopts the Global Functional Communication Method as a learning strategy in the levels of early childhood education , first and second grade.

Initially the method was used as a guide for the teaching of literacy for people with learning difficulties. Literacy has been one of the great challenges teachers have faced and exhausted efforts with traditional methodologies. The Global Method in essence is a different way of teaching and has been successful for children with Down Syndrome, Autism, Dyslexia, hyperactivity, among others, but its personalized form in Amún Shéa we have incorporated this methodology with the objective of guaranteeing the learning of the literacy and the strengthening of understanding and reasoning of what children read and understand.
Leidy Hernández, teacher of the Learning Community 1 (first and second grade) at the Amún Shéa Integral Development Center "I define the global method as a methodology that respects learning rhythms and interests, and as teachers we must take into account that the processes they are personalized and the teaching is based on each child, thus identifying those elements that attract them and in this way it is achieved that learning is not forced but on the contrary they find a motivation to learn ".

Children learn to read with words from their environment, what they like most, or what they do on a daily basis. Family ties are very effective to start with the words they will remember most easily; therefore, it is recommended that a diagnostic evaluation be done to assess the level in which it is located, the purpose is to be equitable with each process.

Jaime (seven years old), first grade student: "I'm Jaime and I learned to read 60 words in two months, I learned syllables and now I read short books, I like to read but I learned with numbers because I like math".

The method helps children to feel safe to read and allows them to identify words taking into account their environment, as Sofia (seven years old) first grader said: "I learned to read with my mom's help, but my teacher taught me to read, she gave me words and I saw the images and that's how I knew what she said on the cards with the images she saw, now I write my name and other words".

Esteven (seven years old) first grade student: "I learned to read with the cards and what I like most about knowing how to read is that now I can also write words and write them on a poster to present them to my classmates".

This is how the method develops literacy skills and this contributes to cognitive development not only in language but also in science, mathematics, life in society and personal life. Quality education must pay attention to each child in particular and attend to diversity.

"I'm Diego and I'm 7 years old, it was difficult for me to learn to read, I could only read nine words, but with the cards and the images where I could see the words I can now read fifty-seven, I know I can learn many more words."

In Amún Shéa we are committed to continue building a quality education that manages effective primary education, with the aim of breaking the barriers of educational conformity and finding alternatives so that learning is the priority and attention is paid to diversity.