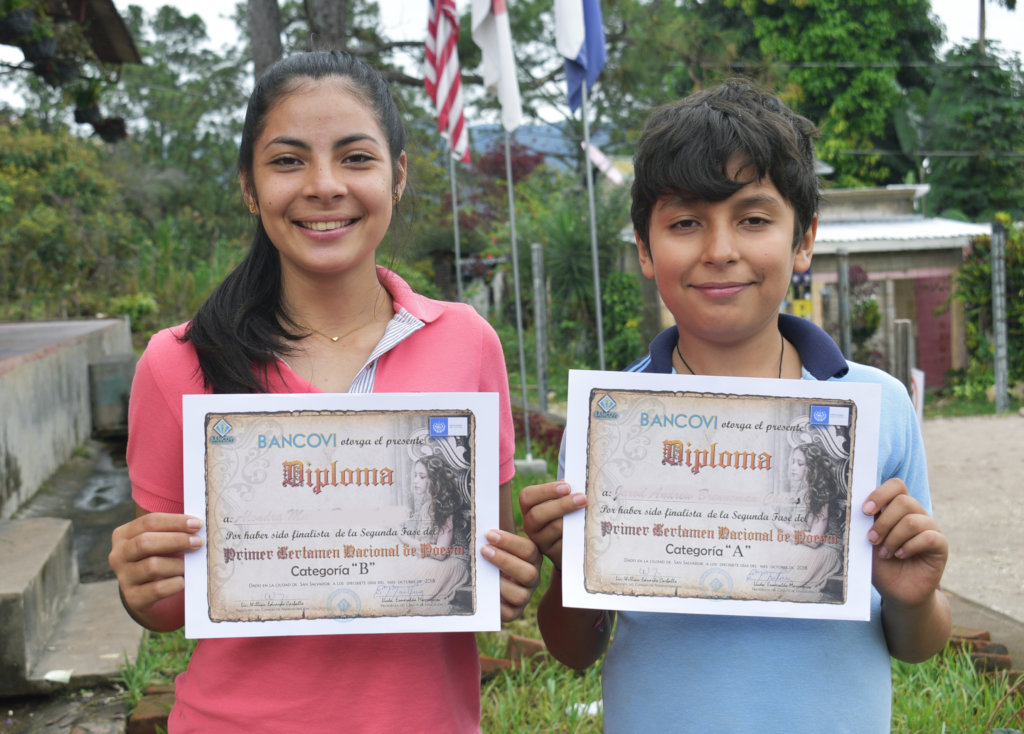 Phonological awareness is the ability to identify the sounds that make up words, children learn to decode messages and making use of sounds becomes easier, favoring the learning of reading and writing.
Amún Shéa seeks to strengthen the different areas of language, recognizing the importance of expressing feelings, thoughts, emotions and knowledge as the key tool to achieve autonomy and each student is the manager of their learning process.
As a complement to the learning methodology, students have the opportunity to participate in the spaces that different organizations and companies open in favor of education in El Salvador. For the strengthening of reading and writing, our students participated in the first poetry contest, organized nationally by the Cooperativa de Cooperativa de Conservación Magisterial Vicentina (BANCOVI), where two students were selected who, at a national level, demonstrated their love for the art of poetry.
Andrew (11 years old) fifth grade student, shares his experience as a finalist in the children's category: "I was happy for the opportunity to participate in the poetry contest, I realized that I have a lot of potential and although I felt nervous because it was a contest at a national level, what motivated me was to demonstrate that learning is not only in a classroom but through experiences ".
Alondra (17 years old) high school student, winner of the first place of the contest "At first I did not want to participate, but the support of my mother and my teacher motivated me to compete, the contest allowed me to write three poems in honor of my grandfather who died Five years ago, in the process I learned not to give up and to trust that with the help of God I can achieve all my dreams".
The success achieved through education is the key that defines Amún Shéa and the constant search for the development of the department of Morazán, will only be achieved with the involvement of all the sectors involved to build a country that leaves behind the violence that is so damaging cause and change for a country of opportunities for children and young people
We can build quality education in different forms of artistic expression and we are committed to finding the tools to do so. We appreciate your interest and contribution for the education of the children and young people of Morazán.