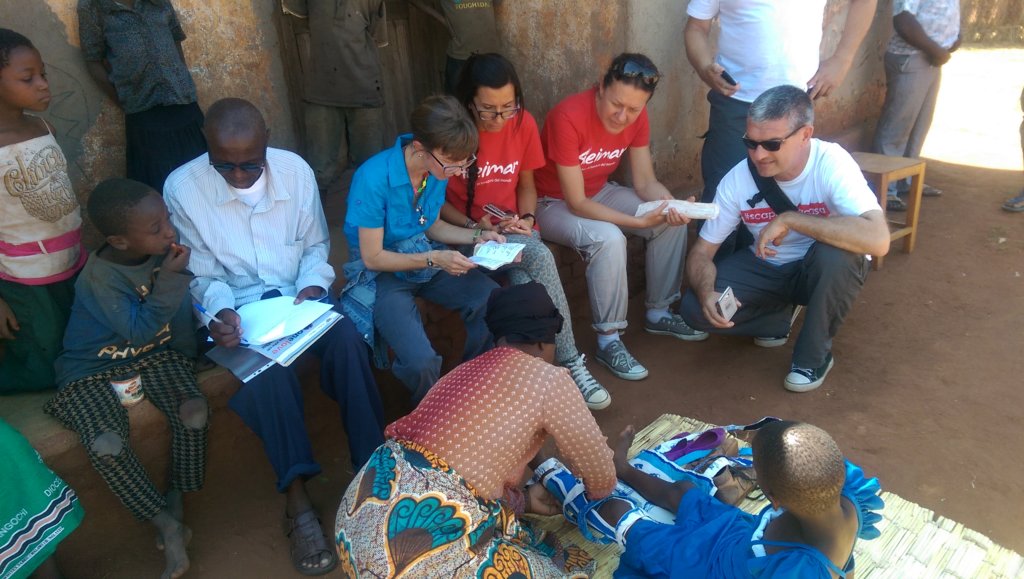 Our President Elena and a group of Aleimar friends have just come back from an exciting trip to Malawi and here's the latest news on the project "Let's walk together"!

There are currently about 200 children who, with their mothers or other members of the family, regularly attend rehabilitation sessions in the equipped gym of Namwera village and recently the support has also been extended to some children from Mozambique. Namwera is just 15 minutes from the border with Mozambique and some volunteers, with the physiotherapist Gift, go to the nearby state to visit disabled children and teach some easy family rehabilitation exercises.
During their stay in the Mangochi district, our Malawi group had a chance to meet Marina and took part in a rehabilitation meeting and subsequent distribution of rice and flour, staying surprised and fascinated by how the Marina, Gift and all the volunteers work with love and devotion.
Gift is the real point of reference, and even in the absence of Marina, it deals with everything: from visits, to diagnosis, to the personal rehabilitation program, approaching mothers of children in a simple and patient way and following the children with great care and affection. Due to widespread illiteracy, many women have difficulty in understanding and, just because of this difficulty, Gift is available to accompany them to the hospital even when their children have no motor problems but other issues.
Finally, here are the words of Dora, who has lived this intense experience in Malawi:
"It was exciting to see children like Lucy or Patuma socializing and spending time outdoors; until a few months ago they lived every hour of the day in the hut without being able to move. We also met Fatima, one of the first mothers who in absolute spontaneity had pulled a blanket on the ground and taught to other women in the village the exercises he had learned during the hospitalization of her daughter Dorin to the Feed the Children Rehabilitation Center in Blantyre. Since then, Fatima is part of the Tiyende Pamodzi Group and, thanks to an economic contribution for her work as diurnal keeper of the hall of the Group, has also managed to build a worthy home for her and little Doreen, thus achieving a personal ransom.
The smile and the strength of these children and families have filled indeed us the heart of happiness and we want to thank all those who supported the project and that even with a little donation allow us to improve the lives of many disabled children".