Dear Free Minds Friends,
Summer may be winding down, but our Free Minds programming for previously incarcerated youth has more momentum than ever. Since we last updated you, many of our members have gone on to start new jobs or enroll in college classes for the fall. And they couldn't have done it without your support! Know that every time you donate, you are bringing a young person in our program a second chance to succeed. Here's a taste of what we've been up to recently:
Taking a moment out of our busy lives for reflection and growth
In July, we had a Free Minds first: an overnight retreat for Free Minds reentry members. The two-day retreat at Sandy Spring Friends School near Greenbelt, Maryland was an amazing opportunity for our Free Minds members to get out of the hustle and bustle of the city to take a moment to reflect on Free Minds programming and how we can better serve our mission. Free Minds members and staff participated in team building exercise, public speaking trainings, and of course, writing workshops. Together, we brainstormed ways to expand and improve our "On the Same Page" violence prevention programs in DC schools so that we can continue to work toward making our community safer and stronger. In a writing workshop at the retreat, Free Minds member Alisha wrote these powerful words about her journey from incarceration to her future goals:
"If you wanna know where I'm going
Just kiss the palms of my hand
Because I'm evolving outta darkness
And grabbing on to life"
Free Minds member Gary also wrote a poem summarizing what the entire retreat experience meant to him:
"I come from a society of its own
But where I'm going is a different spiritual zone
Where I can sit and write at Sandy Spring Lake
And not have to worry who is creeping behind the gate"
Honoring Martin Luther King Jr.'s memory by following in his footsteps
This August, the Washington DC community commemorated the 50th anniversary of Martin Luther King Jr.'s historic March on Washington and "I Have a Dream" speech with a series of community events culminating with a reenactment of the march itself. Several Free Minds member took to the streets to get the word out about the effects of youth incarceration. With banners and signs proclaiming slogans such as "Educate, Don't Incarcerate" and "Spend Less on Prisons, and More on Schools," Free Minds members shared their vision of hope and change with everyone they could reach at the National Mall. It was an exciting and inspirational day for all involved. Free Minds member Alisha brought her 8-year-old daughter to the march; she said, "This is the best way to celebrate Martin Luther King EVER!"
Our On the Same Page program: finding common ground in every group
Though school was out of session, we continued to bring our On the Same Page violence prevention program to DC youth and community groups this summer. Here at Free Minds, we know that the challenges our members face in prison and then later when they reintegrate into the community affects not only their immediate circles, but the strength of the entire community. That's why we've made a special effort to reach out to a diverse range of groups, from a chapter of Daughters of the American Revolution to incoming college freshmen at Georgetown University.
Recently, we had a particularly moving On the Same Page session with a group of middle school students from Chesapeake, VA. There, we met a young girl who bravely admitted to the whole group a secret she had never shared before: that her father was incarcerated. She cried after the program but was comforted by Free Minds Poet Ambassador LaTrae, who shared how he too had grown up with an incarcerated parent. The girl was so moved by the experience that she began to write her own poetry to process her emotions about her father. "Thank you so much for this opportunity," she told us in an email, "It's really important to me to show others to really be respectful to their family 'cause you don't know what to expect in the future. I just really thank you and all the others for making Free Minds possible. I also sent a letter to my dad about Free Minds and writing poems about his feelings." Her story reminds us of the power of poetry to foster understanding and bridge the differences that divide us.
Everyday moments like this remind us why we do "On the Same Page" in the first place, and reaffirms for us what we have long held to be true—that reading and writing has the power to change lives. Thank you for sharing our belief in this power and for all of your generosity and support. Together, we are making a difference!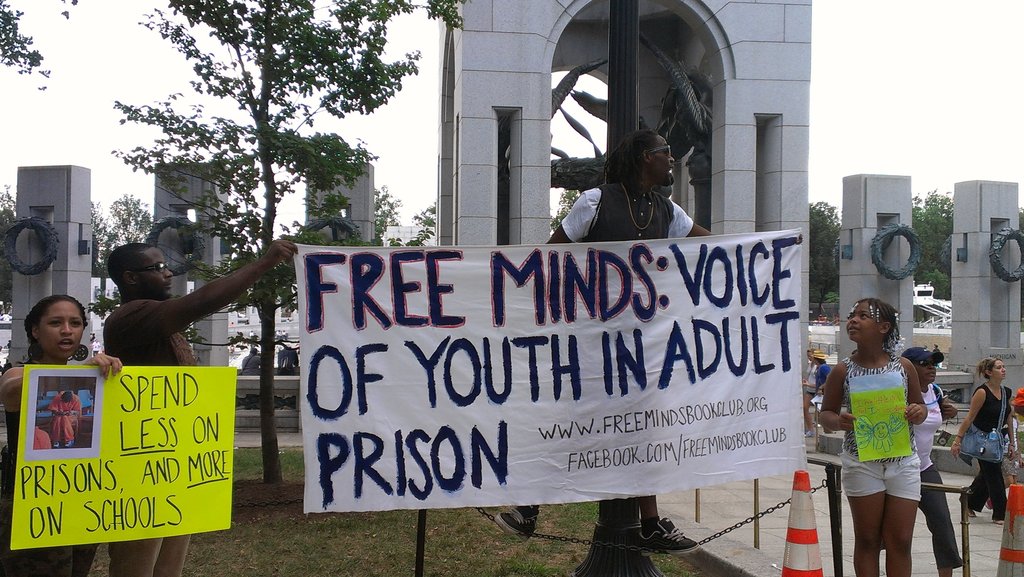 Links: