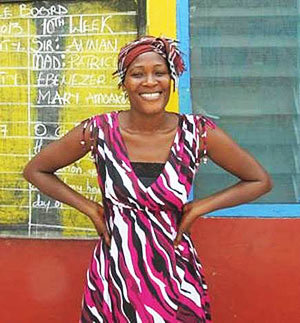 The founder and head of the Royal Seed Home in Tema, Ghana, Naomi, knows exactly how it feels to be a street child – she herself was one. Now, she has dedicated her life to helping children who are just like her and with the aid of the One Child One World™ program, she is able to address the issues of malnutrition among the children in her home.
The AmeriCares One Child One World™ program in Ghana works to address the nutritional and health needs of vulnerable children living in orphanages across the country. Now in its third year, the pilot phase of the program is targeting 30 homes across the country that serve 1,800 children and their 300 caregivers.
When she was a teenager, Naomi began taking in younger street children to share her one-room apartment and train them in dressmaking. "These children are just like me," she explained, "They grow up outside society and they have no social protection. We all have the same story."
Naomi's inspiration to start the Royal Seed Home came to her in a dream where she was feeding an endless line of street children. She woke up knowing that was her calling in life. She immediately began raising funds to establish her home.
Today, Royal Seed Home is home to 150 orphaned and vulnerable children who are cared for by 28 caregivers. The home is mostly community-funded and has very limited access to resources to care for the children. Through the AmeriCares One Child One World program, Naomi and her staff have received regular deliveries of nutritionals and hygiene products that have contributed to providing even better care to the large and ever-growing family at the Royal Seed Home.
Results from the program baseline show that 29% of children living in homes are considered underweight and 17% are considered "wasting," or extremely underweight. These levels are about twice the levels found among Ghanaian children outside of homes.
AmeriCares partners with Hope for All Foundation and the Youth and Social Enterprise Fund to deliver fortified meals and nutritional supplements to strengthen the nutritional status of the children. To date, more than 100 caregivers have been trained in child development, basic health and hygiene and nutrition. AmeriCares has also delivered more than 5,000 course treatments of nutritionals and over 517,000 XANGO meals since the project began.