On Tuesday's plenary session at the International AIDS Conference, Phil Wilson of the Black AIDS Institute talked about the need for an "army of patient navigators," people who provide the critical connection between HIV-affected individuals and life-saving health and social services.

As a Peace Corps volunteer working in Northern Cameroon, I came to know a timid collection of youth who believed that their HIV diagnosis was a death sentence. In addition to facing the stigma surrounding HIV, they must overcome the burdens of poverty, limited literacy, and in most cases being a woman in a conservatively Muslim society.

Under the shade of a neem tree, they questioned the possibility of their dreams. How long could they live? Should they invest in going to school? Could they ever hope to have a family someday?

Antoinette, shy and tall, spoke of how her husband accused her of bringing HIV to their marriage and abandoned her.

Yaya had been left to die in an isolated room of his family's compound because his family did not know about life-saving drugs.

Aïssatou is a widow and mother of three, struggling to provide for her children.

Six years later: through education and empowerment, these young people and dozens more like them have been transformed into dynamic, awe-inspiring front line health workers!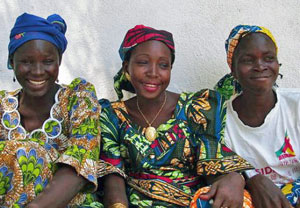 First, they gained the knowledge to manage their own health and live positively. Then, they received a comprehensive HIV peer education training, and became armed with communication and leadership skills to educate others in their communities about HIV and AIDS.

Now these HIV-positive young people reach out to the most vulnerable in their communities. They are uniting in solidarity to face down stigma and providing home-based care as well as psychosocial and financial support to HIV-affected families. They are partnering with the Ministry of Health's regional directorate and district-level health facilities to ensure that people living with HIV have good relationships with the doctors and nurses there in order to access higher quality preventive care, CD4 tests, and ARVs.

Antoinette recently gave birth to an HIV-negative baby and works as a social worker to ensure that HIV-affected families access the government's social protection programs.

Yaya is now on ARVs and has been trained in gender-based violence. He works with men to consider their role in negotiating sexual partnerships and condom use to prevent HIV transmission.

Aïssatou can now pay for her children to attend school because she is healthy. She was awarded a scholarship from UNFPA and promotes prevention of mother-to-child transmission in her community. She also travels over bumpy roads to the border town of Kousseri to train sex workers on how to get tested and become peer educators and promoters of safe sex.

These peer educators are the missing link between communities and health care services. They are cost-effective and they promote social accountability. As so eloquently stated by the speakers at Tuesday's session on health workers, these armies of patient navigators, peer educators, and front line health workers will play a key role in turning the tide on the AIDS epidemic.

Full disclosure: I am the chair of the Board of Directors for Education Fights AIDS (EFA) International, the organization that provides the capacity-building services described.

Photo 1 courtesy of Rachel Deussom. Photo 2: Peer educators Katerine, Aïssatou, and Doudou support their communities and each other in the fight against HIV and AIDS in Maroua, Cameroon. © Rachel Hoy Deussom/EFA International
Links: