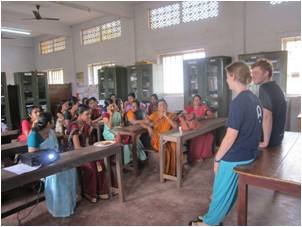 SDPY is a school set in the backwaters of Kerala, India; it is a school with few resources, and a lot of potential. It is a school housing classes with up to 59 students at once, and some are taught in a hall with three classes separated only by wooden planks. The teachers, naturally, struggle to keep every student motivated and focused, as well as give special attention to those who struggle.
GVI has been involved with SDPY since last semester of 2011 – taking one on one with students who need extra attention, and building a resource bank for fun learning. It is still a fledgling project, and the understanding of what GVI wants to accomplish isn't always as clear to others as it is to us, who have prepared, have a vision and a plan. So GVI decided to have a teacher interaction day.
We asked the teachers to come to the library after school for a presentation. Our fears that no one would turn up, or turn up and not be interested were soon abolished and we had a room full of curious teachers nibbling cookies and chatting. We introduced the GVI Kerala organization, our goals and dreams for the school. We focused on practical matters like our one to one sessions with the children, and building a resource bank, as well as the soft aspects of cooperation between GVI and teachers, and creativity in school. Much to our content, after the presentation was finished, we were invited to give more presentations, to have workshops for the teachers, to help out with power point presentations for health club amongst other things.
Slowly we are getting more and more accepted as a resource. We have to remember- building resources takes time, and it is a process that needs to take its time. Building relationships with the community members and reinforcing positivity are important building blocks to set a stable foundation and maintain a good working relationship. We are all just human, and without that connection we have nothing to build on. We are happy to be on our way.