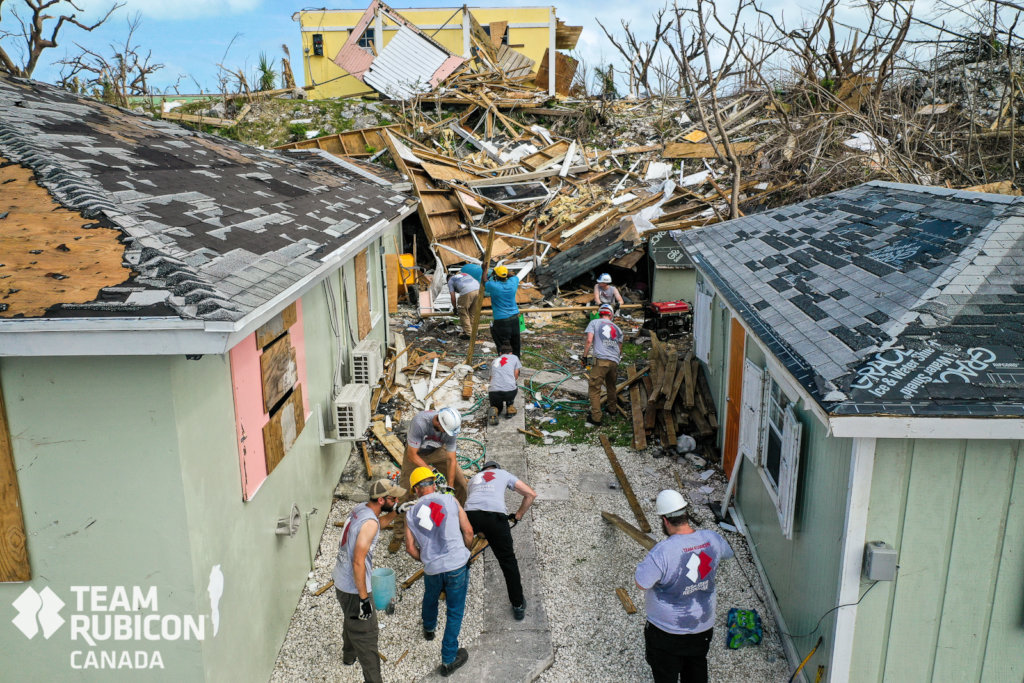 With your support the Team Rubicon network was able to mount a rapid response to provide humanitarian assistance to the survivors of Hurricane Dorian in the Bahamas and then, critically, remain in the Islands for the weeks following the disaster to assist in the recovery efforts in the aftermath of the storms.
On Sunday 1st September, Hurricane Dorian made landfall over northwest Bahamas near Elbow Cay in the Abaco Islands as a Category 5 hurricane, the strongest hurricane in the Bahamas' history. Maximum sustained winds of 295 km/h were recorded. Dorian continued moving slowly westward over Grand Bahama at approximately 1 mph, practically stalling over the island. As of 5:00pm EST, on 3rd September, Dorian finally cleared Grand Bahama on route to the eastern Florida coast.
More than 76,000 people were reported affected and in need of immediate humanitarian relief and as at 11 October, the official death toll in the Bahamas was at 61. The response to Hurricane Dorian in the Bahamas was led by the Bahamas National Emergency Management Agency (NEMA), supported by the Caribbean Disaster Emergency Management Agency (CDEMA), with Emergency Operations Centres (EOC) established in Nassau, Grand Bahamas and Abaco Islands, Bahamas.
Teams from Team Rubicon consisting of international volunteers and specialists from TR UK, TR Canada and TR Norway deployed to the islands and joined up with medical teams already deployed from TR USA.
The initial mission was To provide last mile logistic support on the islands of Grand Bahama and Abaco in order to assist NEMA and other national and international disaster management agencies in order to provide life-saving aid to those affected by Hurricane Dorian. Follow on waves of volunteers joined the TR USA led recovery efforts.
Impact
TR advance teams arrived in the Bahamas on 4 September 2019 within hours of Hurricane Dorian's passing and deployed 26 Greyshirts (17 veterans, 3 blue light services, 6 specialist civilians) over the next 32 days, working across 3 islands – New Providence, Abaco and Grand BahamaTRUK collectively, continuously assessed the needs of more than 30 affected communities, feeding this information back to the EOCs. They directly benefited 3,792 people most in need through the provision of over 142.3 tonnes of life saving aid, broken down into the categories of Food (47.3 tonnes), Water (42 tonnes), Shelter (8.4 tonnes) and Non Food Items (44.6 tonnes). The Teams from TR Canada completed 4000 hours of work orders as part of the recovery operation.
On Abaco our teams re-established power to critical infrastructure including the Government building complex, Central Abaco Primary School (key distribution centre for central and north Abaco) and Coopers Town Clinic (sole medical centre in northern Abaco). TR, alongside a partner NGO, were also able to conduct municipal water quality testing on Abaco and install/repair generators, conduct debris removal, erect tent shelters and fit tarpaulins to key municipal buildings, schools, churches, police stations, medical clinics, an airport as well as worst affected homes across both islands.
Earlier this month our final teams departed the islands – grateful to have been able to help the communities worst affected by Hurricane Dorian and we continue to monitor the region and develop plans for follow up work. None of this would have been possible without the generous support of our donors and partners.