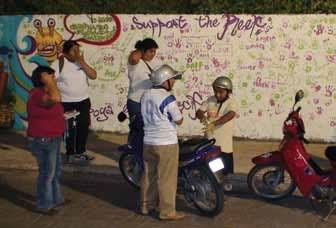 At seven in the morning the teenagers took out their brushes and started an atypically sanctioned graffiti project. It was hot and humid. Really hot and humid. And the temperature steadily rose throughout the day. Tourists and locals in bikinis and shorts stopped to look at the blank wall near the boardwalk that was quickly becoming a colorful tapestry of reef images. Cars along the quiet island's main drag stopped to gawk, causing a resorttown anomaly – a traffic jam. (The traffic, and thus the event, made the headlines the following day.) City workers came to drop off donated audio equipment and were intrigued enough that they not only stayed, they called friends and family to come out and join the festivities.
"They thought it was a really cool event," says Dulce Espelosin, Rare alumni associate for Latin America. Through an alumni network established a couple of years ago Espelosin offered three grants of $3,000 for outstanding applicants wanting to augment work that began in a previous Pride campaign. Itzel Arista won one of the grants. Arista's campaign aimed to engage the youth of Cozumel – the future taxi drivers, hotel managers and tour guides – that have influence over how tourists interact and respect the reef system. The island of Cozumel only has 79,000 permanent residents, but that number can quickly double as cruise ships (which can hold upwards of 15,000 tourists each) dock on the island's sandy shores. Snorkelers, scuba divers and even beach bums put a tremendous amount of pressure on the fragile coral ecosystems. To inspire the young artists, Espelosin took them out snorkeling with a guide. Prior to their underwater education they thought the coral was just something with which to woo a girlfriend or sell on the streets.
They were completely awed by the diversity of species and functionality of the ecosystem. "Wow!" said one of the teenagers. "That's why during the hurricane the island is protected." On the morning of July 26th, when they got to channel the field trip into their craft, it was clear that their talent echoed their enthusiasm for the reef. One of the island's program directors that does youth outreach was amazed that the graffiti artists – usually targeted for their illegal vandalism and a hard segment to reach – were using their skills for a positive cause and asked for advice on how to keep them engaged in this way. People of all ages and nationalities participated in what turned into a street party to protect the reef. On one half of the wall the artists featured reef-scapes and on the other half supporters left a colorful handprint to represent their commitment to protect Cozumel's reefs. By noon, when the dancing, singing and painting was drawing to a close, more than 300 individual hands had left their mark.