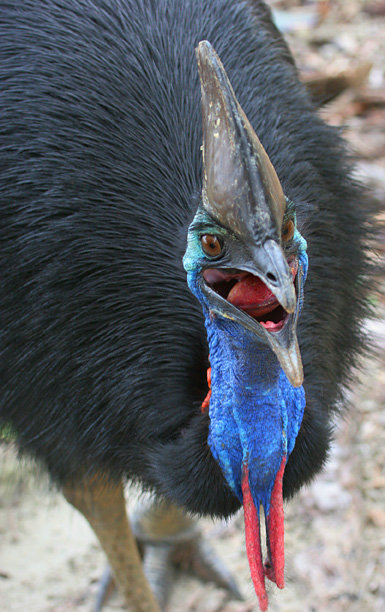 Dear Donors & Friends,
On behalf of Rainforest Rescue, I am very happy to be reporting back to you today. Quickly, I would like to let all of you know that March 14th is Bonus Day at GlobalGiving!!! Donations will be matched at 30% starting at 12:01 AM EST and going until $50,000 in Matching Funds runs out. Funds DO run out quickly so if you can donate, please donate early. Thank You!!
I have a bunch of great news to share and a sad note as well. Since Cyclone Yasi hit in early February 2011, 21 Cassowary have been killed. Many were hit by cars while forging for food in areas struck particularly hard by the cyclone. With only around 1,000 adult Cassowary left in the wild in Australia, this news does indeed strike a cord. But thanks to donors (partners) like you, Rainforest Rescue is right on target and accomplishing our goals.
Every Wednesday we have volunteers helping us in our nursery. Right now, the following tree-planting activity is going on:
-- on Lot 46 Cape Tribulation Road, we achieved the planting of 1,000 trees in the month of February between periods of driving rain. This is a Rainforest Rescue property.
-- On target to plant 3,080 trees between April-June on the Cassowary Conservation Reserve in the Daintree Rainforest. This is a Rainforest Rescue property.
-- Great News!!! People Purchasing Power! Another Daintree Rainforest Property SAVED by donors like YOU and Rainforest Rescue!! See article below:
http://www.cairns.com.au/article/2012/03/09/209545_local-news.html
--And finally, we have 2 community tree planting events coming up in the Daintree Rainforest and the Mission Beach area in the Cassowary Coast. Both events will involve the broader community and the invitations are being prepared to go out now.
As you can see friends, Rainforest Rescue relies on its supporters, volunteers and donors keeping the faith and staying with us through thick and thin. Our strength comes from people like you standing side by side with us--and in many cases, helping us with the work on the ground. None of this can be accomplished without funds, which is why we greatly appreciate your continued support. Thank you very much for your time today friends and please do drop us a line from time to time. We would love to hear from you! What is it about the Cassowary that makes you such a fan? Have you ever seen a Cassowary in the wild in Australia or at a zoo? How long have you been interested in supporting Rainforest Conservation Initiatives?
Cheers,
Paul Medici & the entire Rainforest Rescue team!