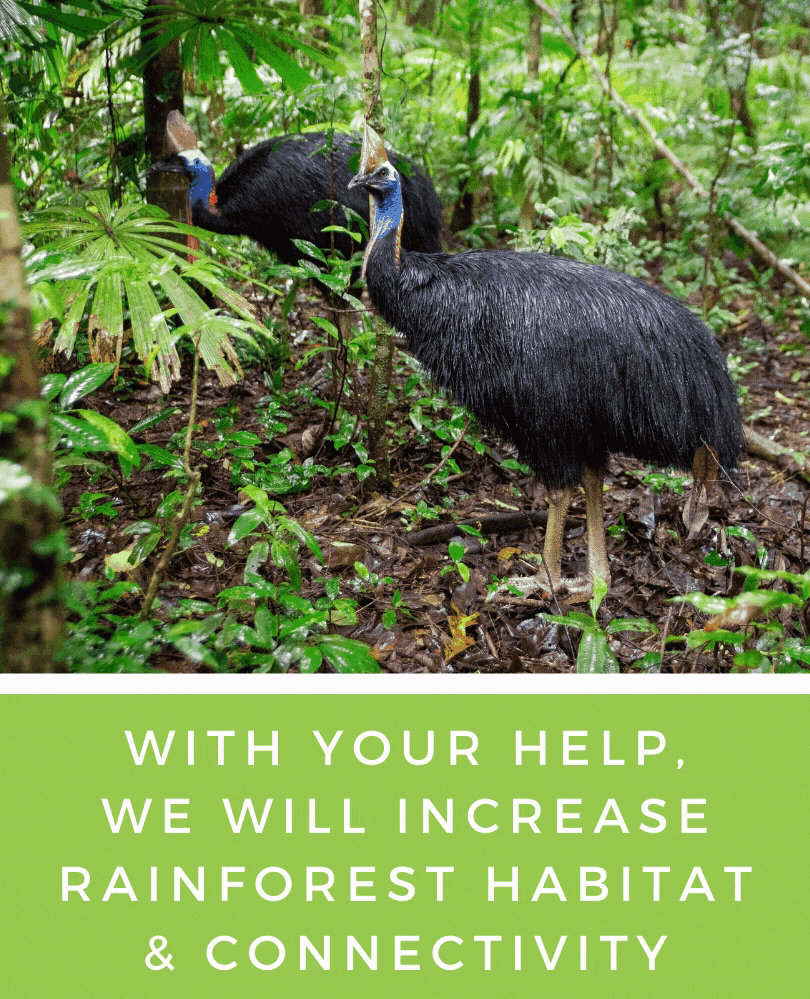 Time to Grow – a New Initiative for Increased Restoration in the Daintree
Rainforest Rescue has embarked on a bold new project that will increase the number of local, endemic, genetically diverse and appropriate rainforest trees by as much as 500% for the region.
That means that we'll be boosting our capacity from about 12,000 trees per year to, eventually, 150,000 trees per year. That's an increase of 1150%. That's inspiring!
Now, why would we want to do that?
Because we believe that Trees are the Answer to many of the problems that we're facing: the climate is changing – sequester more carbon; the Daintree has been reduced through agriculture and grazing and development over the years – let's expand it; habitat loss is one of the main drivers behind species loss – let's create more habitat. Annually there are perhaps 30,000 trees available in the Daintree region to be put towards restoration and that's not enough – let's propagate more trees!
In each of the above cases, trees make the difference – trees are the difference.
What does this have to do with the Australian Southern Cassowary?
The greatest threat to Cassowaries is us … People! Rapid urban development has either destroyed or fragmented much of their territory, particularly in lowland areas — territory such as the habitat associated with feeding and breeding activities.
Listed as Endangered, the Australian Southern Cassowary (Casuarius casuarius johnsonii) has fewer than 4,600 birds left in the wild. Regarded as a 'keystone' species, these living dinosaurs play a crucial role in rainforest ecology and regeneration.
Through eating the fruits of over 240 species of rainforest plants and excreting the seeds great distances from the parent plant, the cassowary plays a vital role as a 'rainforest gardener'. Many rainforest plants depend on the cassowary to move about the landscape … without them, the structure of the rainforest would permanently change.
With so few birds left in the wild, we must act now to help save the Endangered Southern Cassowary. If it becomes extinct, we stand to lose not just one of Australia's most iconic animal species, but also the magnificent Daintree Rainforest — as we know it.
Trees are the answer!
The nursery that was gifted to us 11 years ago by the Cassowary Recovery Team has been and continues to be a productive tree producer – with it we've managed to restore Lot 46 and its 28 hectares and have completed half of the 15 hectares that make up NightWings.
But the climate crisis continues to escalate and external forces that threaten the Daintree continue to grow. To address those issues we are committed to growing more trees than ever before in the region – and to do that, we're designing a large-capacity nursery that is based on Mark Dunphy's high capacity nursery in sub-tropical New South Wales. Mark is working with us to ensure that the template is adapted for the location and the environment.
And in addition to that, we've secured a location thanks to our partnership with Queensland Trust for Nature (QTFN), who we worked with to facilitate the purchase of Lot 83 at the Gateway to the Daintree. Its almost 1000 acres has 200+ acres that back onto the National Park and will be our first restoration project beyond NightWings. (Read more about that here.)
Along with Jabalbina Aboriginal Corporation, the three organisations are poised to work together to regenerate significant portions of degraded areas of the Daintree.
Imagine when we are counting the number of trees in the millions
Ahead we have much do to, but its already been set in motion. From the rescue of Lot 83 and QTFN's plan for a long-term nursery footprint for Rainforest Rescue to the people stepping forward to help make it real – from project management to planning to irrigation design to grants of financial support and donations and more – we're on a wonderful new path that will complement our ongoing property buyback and rescue program as part of what makes Rainforest Rescue relevant in rainforest protection.
Trees are the Answer to restoration in the rainforests in the Far North – and Rainforest Rescue is up to the challenge, thanks to our supportive partnerships and thanks to you, our supporters.