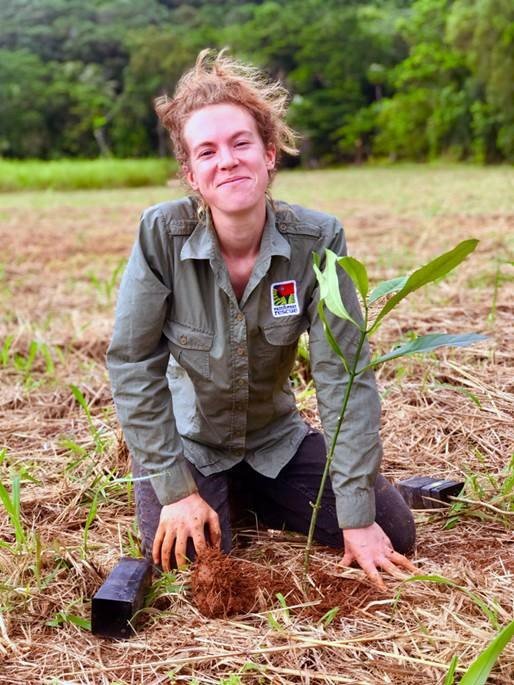 By rescuing and regenerating the unprotected Daintree lowlands, the benefits for the endangered Cassowary continue to roll in thanks to your support!
Lot 30, Cape Tribulation Rd in the Daintree rainforest WILL be rescued! We made our goal thanks to YOU and we are now moving into the process of conveyancing. You support has meant that we have just one more property left to rescue in order to fill out this whole lower Daintree's Cape Kimberley Wildlife Corridor which is prime cassowary habitat! This also brings the tally up to 34 Rainforest Rescue protected properties –and more to come. You make this possible and continue to increase the safety for the Cassowary's population numbers.
The crew in the Daintree are regularly encouraged by frequent Cassowary sightings and the latest visit from a Cassowary has come from our new Nursery Manager, Marine (as pictured)!
Marine looks after the Rainforest Rescue Native Seed Nursery and at the moment she is tenderly caring for 139 different rainforest species and 10,000 seedlings! Many of which are important food sources for the Cassowary.
Marine says: "I saw a Cassowary not long ago just wandering around the Nursery!" The propagation of seedlings, to then be planted to restore damaged rainforest, is incredibly important to bring back and secure the Cassowary's habitat.
Here is a video from our Tree Planting this year, where over 100 volunteers helped to regenerate a stripped sugar cane field, south of the Daintree river, where a Cassowary had been seen recently for the first time in over forty years – proof YOUR support is expanding and protecting the Cassowary's vital habitat.
Thank you so very, very much – the Cassowary continues to benefit strongly from your ongoing support.
Links: