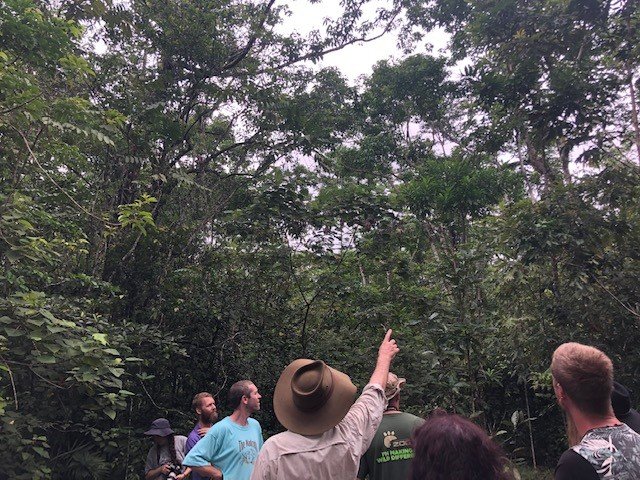 Earlier this month, during a tour of Lot 46 Cape Tribulation Rd, a 27-hectare (67 acre) property in the Daintree lowland rainforest that is now reclaimed and restored, we were lucky enough to stumble across some Cassowary Plums (Cerbera floribunda). Dr Robert Kooyman, Rainforest Rescue's Scientific Advisor, led the tour and took the opportunity to educate the group about this amazing fruit & its relationship with the cassowary. Here's a short snippet of this video with Dr Kooyman:
https://www.instagram.com/p/Bx8cRdiDbrj/?igshid=1w1s6e5zp825x
Dr Kooyman went on to say that the cassowary's role in dispersing fruits and, in particular, large fruits is significant as a major propagator in the rainforest. He also shared that in regards to the Daintree rainforest's population of cassowaries, this area of Australia is '…one of the only areas where their population has increased.'
In fact, as we reported to you in our prior communication, for the first time in over forty years our Land Manager also saw a southern cassowary south of the Daintree river and near the NightWings property where we have – with your support – planted almost 70,000 trees back into Nature. Sightings normally of cassowaries are only found north of the River!
NightWings Rainforest is the ambitious project of re-establishing an ecosystem where there had once been rainforest. Over the last 60 years this land has been destroyed by farming and now we are recreating a functional and resilient natural ecosystem for the future. This was the site for the nearly 100 volunteers that came to help us plant close to 3,000 trees to restore this degraded rainforest.
It's really coming along beautifully – and now, our huge restoration work south of the Daintree river is also benefitting cassowary populations. We couldn't do this without all of you. Thank you so much!