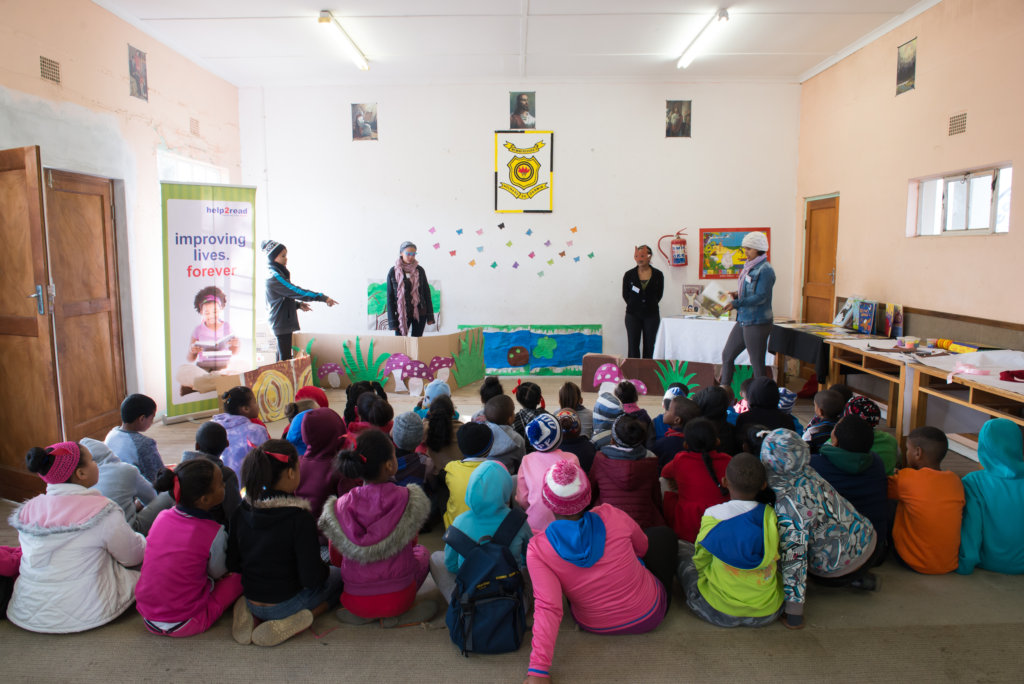 Literacy for Life! Literacy for Livelihoods!: help2read's Literacy Tutor Reading Clubs Programme 2017
Executive Summary
Our LIteracy Tutor Township Reading club programme has the dual objective of developing the skills and employability of youth to increase their access to opportunity for a positive future, whilst having them provide dedicated one-on-one reading help and literacy skills development support for learners in impoverished and under resourced township communities. Importantly in 2017 we sought to find a way that these youth could demonstrate their value as community assets able to deliver important services and infrastructure - most importantly, literacy centres where a love of reading and an ability to develop the essential literacy skills to get ahead in life could happen.
Our aims were:
to recruit and train youth from 4 township communities as Literacy Tutors to provide reading help and develop literacy skills and a love of reading in primary school children attending the township State school;
to develop the professional and personal skills of our Literacy Tutors to increase their career choices and employment opportunities in the future; and
to establish safe, educational and recreational community based infrastructure in the form of after school and holiday community reading clubs for young children in Wemmershoek township.
Recruitment, Selection and Core Training
In January 2017 we received seventy-three applications from young people (aged 18 to 29 years) to be part of the Literacy Tutor programme in the Western Cape's Winelands township communities outside of Paarl, Wellington and Wemmershoek. Initial assessments identified fifty-four eligible candidates. In Wemmershoek a total of twenty-nine applications were received of which 18 eligible candidates were interviewed at the school on January 30th and February 1st and 19 were offered positions as LTs commencing in February 2017. The Paarl and Wellington presentations sessions in December were well attended at the presentation in December with 38 applications being received and 22 interviews being held in January. All 22 candidates were selected and scheduled for training.
The week of February 20th saw all LT candidates being trained at Wemmesrhoek, Van Wyks Vlei and Mbekweni Primary schools. Six additional LTs, recruited in late February, were also trained and so joined the programme on 1st March.
Our three literacy tutor teams at Wemmershoek Primary (19-LT), Mbekweni Primary (11-LT) and Van Wyksvlei Primary (11-LT). The team consists of forty-one literacy tutors in the Paarl, Wellington and Franschoek areas. This includes two senior literacy tutors who represent help2read and who supervise and support the teams, assisting the Programme Coordinator.
Training including the two day core help2read training which involved ensuring LTs understood the issue and challenges of literacy and the purpose and process involved in effectively applying the help2read programme methodology. It also included training in child protection and safety, personal effectiveness and discussed case studies of learners and challenges and what kinds of things might work with what kinds of children. In total there are currently 41 LTs across the three schools in the Wellington, Paarl and Franschoek areas: 39 female and 2 male. The Senior Literacy Tutor provides overall assistance and monitoring of the programme in support of the Programme Coordinator.
Tutor engagement and progress
Tutors are currently helping an average of 11 learners per week in individual one-on-one sessions. They have engaged well with their learners, taking time to build their unique relationships, identify the needs of each learner and find out what interests them and how they can engage them for the best impact. Key challenges in literacy of the children in the programme were identified as being problems with:
The English names and sounds of the alphabet names were not recognized by most learners between grades 1 and 4.
Low levels of self-esteem and confidence was apparent throughout grades 1 – 7.
Communication skills and listening skills were equally poor across grades 1 – 7.
As a result, understandably, there was very little interest or inclination to engage voluntarily in reading activity.
Given the challenges of these learners, the focus for LT's in addressing learning difficulties focused on:
Alphabet names and sounds, blending sounds.
Sight Word list, recognizing words, writing and using the words to form sentences.
Reading to the child and paired reading.
Talking through the chosen book by looking at pictures and re-telling the story in their own words.
Working as a team to plan sessions for the week and every tutor work on the same structured lesson plan.
Playing more games with the learners who are not enthusiastic in the session.
Working out a plan with the grade 5-7 learners and including them in the goals set to keep them interested.
Ongoing Training & development
The development of tutors continues throughout the year – both for their own personal and professional development and for their effectiveness as a tutor. For many this is about the confidence of letting a child learn without giving the answers or "over helping". To build this confidence, tutors participate in a variety of additional skills workshops and given tips and activities they can use to assist their learners develop literacy skills: for example, workshops on the creative use of household resources; on games you can play, on how to encourage reading through play acting roles and so on.
In March 2017 all 41 LTs received further training in creative ways to engage children and encourage literacy development using everyday household objects with expert advisor Renee Lighton. The training was hosted at Van Wyksvlei Primary School on March 1st.
Tutors who attended Renee Lighton's session commented that:
I learnt that you have to love working with children and be determined to help them grow. Using lots of games with words, magazines and other literature around us can be helpful aids to assist the learning process. Michellene
The ideas I received today for game activities are exciting and I can't wait to work with the children. Tarryn
It was fun, educational, motivational, fantastic new experience and mind opening! Chantel
Creating our own book with pictures and words was so exciting! Carow
I learnt how to turn waste into educational games and assist the learners to improve their English language and keep them interested and entertained when they are bored. Nazley
In April 2017 all 42 LTs participated in the Nal'iBali Reading Club Facilitator training, a two day programme designed to develop the skills of LTs in the organisational design, implementation and management of community based (after school and/or holiday) reading club programmes. The training was hosted at Wemmershoek Primary School on the 18th and 19th April and was designed to equip LTs with the skills and confidence to begin after school and holiday programmes in their communities. All LTs received extremely useful materials and comprehensive notes and templates to use in their future activities as well as training covering the following important topics:
How children learn, tutors got a chance to read nursery rhymes in foreign languages to experience how hard reading can be for learners.
The importance of being reading club leaders and displaying good conduct etc.
Storytelling and how to read aloud to a group
The structure of the reading clubs and all the stakeholders
How to keep the reading clubs fresh and fun.
Tutors also participated in a Raising Readers workshop hosted at Van Wyksvlei on May 10th and 11th. The Raising Readers programme seeks to inspire children to develop a passion for reading, improving vocabulary and general comprehension. The training outlined the different stages of reading that children go through and how to support them at each level. Tutors learnt more about developing a child's cognitive skills as part of their literacy development. Feedback from Tutors included that:
"Raising Readers is such a wonderful program to help reading in schools. We were well trained and all the aspects they highlighted are all well explained. During the session, we had activities to go through, questions to attempt in order to understand more in detail and see from a different perspective. Both of the presenters were professional and kind at the same time. They made learning more fun and understandable Thank you Raising Readers." - Judith
"I really enjoyed the 4 day workshop; the presenters were both really good and informative. The atmosphere was good. The part I enjoyed the most was making/creating a book. The experience took me to when I was in primary school and it somehow made me think as a primary school learner what a great exciting assignment given by her favourite teacher. Thank you so much for the opportunity. May other people welcome and appreciate what you do with an open mind and heart. I had a blast." - Makgotso
Reading clubs: after school & holiday programmes
The Literacy Tutors embarked on the journey of starting their reading clubs with their Na'libali training in the second term of 2017. Wemmershoek Primary School, led the way with the first after school clubs beginning in May. Van Wyksvlei and Mbekweni in Paarl followed. The teams at these three schools have introduced and managed the reading clubs extremely well, encouraging the participation of so many of the Grade R to Grade 7 learners in their respective schools. The clubs are scheduled for suitable contact time during school, in lunch breaks and after school hours for those learners who are waiting for transport home. Across all school we have hosted more than 80 reading club sessions and impacted more than 150 learners each week between May and September.
Wemmershoek Reading Clubs (school time)
At Wemmershoek, four reading clubs are held (according to age and stage) at 1.30pm on both a Monday and a Tuesday. These are hosted by the 19 tutors working in 4 groups. Since May 2017 Wemmershoek has seen 150 learners attending each week with 23 reading clubs having taken place.
Wemmershoek Holiday Programme Reading Clubs
Holiday programme reading clubs were an exciting and learning experience at Wemmershoek Primary with the first holiday reading club programme at Wemmershoek taking place in the July school holidays. In this programme we entertained and engaged 288 learners over a period of three days. This was the very first winter school holiday break club arranged at the school and the outcome was amazing! Three days of fun packed activities, games, singing dancing and communicating in English with the learners who are first language Afrikaans speaking was fun and a huge stress reliever for the tutors. The learners surprised us every day as they invited friends to come and join in. Attendance that started on day 1 with 68 learners great to 100 on day 2 and 120 on day 3.
During the three days LTs introduced learners to story-telling and how to create (and write) their own books. This gave them a wonderful opportunity to be creative and express themselves in print that they could then read! Our grade 5, 6 and 7 learners took lots of time to concentrate and be serious about the space they had to develop their thinking. Our LTs were struck by the fact that learners demonstrate the need for time to think, need to be allowed to decide for themselves and need to be given the opportunity to verbally express themselves and to write and draw pictures as an outlet emotionally. Recognising and honouring this has resulted in visible changes in behaviour and attitude in the classroom as well as improved academic results.
Van Wyksvlei Primary School Reading Clubs (school time)
At Wemmershoek, four reading clubs are held every day from Tuesday to Friday. We have 8 tutors engaged in the reading clubs and one responsible for management and accompanying participating children from their classroom. So far we have had 27 reading club sessions and they typically engage 140 learners in a week. Grade Rs attend once a day on Tuesday to Thursday whilst on Fridays we work with different grades between 9am and 12 noon. Our first holiday club programme will start in October.
Mbekweni Primary School Reading Clubs (school time)
There are three reading clubs at Mbekweni operating four times a week from Tuesday to Friday. The first reading club started in August and we have so far hosted over 30 reading club sessions with about 120 learners participating each week. Two clubs operate during school hours on Monday to Thursday with different grades. Fridays are set aside for grade R and grade 1 from 9:30 to 12:30. Our first holiday club programme will start in October and we have been actively marketing it already to the community.
Literacy Tutor reading clubs:
Central to building their own ongoing literacy skille, our Literacy Tutors participate in their own book club as a core part of the programme. All LTs received the books for their own book club and have a weekly review and book exchange sessions. They have been taking turns to read and then swop books with one another. The tutors have been tasked to write short book reviews when they have completed a book. This process has encouraged active engagement in discussions around the various books. It also ensures that tutors continue to develop and foster their own love for reading so as to remain relevant and earnest when working with learners in developing a passion for the written word. Our task was successful and completed before the three month challenge and ongoing to encourage those who are still completing their five books. We awarded one book winner at each school in September. Lechrin, Chantel and Porcshe are the avid readers in their teams.
Conclusion
We are absolutely thrilled and encouraged to see the uptake of the reading club and holiday programme in our communities. Our belief in the need for safe, recreational and educational infrastructure in otherwise drastically deprived and under resourced communities was well founded. We are delighted to be progressing with wider partnerships to expand this programme. Indeed in October 2017 we have been informed that Mbekweni Primary School, limited in space for our reading activities, has received support from Breadline Africa in the form of a wondertful and dedicated library and help2read reading classroom. We are convinced this will increase engagement and numbers in our programmes. Our children are truly beginning to love reading and we are delighted to see that our Literacy Tutors are finding the work not only personally rewarding but professionally powerful in developing their skills, insight, hope and opportunity for the future.
Comments from Literacy Tutors on their experience
"We enjoy the reading clubs. They are so much fun and everyone is working together. We sing, dance play games and most of all we read books aloud which is so enjoyable".
"For the reading clubs we learnt new nursery rhymes and songs and games. But most importantly we learned to be patien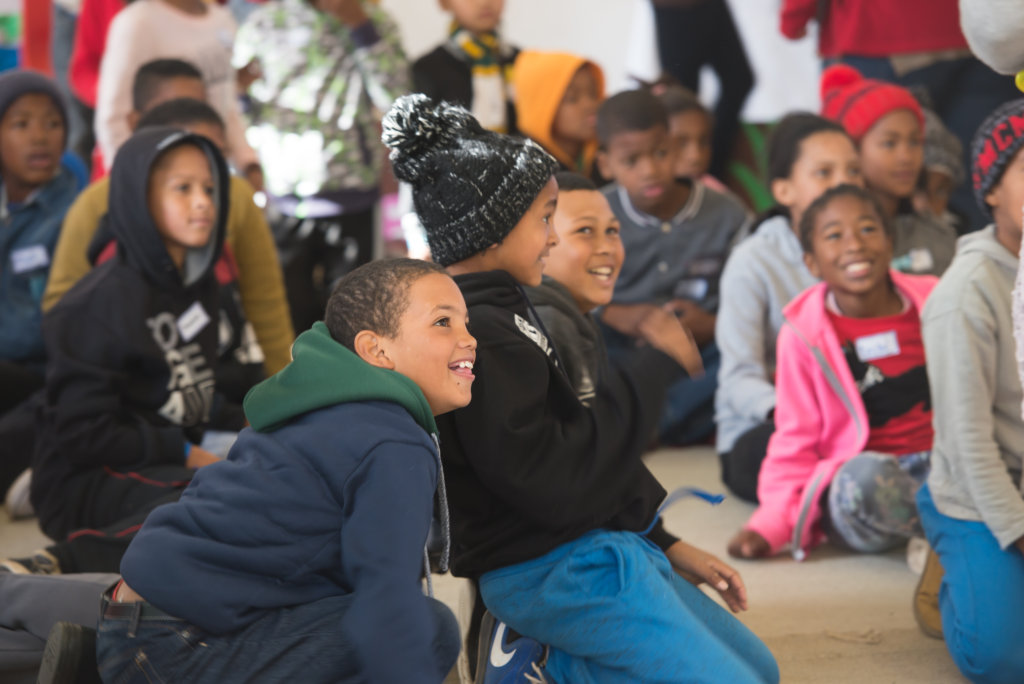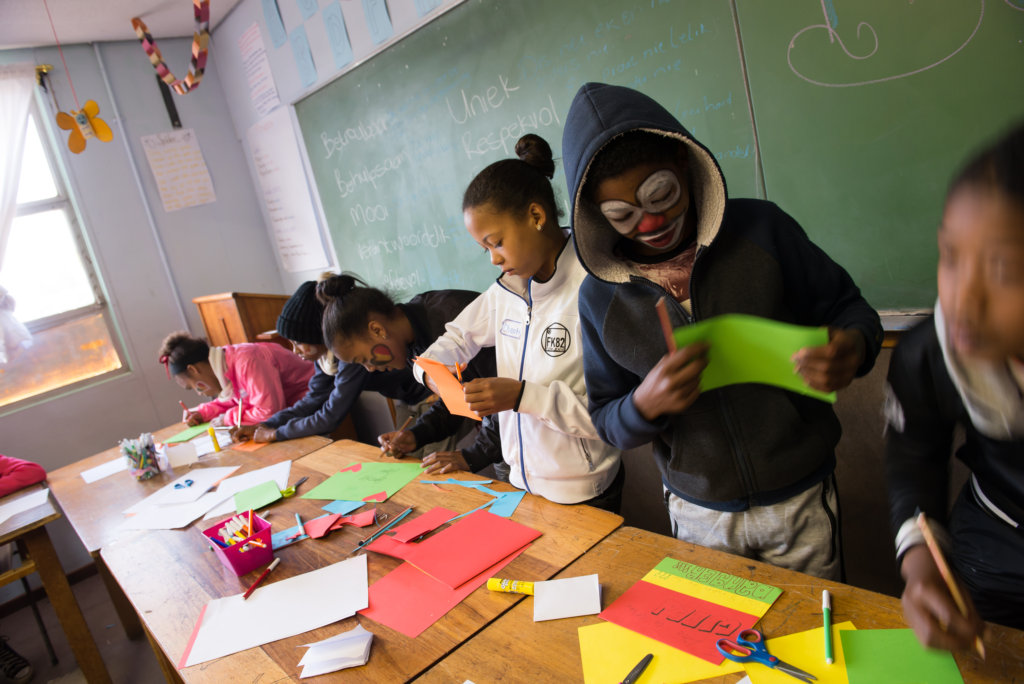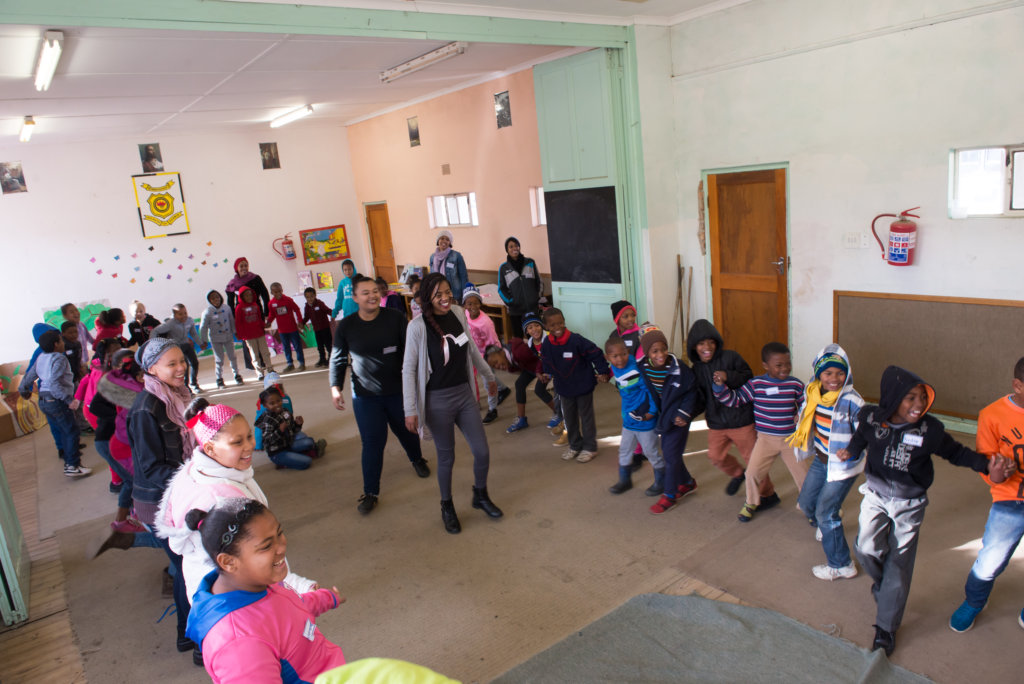 Links: