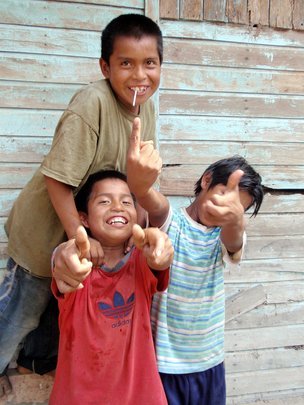 Dear Project of the Month Club,
It's already March and it looks like Spring is just around the corner! We've turned our clocks ahead, and we're looking forward to shedding our winter parkas, getting more sun, and playing March Madness. But we're most excited to share good news that we hope will bring you some March gladness:
Last month, 155 of you gave a combined total of $5,434 to "Pediatric Services In Remote Areas Of Argentina," a project run by our partners at Sumando Manos Foundation. With your gift, Sumando Manos was able to provide basic needs for children in remote zones in Argentina and implement a safe drinking water project in another school in Chaco! That's nothing short of amazing.
We're also thrilled to share that, in March, your donations will be combined to benefit a project called "Send Joy to Seriously Ill Children" by our friends over at the Children's Cancer Association (CCA). This project brings joy to children diagnosed with serious illnesses by offering free award-winning programs and resources to their families. Your generous donations will help CCA to deepen their level of service and provide many more free service interactions of music, friendship, resources and support to children and families when they need it most.
We never cease to be amazed by the generosity of our GlobalGivers, and we are so humbled to hear about the impact that your gifts are making. We hope you feel the same joy that we do when you read these updates from around the globe.
Warmly,
Mari and the GlobalGiving Team