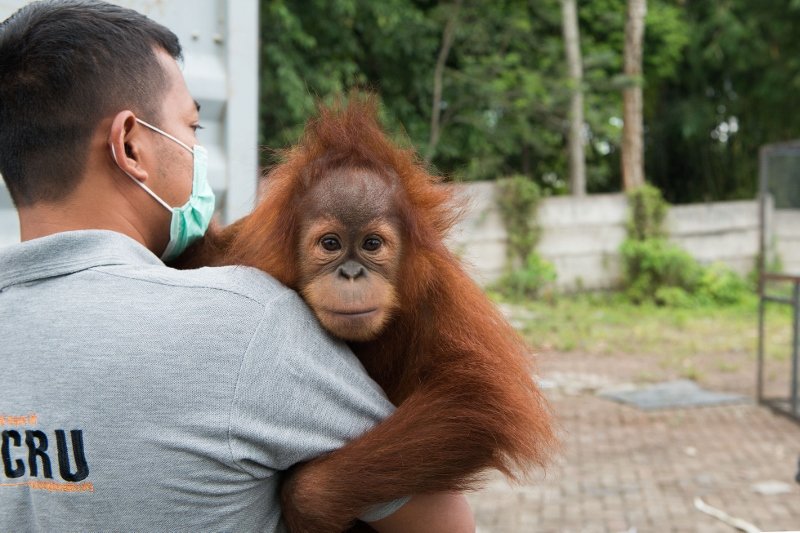 Dear Project of the Month Club,
We've had quite the busy few weeks here at GlobalGiving. We commemorated the Nepal earthquake with a 100% matching campaign, welcomed a number of new organizations to the community, and even celebrated earth-changing moms for Mother's Day! It wasn't just a busy month for the team in D.C., though. Let's see how your let's see how your donations were hard at work in April.
Last month, 265 of you gave a total of $8,717 to support Chef Ann Foundation's The Lunch Box Expansion Project. The Chef Ann Foundation is going to use your generous donations to create nine brand-new recipes for lunchrooms and families across 49 states!
This month your donations are traveling halfway around the world from our office in Washington, D.C. to support the Sumatran Orangutan Society's Orangutan Rescue: On the frontlines in Sumatra project. This unique effort works with farmers and plantation workers on the island of Sumatra in Indonesia to protect and rehabilitate critically endangered orangutans.
Helen Buckland, the director of Sumatran Orangutan Society, has this message for you:
"Sumatran Orangutan Society is a small organisation with a big impact, and even bigger ambitions. We want to not only halt the decline in orangutan numbers and the destruction of their precious rainforests, we want to reverse these trends. Our vision is a thriving and growing orangutan population, living safe, wild, and free in the Sumatran jungle. The rescue team work at the frontline of orangutan protection, and for this project to be chosen to receive the GlobalGiving Project of the Month support for May is an incredible boost - they are so grateful to know that you are standing alongside them."
What can $8,700 do for the Sumatran Orangutan Society? Helen had a few ideas:
"A donation of $8,700 will go a long way on the ground. We are in the process of establishing a second branch of the rescue team so that we are able to reach even more orangutans in danger, as currently there is only one team of five people covering the whole of northern Sumatra. The funds donated this month will equip the new team with the veterinary and rescue supplies they need to safely evacuate orangutans from condemned forests and transport them to safety. A heartfelt thank you on behalf of the whole team."
Let me echo Sumatran Orangutan Society's heartfelt "thank you" for the impact you are making each month. Your dedication to supporting earth-changing organizations around the world is such an inspiration!
Warmly,
Mari Kuraishi + the GlobalGiving Team