We exist five years!
This month you are receiving an extra celebrative newsletter. The main reason for our celebration this month is of course our 5 year anniversary! The 27th of April 2012 marks exactly 5 years since Kelly de Vries decided do something with the potential and the love she saw in Ghana. Together with Muriel Koch she founded the Meet Kate Foundation: An organization that has achieved tremendous results so far.
As you probably read in the last newsletter, we have embarked on a very special partnership. We proudly present to you our new ambassador, Veronica Hoogdalem! She is a Dutch Television host. She is half Ghanaian, and appreciates that the opportunity to decide your own future, is not always an option. She is passionate about participating in the projects of the Meet Kate Foundation so that she will be able to help the children in Ghana and ensure that they will be able to determine their own future!
We are delighted that Veronica has become our second ambassador! In addition to Peter R. de Vries, Veronica will particularly be committed to obtain more recognition about the Meet Kate Foundation among the younger generation. Veronica: 'I want to ensure that Dutch youngsters know what the Meet Kate Foundation is doing for their peers in Ghana. Furthermore I would like to participate in the projects of the Meet Kate Foundation to show people the ''other side'' of Africa. Africa doesn't only have poor and starving children, but there are so many inspiring and hopeful children as well.'
Have a look at this movie made by Danny Stolker and click here to read more about Veronica's motivation!
Would you like to support Meet Kate just as Veronica does? Go to this page, and see how you can sponsor a child in Ghana! We look forward to the next 5 years!
Kelly de Vries and Myrthe Oostenbach
Director and Chairman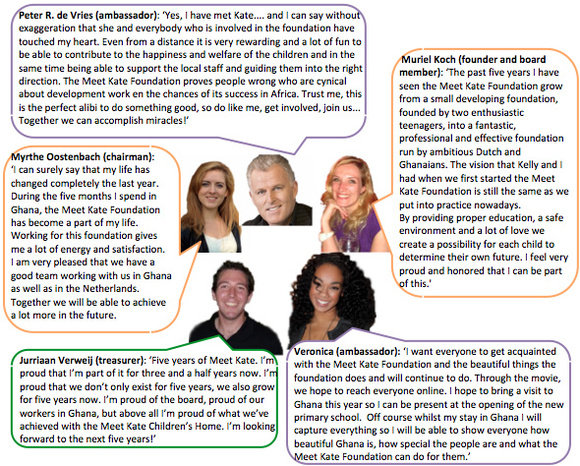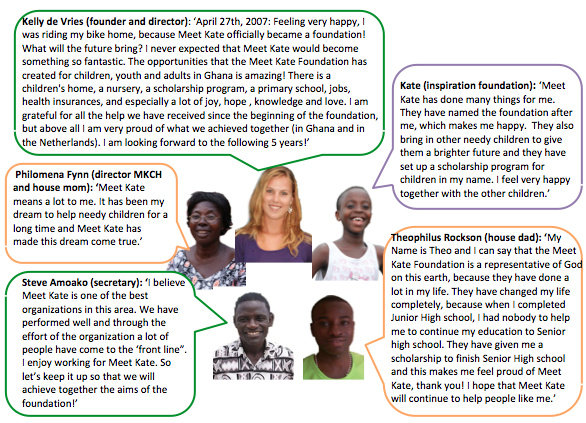 Links: