You are receiving this Project Report since you are a current supporter of the MindLeaps GlobalGiving Program: "Post-Ebola Guinea: Educate & Empower The Youth".
Thank you so much for the support you have provided to MindLeaps youth in Guinea. We wanted to share some news and decisions that we will be making over the next month about our program in Conakry, the capital city.
New Decisions & Bigger Steps
Last year, MindLeaps began programming in Conakry while continuing to serve children in the city of Kindia. In Conakry, MindLeaps partnered with local organizations to learn more about the challenges street children face and how best our dance program can help these children integrate into the formal education system. Hope of Guinea and EDUGRADE partnered with MindLeaps to help us serve a consistent group of 50 children with dance classes, English language lessons, meals and sanitation services. In 2017, we are looking to purchase our own center and create a new permanent home for our MindLeaps Guinea program.
Based on our experience, MindLeaps learned that having one permanent facility to serve street children is essential to the long-term development of these youth. A dedicated center would include a good dance studio, an eating area and an English classroom. Most importantly, it would provide us with continuity in being able to serve more students, year-round, and for years to come.
Next month, MindLeaps Board of Trustees will work with our Country Director to assess the potential spaces that have been found for a permanent center in Conakry. In the photos below, you can see some of the spaces that our team is considering investing in for its base.
As always, we welcome feedback from our supporters – you – as we make these important decisions. For those of you who have lived in Guinea and are familiar with the country, please let us know if you'd like some more information on these spaces. We would love your feedback: davis@mindleaps.org.
Welcoming Volunteers
Also, later this year, we will be expanding our research and health services for our students. A Canadian medical student from the University of St. Andrews will be spending several weeks with our program in Guinea. She will work with our local staff to conduct a baseline assessment of the health needs of our students. This research will enable us to target the most essential health services relevant to our new students' needs.
Our Canadian volunteer will also have the chance to meet with some of MindLeaps students from our 2016 partner programs with Hope of Guinea and EDUGRADE. One such student is Aissatou. Aissatou is a 14-year old girl with a difficult life. Her father is physically disabled. With support from people like you on GlobalGiving, Aissatou will have the chance to return to school later this year. The new school year starts in October, and Aissatou will enter the 8th grade at the school called La Mettre a Hamdallaye Secondaire. This month, Aissatou was told that she will receive a MindLeaps school scholarship this year. She said, "I am excited for this opportunity to attend school! I am also really thankful to MindLeaps because I will soon attend an excellent school."
More Shoes
Meanwhile, our Ruben's Shoes campaign is continuing at orphanages and schools across Guinea. See below for a picture of the distribution of 13,000 shoes.
To see media coverage of this distribution on the national television station in Guinea, RTG, visit the link here: https://www.youtube.com/watch?v=N4Zgnc_hIgY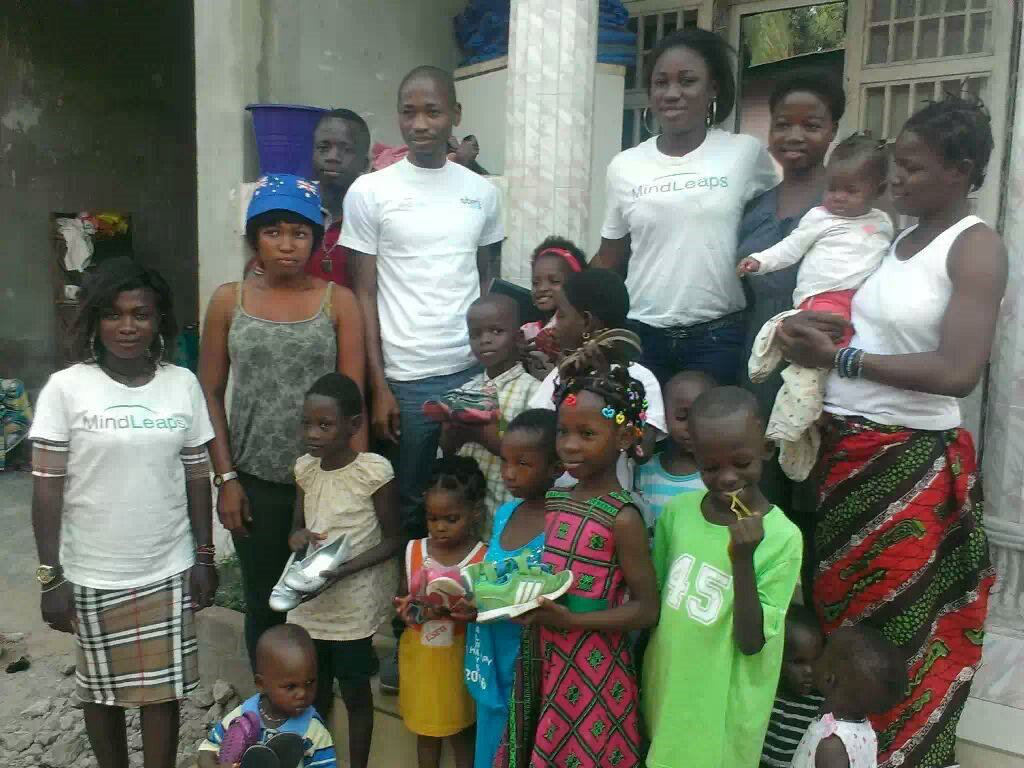 Links: