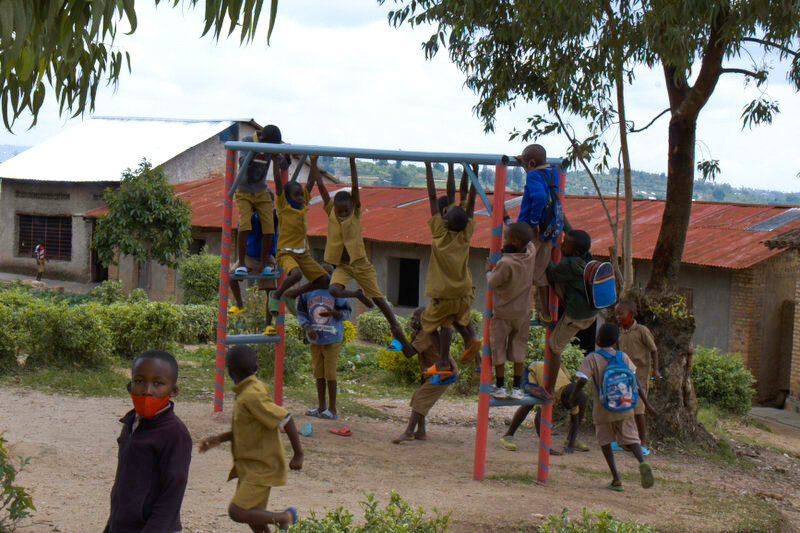 With the support of GlobalGiving and The power of play, 4 playgrounds have been built in 3 villages (Nyamagana, Kabisine, Kerezo and Nyarutovu). More than 6,000 children now have playgrounds as direct beneficiaries, 36,000 are indirect beneficiaries to this project that has improved living conditions, learning environment and great performance in class. Discipline has greatly improved at school and in homes where these children come from. Drug addiction, moving aimlessly, forced labor and early pregnancies have reduced as result of this project.
Dufatanye Organization in partnership with these schools we made and planted kitchen gardens for vegetables to fight malnutrition.
These schools planted grass and also dug ditches to stop soil erosion. This is an act of seriousness and carering since most of our top soils are always taken by erosion.
The headmaster of Nkomero Primary School, in Kerezo told a Dufatanye Organization employee that the school plan to re-paint the playground's infrastructures for its maintenance. He said that: "the number of children attending school has increased; children are playing and learning better, we are very grateful to the Dufatanye Organization and Donors"
Dufatanye Organization has a plan of making 7 more playgrounds in other 7 villages of Hope and continue to help children in the community to stay in school, have fun, social raise more, reduce drug addiction and other bad habit that can hinder a child's development.
We would like to thank all our donors for supporting this project and we request for more support for this project to continue benefiting many children and their families in the community.
God bless you