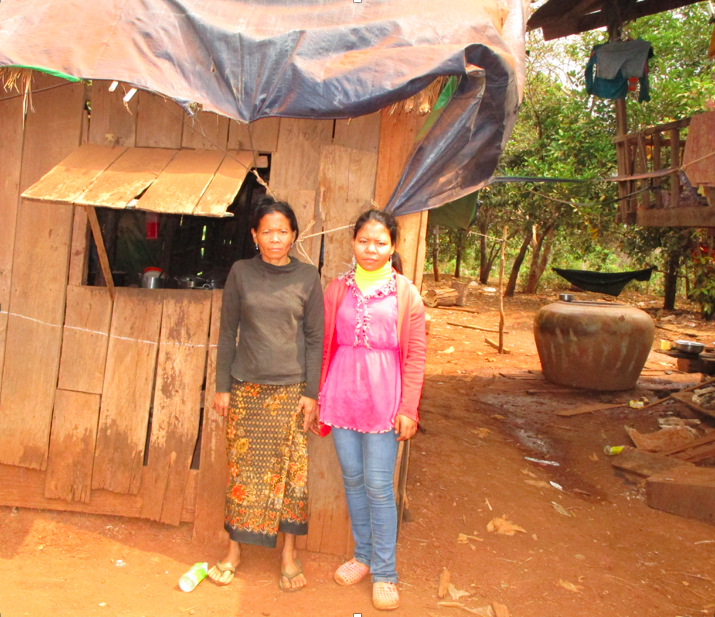 LO has supported the Phnong Education Initiative (PEI/PTTC) at Mondulkiri since January 2010. The program supports 31 high schools and 20 Provincial Teacher Training College students every year. Almost all of the students are ethnic Phnong. The program also contributes to a great deal to preservation of Phnong culture among the students, their families, and communities by supporting training of both students and teachers in the ways of Phnong culture and cultural research assignments. PEI has provided residency to children whose families live far away from school. The program has also implemented a well pump close to the dormitories so the children have access to clean drinking and showering water right at their doorstep.
Sinuon, an eighth grade student studying at Oraing Lower Secondary School, is from a Phnong indigenous group living in Oraing District, Mondulkiri Province, which is about 7 Kilometers from the school. In the past, Sinuon has always walked to and from school, a difficult hike up the mountain to her home. When Sinuon reached secondary school, she was invited to stay in the student dormitory which is located in a convenient location near school. Sinuon is from a monetarily poor family and was selected to receive scholarship assistance from KAPE in 2014. With PEI support, she received uniforms, books, pens, shoes, equipment, a monthly stipend, and extra classes. Most importantly, she is able to stay in the school dormitory where she has access a a clean toilet, a full kitchen, and a water well-pump that was all funded by Lotus Outreach. She is now so happy to have many friends whom she shares joyful times with.
In December, there was a problem with one of her eyes and her vision became blurred after she had a motorbike accident. At the time, she received some stitches to her head and was told there was no further injury. Unfortunately, since then, her vision has been deteriorating. PEI took her to a central clinic in Mondulkiri province but it did not seem to be getting any better. She is now scheduled to see a specialist in Phnom Penh. We are hopeful that will be able to figure out the issues.
Her mother, Det, has been living with liver disease for many years. She has been weak and is not able to do any work on the land where they live. Only her father, Srong, and her older sister are able to work hard on the rice field to support their family. Sinuon goes back home every weekend and spends the whole time working at the cassava plantation where she can earn around five dollars per day which goes towards helping her family. Sinuon loves education and is strongly committed to studying hard. "I shall still keep learning until I finish grade 9 and I wish to finish grade 12 as well." said Sinuon. "I want to be a teacher and I hope I can work in a school which is close to my village." she added.
Thank you to all the donors who enable young students like Sunuon to continue studying and receive the care that is needed. The Phnong communities are so grateful.