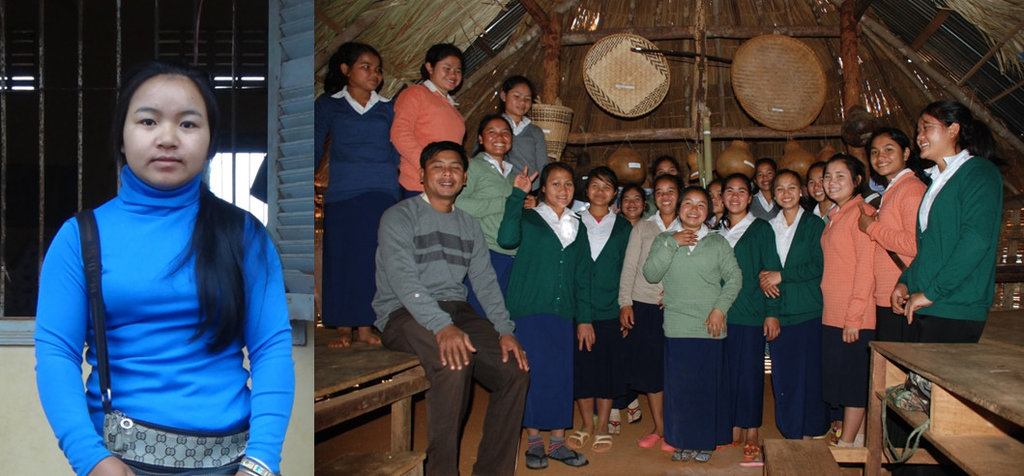 In the remote northeastern region of Mondulkiri, education resources are scarce, especially for women of the ethnic minority Phnong. While secondary education rates among Cambodians in general rest around 35%, for men and women of the Phnong minority, secondary education rates remain even lower at 16%. Literacy rates for highland minority tribes are even lower: 5.3%, and literacy rates for ethnic minority females bottom out at less than 1%.
Sameoun Boch is a part of expanding that 1%! Boch is a 19-year-old Phnong Education Initiative beneficiary living at Dak Dam village with her parents and three siblings. Boch is now at grade 9 of Oraing Lower Secondary School, which is about 35 km away from her house. Lotus Outreach's Phnong Education Initiative has been providing support to Boch since grade 7. This has allowed her to remain at school, overcoming education boundaries that keep most young women from even attaining basic literacy.
"I didn't think I could study until grade 9 as I used to think about dropping out even when I was in primary school. However, the scholarship support has really motivated me and taken some of the burden away from my family", Boch said. "I am doing better at school than before because I have enough time to focus on my studies and I can attend regularly my extra classes on Math, Physics, Chemistry and Khmer Literature", she continued.
Besides the regular curriculum content, the students at Oraing School also participate in life skill activities. Boch is the leader of the vegetable cultivation project. She says that performing as the leader builds her confidence and helps her develop good communication skills with her teammates and teachers.
When asked about her future, Boch says that her most immediate goal is to successfully pass grade 9 examinations. In order to achieve this, she has been studying extra hard, reading as much as she can and being very attentive in her homework. "I am committed to studying really hard for my grade 9 examinations because I would like to continue my studies in grade 10 next year," she said. With the dedication and determination that Boch has shown thus far, surely she will exceed even her own expectations!
The Kampuchean Action for Primary Education (KAPE), our local partner on the Phnong Education Initiative, recently assessed the cultural and life skill activities at the school. On a test designed to assess their understanding of the benefits of manufacturing traditional Phnong articles such as scarves and baskets, the students scored an average of 92%. All of the students (100%) were actually able to make these items by hand! In addition, a life skills program officer from KAPE taught the students more about how to monitor their learning progress on life skill activities such as fish farming and vegetable cultivation. The officer showed the students how to use a monitoring list, and also gave further input on how to be more effective when fish farming. The students were greatly interested and keen to monitor their life skills performance at school, using both the technical and managerial knowledge they gained. How wonderful to witness these young people flourish while still maintaining a strong cultural identity!
To learn more or make a donation to this project, please visit http://www.globalgiving.org/projects/pei/.
Links: