The following story highlights the huge impact this program is having on the lives of Phnong speaking minority children living in impoverished conditions within Cambodia. For just $130 feed a student in profound need like Sagn for an entire academic year, and rejoice in the greatest gift of all: the gift of education!
Sagn is a Phnong speaking student in grade 7 at Oraing high school. She lives in Potro Village within the Oraing District of Mondulkiri Province. She is the youngest child of 6 siblings; all of her brothers and sisters are married and have left home to live on their own. Sagn is 14 years old and still lives with her parents in a small cottage with bamboo walls.
Unfortunately, her father suffers from a respiratory illness and thus cannot work while her mother can only work part time in the rice fields, because she is getting older and more fatigued each day. Her older brothers and sisters did not have a chance to go to secondary school, because school is so far from their village. Living 18 kilometers away from the nearest school, Sagn never expected to attend secondary school.
Luckily, thanks to Lotus Outreach and this program, she got a scholarship from our partner KAPE that provided uniforms, a pair of shoes, study materials, monthly stipends, and most importantly, a spot in the dormitory close to the school with a very nice kitchen, toilet and pump well for all the scholarship students living there. This great opportunity has completely changed the trajectory of Sagn's life.
Sagn has lived in the dorm since school started in November 2014. At first she was homesick and she found it difficult to live on her own, but after getting support from the older students in the dorm, she feels more confident and is now much happier. Besides her regular classes, Sign attends a study club that teaches girls how to make bracelets and Phnong scarves for the cultural center. Every day she spends three hours taking extra classes in Math, Khmer literature, and Chemistry with support from her scholarship.
During the holidays she goes home to help her mother at the rice field especially during the harvest time. "I am so happy to be a scholarship student," Sagn stated.
"This scholarship has given me a chance to get more education than I ever would have gotten and I feel I am more confident in speaking to other people. Before I was really shy and I did not like to talk to people I did not know. Moreover, I know now that people have to help each other; not only in living, but in learning as well. I have learned a lot from the other people around me."
Help more girls like Sagn through our PEI scholarships, and give the gift that never stops giving!!!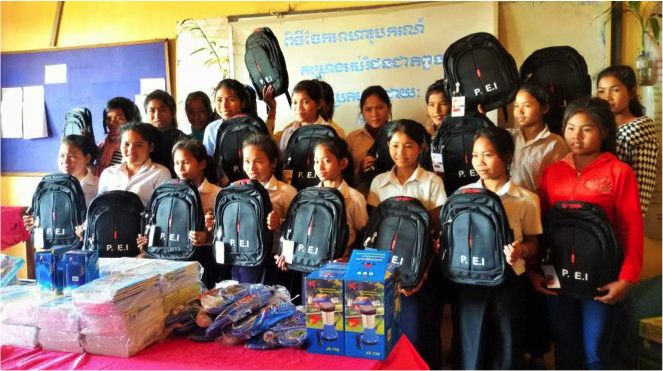 Links: