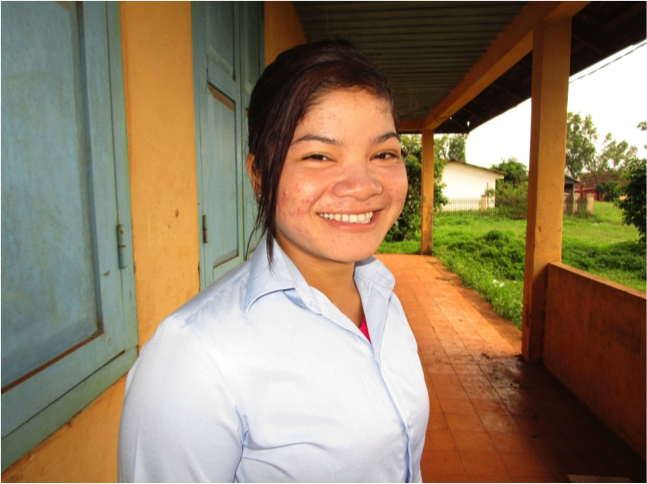 The Phnong Education Initiative (PEI) provides scholarships to children in profound need in Cambodia, which include housing assistance so they can live closer to school and complete their studies. Furthermore, PEI supports training for Phnong-speaking teachers so they can return to their home villages and pay forward the gift of education by helping other linguistic minorities succeed in the public school system.
This past fall, Thaeg, aged 18, completed her 2-year PEI training program and passed her final examination with funding provided by Lotus Outreach. After her completion of high school and teacher training, Thaeg became a teacher at Sre Iy primary school this past November.
Thaeg commented on her difficulties in school as a young, minority child and her dream of becoming a teacher in order to help other minorities like herself succeed.
"Teaching is my favorite job and [was] my dream when I studied at primary school because my ex-primary school teacher, Ms. Sophea, had encouraged me... She is friendly to students and is a very supportive teacher. She is always in my heart and I would like to say thank you to her. When I was in grade 1, I was not able to communicate well in the Khmer national language while it was taught in the classroom, as I am a Phnong speaking child. I could not understand and learn quickly, because I was often absent from school because I felt I made too many mistakes when I talked to my teacher in the Khmer language. Because of this, I had to repeat the first grade.
I understood the situation and I am now a primary teacher who can speak two languages—Khmer and Phnong– and it is very easy for me to teach students, especially Phnong children in early grades, to learn and communicate well in Khmer. I am excited to meet new teachers, students and communities in my new school. I hope to see many Phnong minority youth [obtain] jobs in the government sector. In 2 years, I would like to be a secondary school teacher..."
Help others like Thaeg receive education and give back to their communities. Access to education is a universal right that we at Lotus Outreach believe all should receive. Support us in taking further steps in this hugely impactful direction!
Happy Holidays and Happy New Year!
Links: