I recently joined PATS on one the bi-annual site visits to China, and I wanted to share my experience with you with some of my field notes from what was an unforgettable trip.
Fuyang
So much to process from my first day. Saturdays are activity days for the PATS kids and the HIV-affected children in AOS, and we met the
five PATS kids who live in the "happy house" group home run by AOS in Fuyang (most PATS kids stay with their own families). I met Zhang Ying, the head of AOS who first took it upon herself to care for an HIV-positive girl in Fuyang named Nannan, setting into motion the whole story of AOS and PATS.
Nannan was then living all by herself in a shack, and she survived on food thrown to her by concerned neighbors who were afraid to go near her. Nannan is now a healthy 20-year-old who is working to support PATS and AOS! I also met Chloe, another AIDS orphan who was featured in the film Blood of Yingzhou District, who's also now a full-time PATS worker serving the Lixin township.
We visited Xueqiang, who has a difficult family situation that interferes with his treatment adherence. Xueqiang's situation is improving, but it's a challenge to convey the critical importance of adherence (taking his meds!) when his appearance of health and CD4 counts seem strong. His grandfather lives in the garage beneath his apartment and resells reusable refuse to earn money. I love his resourcefulness, but his dietary standards (a huge bag of fermented beans gleaned from the trash) are a little questionable even for me.
Lixin
The day before yesterday we took cars to Lixin (AOS has two dedicated cars and drivers on staff to transport the health workers - the drivers themselves also help with the work) and visited two CDCs and several childrens' houses, including Ling Feng and Zi Ting, two kids featured in our recent newsletters and on our Sponsor a Child page.
Ling Feng, like most of the kids, is a little shy and talks really quietly when you ask him questions. But if you listen carefully you can hear the tiniest murmurs of "xi huan" when you ask him if he likes to play, has friends, or likes to eat rice and noodles. His adorable nickname is "xiaomao", which means little cat. His older brother is "big cat," and we made up a nickname for his grandfather of "old cat." Xiaomao's parents have both died, but his grandfather and uncle are determined to help him adhere to his medication, and he is doing much better than before.
The photos above are of Xiaomao at his house (left) and at a new group home in Fuyang where he now lives part of the time with several other HIV-affected children.
We also visited Zi Ting in Lixin, an incredibly photogenic, smiley, and good-natured little girl. She has a tough family situation - her dad left the house when he found out that she and her mom had HIV. Her dad took their son with him and now lives with a new family, and her mom gave up Zi Ting's oldest brother to another family because she could not take care of him. Her mom is heartbroken, although she says she's becoming more optimistic now that she has the support of the PATS workers.
Funan
Yesterday we went to Funan, which is a closer to Fuyang than Lixin. There are always surprises on these trips, and this time we found out we have 6 new PATS kids! We only met four of them at the CDC, as the other two live with grandmothers who are very afraid of stigma if the community discovers their illness. I helped health worker Yali do detailed intake interviews with all of these new families, and Mr. Wang gave a heartfelt speech that moved many in the room to tears.
We visited Yaotian, whose 74-year-old grandfather recently built a new house for them by himself, using his hard-earned savings of 6,000RMB (less than $925). On PATS's previous visit the boy and his grandparents were living under a tarp.
The most emotional visit for me so far has been at Xiaohu's house in Funan. He's a shy but kind-faced teenager who wants to be a driver when he graduates. While Eliza and the other health workers talked with him and his mother, I chatted with his relatives who were gathered around. His grandmother kept motioning me to go out front to see his handicapped uncle, and I chatted with his sweet and pretty aunt, who's the same age as I am.
Xiaohu's uncle is in a wheelchair, and has some kind of muscular degenerative disease. He had been in the hospital for 2 months, until the family could no longer pay for his care. He coughs blood, and Xiaohu's aunt told me she fears he would not make it past the summer, and the family is doing its best to ease his suffering until he passes. She has returned from working in the city in order to help take care of her brother and help with the family's wheat harvest.
Xiaohu also has another handicapped uncle with the same disease, who works in Fuyang driving a three-wheeled rickshaw in order to support himself. Knowing how much stigma there is for HIV and disability in rural China, I can't imagine how hard it is for this family. The aunt says that although life is very difficult, they've become accustomed to hardship.
The family says that the uncle's medical care would cost 100,000 RMB, which is far more than they can muster. I'm not sure how treatable the disease is, but I can't help but want to figure out some way to raise the money and help them. We had no idea Xiaohu had two handicapped uncles before this visit, but these types of extreme hardships are all too common among the poor in China and all over the world.
Photos: Xiaohu (yellow) and PATS workers at the doorway of his family's house (left). Xiaohu's aunt, grandparents, cousin, and disabled uncle, with me (right).
Last Day with the PATS kids
Lixin
Y
esterday, during our final day in Fuyang our schedule was packed as usual. In the morning we went to Lixin again to the third Lixin CDC. I helped with intake for a new child named Guoqing, who is about 13. He's good friends with another PATS kid named Wenyou. Since his last picture was taken, Wenyou has lost some of his baby fat and has dyed his hair yellow.
The two boys are clearly buddies, and I enjoyed chatting them up and joking with them that Wenyou looked like a girl. They also had a dispute involving a trade of powdered milk for cookies, which the PATS workers gave them as part of their nutrition packet.
We also went to Diandian's house. Her mother also has HIV, and her father died. Her mother remarried a few years ago, and now they live with her younger brother, step brother, blind uncle, and grandfather. Diandian's mother likes to dress up and do hair and makeup, so Diandian often wears very cute pigtailed hairstyles.
Fuyang
In the late afternoon we returned from Lixin and visited two group homes for HIV-positive children. AOS runs one called "Happy House" where Jun, Zi Hao, Yue, Hua Long, Zhenzhen and Nannan live. The Happy House kids are incredibly photogenic, playful and smart. They are surely more polite and clever than the average Chinese child, saying "ni hao" to all of us as we came in and "zai jian" when we left. Zi Hao is especially playful, asking me whether I was from China and whether I was speaking English when I narrated our video footage.
We also visited a new home that was recently started in Fuyang. Two PATS kids currently live there (including my favorite Xiaomao "little cat"), and we discussed plans for PATS workers to go there regularly to do checkups on all of the HIV-positive children there.
Zhang Ying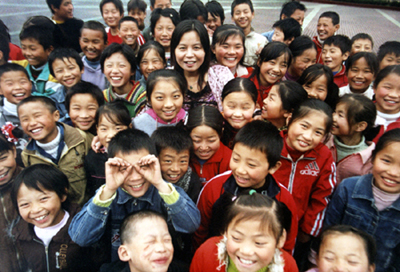 PATS volunteers and supporters probably don't know much about Zhang Ying, so I'll share some background on the admirable and resourceful woman who started pediatric care for HIV-affected children in Fuyang. AOS began when Zhang Ying, Mr. Wang, and Prof. Kay Johnson from Hampshire College in the US visited Nannan in 2003. They witnessed the terrible conditions Nannan lived in, having been orphaned and abandoned by her family.
As Zhang Ying cared for Nannan, more and more HIV-affected children were referred to her. She set up a foster program, weekly activity days, a support worker network, and other programs to help them. AOS has served over 800 children since 2003. Since 2007, AOS has collaborated with PATS to provide medical care to the HIV-positive children among the AOS population.
Zhang Ying is one of the most determined and capable women I think I've ever met, and she's been recognized throughout China and worldwide for her efforts with AOS. In recent years she welcomed Chinese premier Wen Jiabao to Fuyang, and took a group of AOS children to visit Yao Ming in Beijing. She projects a canny but always caring manner, not an easy combination to pull off. (Resourcefulness in Chinese women sometimes comes off as shrill snappishness and cartoonish cunning.)
Despite her exhausting schedule, she minded the little things like making sure to doggie-bag leftovers from our banquets for the AOS workers, giving us beautiful flagrant flowers from her own garden, and gifting me a jade pendant and a box of Anhui tea when we left. She called us at 2:40 in the morning, to remind us to wake up for our 4am train. You can read more about Zhang Ying on the AOS website.
Fuyang has been such a rich experience for me. Interacting with the AOS/PATS workers. Learning about the challenges of pediatric HIV treatment and the normal challenges faced by rural Chinese. The inimitable Mr. Wang and formidable Director Zhang. And just being here and observing and talking to people.