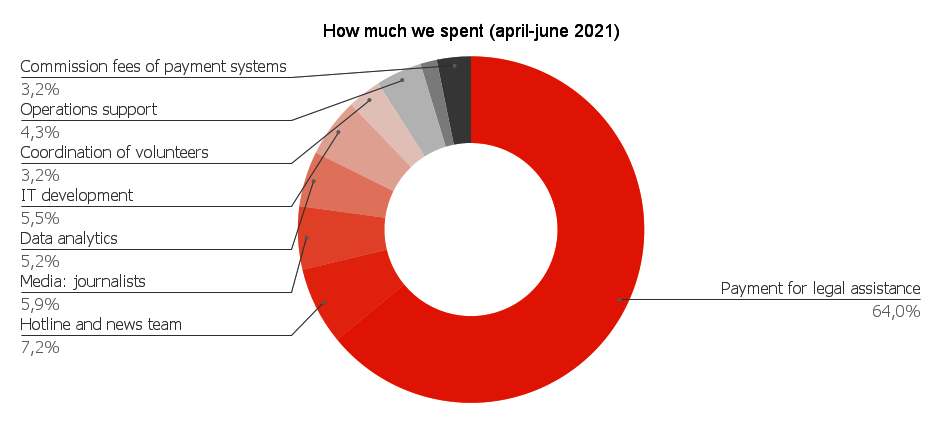 Hello, dear friend!
At the end of April, thanks to your support, we were able to stay on the GlobalGiving platform, for which we thank you very much!
Our supporters always receive monthly reports on the work done. The summary report for these three months will tell about what we did thanks to the support of private supporters for April, May, and June.
Usually, there are a lot of numbers, data, and links in it, so don't be afraid if you won't be able to read it right away. Its main goal is to answer where your money goes and what useful things we do, thanks to your support.
During these three months, we have managed to do a huge amount of work.

Express help
We received 14,253 calls on our hotline. In total, our operators and volunteers spoke on the phone for 105 hours, 40 minutes, and 13 seconds.
At the beginning of July, 208,375 users were connected to our Telegram-bot.
In 3 months, our legal instructions were viewed 142,691 times.
The most popular was The ideal detainee instruction: it was viewed 47,930 times.
Lawyers of the hotline:
conducted 1,096 consultations by phone;
responded to 2,525 letters received by mail legal@ovdinfo.org;
audited 251 appeals received through the generator.
The "Dyatel": we launched a new instrument to protect our rights
In April, we launched a generator of complaints against human rights violations – the "Dyatel". It is our new application that will help you quickly and easily complain about a breach of human rights. This first version of the "Dyatel" can send complaints against the "Fortress" plan to the office of the human rights ombudsman. Why is it necessary? This application will make it more difficult for the authorities to violate our rights, and if there are a lot of complaints — it will become impossible to manage with snide responses alone.
In total, more than 2,400 complaints have been sent out by now.
To send a complaint against the "Fortress" plan using "Dyatel"
*Dyatel = Woodpecker

Legal support
Our lawyers, jurists, and defenders:
managed to terminate, cancel or return to a new consideration at least 61 cases of administrative offense;
went to the police departments 370 times, where they helped 766 detainees in 24 cities of Russia;
helped 680 people in court sessions on administrative cases in 28 cities;
visited the commission on juvenile affairs 7 times.
Criminal cases:
we helped 60 people during interrogations, searches, investigative actions, interviews, and pre-investigation checks;
we represented the interests of 45 people who were or still are considered suspects, those who were accused, defendants, or those convicted in politically motivated criminal cases.
We consider all the charges and criminal cases brought in connection with them to be illegal and politically motivated.

European Court of Human Rights complaints campaign

We have sent 122 complaints to the European Court of Human Rights in 3 months period.
End of June:
752 complaints filed;
122 of them are registered and have a unique number;
405 complaints have been communicated by the court – which means that everything is fine and they are accepted for consideration; the rest of the complaints are waiting for registration.
News and media
We have prepared and released:
1,154 express-news about political persecution in Russia;
40 extensive texts about political persecution, including interviews with lawyers, personal experiences of detainees and their parents, and comprehensive online chronicles of monitoring at protest actions. All of these materials are available only in Russian.
What you should pay attention to:
Working with volunteers
Our last monitoring during the protests of April 21st, thanks to the volunteers, was much easier and calmer. And this is not surprising even if you look at the figures for April alone:
1,327 people have filled out volunteering application forms;
822 new volunteers have joined us;
789 people have helped us during just onwe month.
In total, there are about 2,500 people in the volunteer community now.
And during these three months, we held several closed meetings for our volunteers with economist Sergey Guriev, journalist Katerina Gordeeva, political scientist, and sociologist Ekaterina Shulman, where volunteers could have asked their questions to each one of our guests.

Reports, researches, and advocacy
Suppression of the April 21st protests: focusing on violations in St. Petersburg
On April 30th, we published a review of prosecutions due to the protest on April 21st, 2021. In the report, we drew particular attention to St. Petersburg since it was there that the police behaved most aggressively during the detentions.
Analyzing Russia's response to the UN request
After the winter protests, the UN sent a request to the Russian authorities to respect the protesters' rights. In response to this request, the Russian authorities, for the first time, gave an estimate of the number of people that were detained during the winter protests in support of Navalny. According to the officials, about 17.6 thousand protestors were detained on January 23rd and 31st, as well as on February 2nd. We have published a detailed report analyzing the response of the Russian authorities. Read the full report here.
Unresolved Freedom of Assembly Issues in Russia in 2020
In April, together with colleagues from other Russian NGOs, we sent a submission to the Committee of Ministers of the Council of Europe on the Lashmankin case, and in May, it was published on our website. It is a digest of all the problems with the freedom of assembly for the last year, since our last submission in the spring of 2020. We report on the tightening of legislation, difficulties with the meeting coordination, detentions of participants of public events and the use of violence against them, as well as on judicial and extrajudicial prosecution in connection with actions, restrictions on the spreading of information about protests. The application contains unique datasets about the persecution of journalists, the appeal against the "Fortress" plan, new draft laws (so far, they are available only in English).
The Bill "without a catch": how Article 267 of the Criminal Code became a "protest-related one"
The application of Article 267 of the Criminal Code on "blocking transport communications" to the participants in the protests became possible from January 10, 2021 — it was then that the amendments to the Criminal Code initiated by the deputy from United Russia Dmitry Vyatkin began to take effect. In December 2020, during the rapid consideration of the bill in the State Duma, Vyatkin assured that the article would not affect the protesters. In the first months of 2021, more cases of "blocking transport communications" were initiated than in the previous ten years. In the report, we talk about how the charges under Article 267 of the Criminal Code became applicable to the protests' participants, and list specific steps that could improve the situation.
Effective remedies and access to justice in the context of freedom of assembly in Russia
We have published an adapted version of the appeal sent to the UN Special Rapporteur on the right to freedom of peaceful assembly and association to prepare his report. The report will be presented at the 47th session of the UN Human Rights Committee. It will focus on ensuring access to justice and bringing perpetrators of violations of rights to justice — in the context of the rights to freedom of assembly and association and the central role of lawyers in ensuring these rights.
UEFA as a new advocacy tool
Together with the Moscow Helsinki Group and the Memorial Human Rights Center, we appealed to UEFA and the Commissioner for Human Rights in St. Petersburg. We believe that holding the championship simultaneously with banning other public events demonstrates the discriminatory nature of this ban. The text of the appeal in English
Ageism and Age Discrimination in the Context of Freedom of Assembly in Russia
Due to the specifics of our expertise, in this memorandum we present information on the situation with ageism and age discrimination in the sphere of the right to freedom of assembly.
Russia on the way to freedom of assembly
A report on how we see the bright future of freedom of assembly in Russia was published on the "Reforum" platform. In this report, we analyzed the problems and proposed tools for changes.
Data on the application of Article 20.2 of the Administrative Code
The Judicial Department of the Supreme Court has published judicial statistics for 2020. After that, we updated the dataset on the handling of cases of violations at rallies (under Article 20.2 of the Administrative Code) — data for all regions of the Russian Federation from 2004 to 2020 are available on our website.
Our research team does so much that it is difficult to put all of it into one letter. Therefore, they have a newsletter that is available in English! Subscribe to follow the news and publications of upcoming reports and datasets:
How much was collected

In April, almost 400 people supported us on GlobalGiving, which allowed us not only to remain on the platform as a trusted partner but also to receive a bonus from GlobalGiving — $1,500. There have already been 376 donations amounting to 1,357,249 roubles received in June. The total includes $1,500 worth of bonuses from the platform, which we were able to get, thanks to your support!
A total of 86,771 donations amounting to 62,354,276 roubles were transferred to us in three months. That is more than we received throughout the whole of last year!

How much we spent
In just three months, we spent 55,728,600 rubles, of which 49,946,323 rubles are from private donations.
35,693,571 rub. (34,035,527 +1,402,044*) — payment for legal assistance. Our lawyers and human rights defenders have been helping detainees in police departments and courts and coordinating assistance in criminal cases throughout the whole month. The expenses include:

payment to attorneys, lawyers, and defenders who assist in cases of administrative offenses (courts of first and second instance);
payment to lawyers who go to police departments to assist detainees;
payment for lawyers' participation in criminal proceedings;
the assistance of lawyers in preparing complaints for submission to the ECHR;
payment to lawyers in the juvenile affairs commissions (KDN);
payment to lawyers attending interrogations at the Investigative Committee;
coordination of lawyers, defenders, and attorneys and the work of the legal line – this is done by the members of our legal assistance team.



4,025,982 rub. (3,322,334 + 703,648*) — payment for the work of the hotline operators and news team. Our monitoring team receives calls to the hotline, messages to the Telegram-bot, and writes news and articles every day, helping detainees not only during the big actions but also in seemingly "peaceful times."


3,284,275 rub. (2,725,339 + 558,936*) — media coverage of political persecution. We believe that information protects. In order to make information about violations of political rights available to the public, we produce and publish great articles and analyses, interview and produce texts in the "My experience" section, where everyone can talk about how they have faced injustices in the system.


2,874,502 rub. (1,895,333 + 979,169*) — data projects, reports, and advocacy. In order to make the right decisions here and now, to explain the situation to readers, and to help journalists and researchers understand what is happening, we collect and analyze a lot of data and publish it here.


3,071,965 rub. (2,019,855 + 1,052,110*) — the work of the IT team. Development of new tools and optimization of the old ones. Without IT, it would be impossible to imagine a stable hotline, a functioning website, and even a printer.


1,757,649 rub. (1,332,201 + 425,448*) — coordination of volunteers. Volunteers are our support and the best team of like-minded people. We are actively working on expanding the community and aim to get volunteers actively involved in the project's life.


3,006,772 rub. (1,988,691 + 404,922*) — operational support of the project. Costs for the team members who ensure the day-to-day operation and planning of the project activities and are responsible for the long-term sustainability of OVD-Info, budget planning, strategic goals, communication with donors, and financial transparency. In April, we also set up a separate area of care for team members, including psychological support, development of individual members, and assessment of the internal climate. Thanks to this not always noticeable work, we continue to exist and help those who need help.


856,708 rub. — infrastructure costs (office rent, telephony, and Internet). It helps us to work more cohesively and efficiently, as well as to take calls to the hotline and write news stories.
1,770,336 rub. — bank account maintenance and payment systems commission. We use several payment systems, and the interest rates are all different. This amount is calculated as a percentage of donations and expenses on the account. It depends not only on our expenses but also on the amount of income.
* Infrastructure support of the Memorial Human Rights Center. All amounts are indicated, taking into account personal income tax and social contributions.


Thank you so much for being with us!
Take care of yourself, keep an optimistic attitude, do not give in to fear despite what is happening around you, and remember: information protects.
Links: