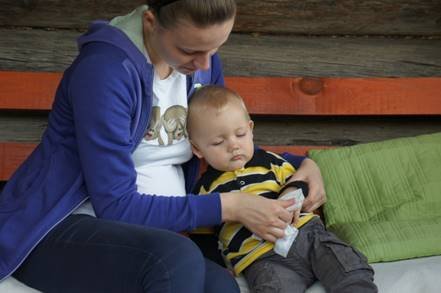 Thanks to you, Sunflower was able to run two camps. One for families with children aged over eight, and a second for families with pre-school children. Both were held at Sunflower's log cabin deep in the beautiful Russian countryside. This year, they had proper washing and laundry facilities after SGF helped them to renovate their banya (or traditional Russian sauna).

We don't have space to tell you all the wonderful changes that our families experienced in these short breaks, so we'll concentrate on two stories that give you an idea of how vital these camps are.
Lena, Sunflower's director describes one stand out session with the older children and their parents.

"We asked our group to choose a fairy story in which there was a problem between children and their parents. They chose the story of Buratino, which is a loosely based on the Pinocchio story. Through role play, our families resolved Buratino and Papa Karlo's main problem, that Buratino was naughty and he and his father didn't understand each other.
While they were playing the roles the genuine worries of our parents and their children came to the surface. One boy, who was playing Buratino, said, "I don't do what Papa Karlo says, because I don't feel that he loves me." For his parents this revelation came like a bolt out of the blue. The conversation turned to all the proofs that Papa Karlo loves Buratino, "but what about the books he bought you, the clothes that he spent his last Rouble on!" The parents were genuinely troubled and offended and called Buratino's behaviour ungrateful. The story reflected the reality of our families' lives. The parents who grew up in orphanages show their love through material things. When they were little sponsors would give them little presents and they were grateful for even these small tokens of care and attention. Sadly, they find it difficult to show their emotions, which is what their children are looking for.
When we opened out the discussion to the group who had been watching the role-play, the ten-year old son of one of the volunteers said to Buratino, "When you ask Papa Karlo for love, you have to take a risk and open your heart up too love, otherwise you will always stay wooden". After he had said that Papa Karlo turned to Buratino and asked "What can I do for you?". Buratino answered, "Take my hand and look me in the eye."
Andrei, who was playing Papa Karlo, said, "This role play of Papa Karlo really made me think for several days. Our whole family has been shaken up by it as if we made everything new. Now my heart doesn't seem to fit in my chest, it's so overflowing with feelings for my children and my wife." "

The next story can be told best in pictures. They show the progress that Maxim and his mother made during our play therapy sessions. At first Maxim can't look at his mum while she plays simple games with him. What a transformation you'll see as the six sessions progress!
These training sessions are fun, but also an opportunity for intensive work on family relationships. They give our families a chance to heal rifts caused by the parents' traumatic upbringing. Thank you for being with us this year - our families wish you a warm and happy Christmas and New Year!
Please consider making a donation during this Christmas Campaign which ends 31st December - Global Giving UK is matching donations by 50%, up to £600 until funds last. This campaign offers £20 000 and £4500 in prizes and bonuses - this is a great chance to raise more free funds for our camps next year. Thank you!