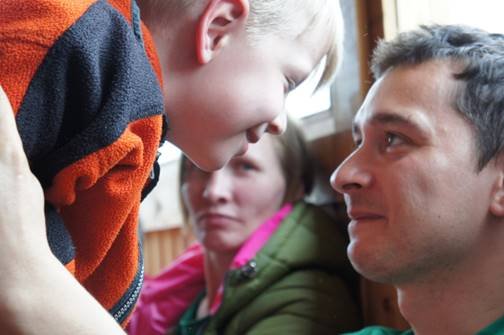 This year our first summer camp has been for parents who grew up in orphanages and who have older children - aged from 8 to 15 years old. Five families, including one volunteer family, spent four days with us at our cabin in the countryside. These families first came to us six or seven years ago, when they were having trouble with their young children. We supported them successfully through that stage, but then a couple of years ago, they came back to us saying "They're growing and we don't know what to do with them. If we treat them like we were treated in the orphanage then they'll get in trouble with the police for sure. They are very defiant, just like we were at their age." The camp was short but intense, and our families came away with their relationships improved at a deep level. We will continue to help them through the year.
Two things stand out from our four days. The first was that the children and teenagers really took to helping us set up for the later summer camps for the families with younger children. This was the first time we had asked them to help in this way, and they were fantastic. They helped mow the grass, set up the camp fire area, cleared rubbish and cut back overgrown trees and bushes, put sand in the sand-pit and prepared firewood for the stove. Everyone in the group understood how important this was, because they had benefitted from the work of volunteers when they were little. We all noticed, including the parents, how much pride the teenagers took in their work. And however much they wanted to play on the swings, they restrained themselves because "the little ones would be upset if anything got broken."
The other activity that really stood out was when we asked our group to choose a fairy story in which there was a problem between children and their parents. They chose the story of Buratino, which is a loosely based on the Pinocchio story. Through role play, our families resolved Buratino and Papa Karlo's main problem, that Buratino was naughty and he and his father didn't understand each other.
While they were playing the roles the genuine worries of our parents and their children came to the surface. One boy, who was playing Buratino, said, "I don't do what Papa Karlo says, because I don't feel that he loves me." For his parents this revelation came like a bolt out of the blue. The conversation turned to all the proofs that Papa Karlo loves Buratino, "but what about the books he bought you, the clothes that he spent his last Rouble on!" The parents were genuinely troubled and offended and called Buratino's behaviour ungrateful. The story reflected the reality of our families' lives. The parents who grew up in orphanages show their love through material things. When they were little sponsors would give them little presents and they were grateful for even these small tokens of care and attention. Sadly, they find it difficult to show their emotions, which is what their children are looking for.
When we opened out the discussion to the group who had been watching the role-play, the ten-year old son of one of the volunteers said to Buratino, "When you ask Papa Karlo for love, you have to take a risk and open your heart up too love, otherwise you will always stay wooden". After he had said that Papa Karlo turned to Buratino and asked "What can I do for you?". Buratino answered, "Take my hand and look me in the eye."
Andrei, who was playing Papa Karlo, is married to Vlad's (Buratino's) mother and has adopted him and his sister. This was the third time they had come to our camp. He said, "I knew what to expect from the camp, but this time I was so tired when I got here, so weighed down with issues at work, that I was just hoping to be able to sit at the edge and not be bothered about my feelings. But this role play of Papa Karlo really made me think for several days. Our whole family has been shaken up by it as if we made everything new. Now my heart doesn't seem to fit in my chest, it's so overflowing with feelings for my children and my wife."
The children and teenagers are beginning to understand their parents' stories, to sympathise, and to understand why they find showing their emotions so difficult. One of our mothers burst into tears as she admitted that she finds it difficult to touch her children and that she is scared that she will never overcome this. It was such an open admission, and straight away her son Maxim hugged her and started crying with her.
For families wanting to change, our volunteer family were a great example. As one of our parents said, "We can see how they manage to be gentle with their children, even when they are older and don't always agree with their parents. No-one ever taught us how to do this, and we find it very difficult".
We will help all our families build on what they have learnt on summer camp, so that their relationships can continue to grow closer and stronger. For our children and teenagers, this can only help them feel more settled at home, at school and with their friends too. We are very grateful to you for allowing us to help them at this critical time in their lives. Soon we'll be able to share news of our summer camp for children with younger children, which you've also made possible. Thank you!
Links: