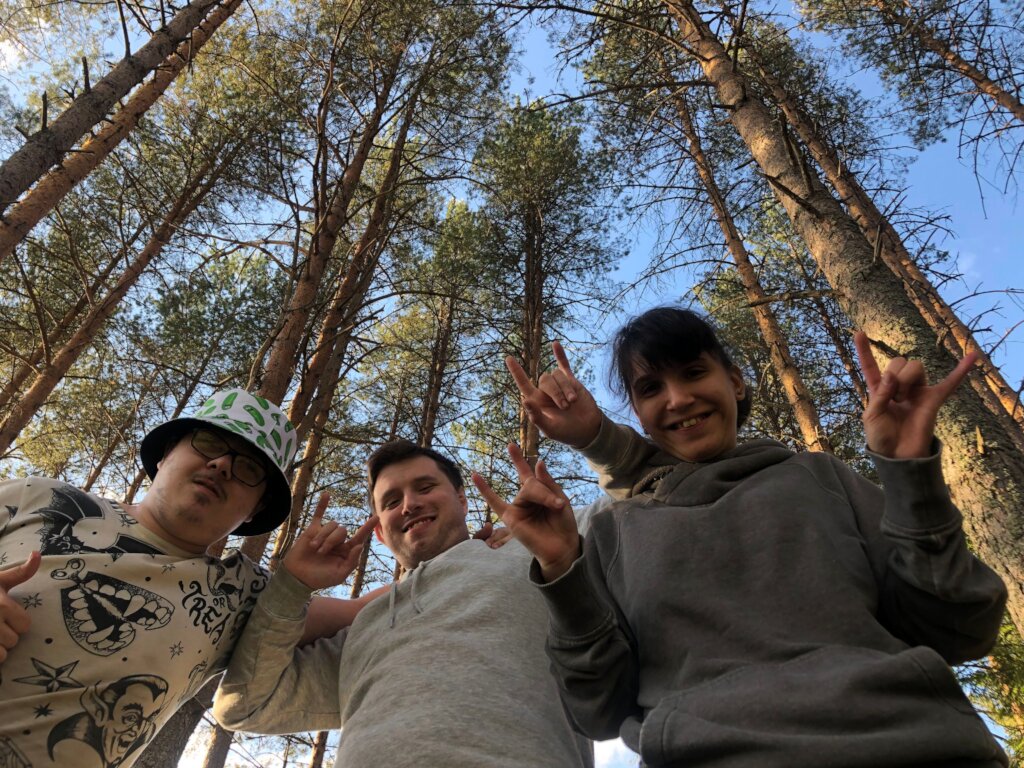 In these colder months, it is a pleasure to look back to the summer camps that you helped to fund. We are sorry that this year it has taken us a while to report back to you and we hope you enjoy our account.
Our theme this year was "Who am I?" and "What do I need to do to become the person I want to be?". Part of the answer to that second question involves learning practical skills. As ever, our group had several planning meetings to work out what they needed to bring with them, how much they needed to save to make their contribution etc etc. Sadly, although nine took part in this group, three of them were unable to arrange the time off work that they needed.
So it was already an achievement for the six in our group that they managed to come with us. Borya said at the end of the first day, "I was really worried about my packing, and checking my money. I was so worried I couldn't sleep. Today I've had so many impressions, and nothing is left of my worries. Thank you for today."
Our summer camps have quite an intense schedule with activities and times to reflect as a group and as individuals. Everyone gets stuck in with cooking and washing up, and also with preparing our log cabin and camp area for the arrival of families with children later in the summer. The group were really motivated to help make everything nice for the children. Of course we do have free time when the group usually socialise together, listen to music or chat. Everyone also had a diary and we encouraged them to write down their reflections and make a note of things they would like to remember.
This year, one of the activities we used was "States". Each person was representing a nation state with its own interests. They had to get to know the other "states" and set up channels of communication.
Borya was very quick in setting up these channels, but then didn't take any initiative about actually building partnerships with the others. When we discussed this with him, he could see that this mirrored some of his behaviour in real life. He is very good at bringing his friends to our support group, getting them interested and telling them why it is so positive. Meanwhile, he himself only attends sporadically. Borya agreed, saying, "I understand why it is important to share with others, so I respond easily to someone who's asking for help or support. But I am only just learning how to ask for help myself. I want to learn how to deal with things independently."
Maxim emerged as a real diplomat, although usually he is very quiet and reserved. He didn't just manage to make contact with the other "states", he set up an international union and was unanimously voted president by the others. It was really important for Maxim to recognise the value of his communication skills and to start to discover his leadership ability.
We rounded off the camp with a camp fire. We were really pleased to see how open everyone was able to be with the group about what they had found challenging, and what they felt they had gained from the trip. Those who were new to the summer camps, and those who had been before all valued the friendships they had made, the chance to take time out to reflect on their lives and the new confidence they found. Taras summed up his feelings, "I am glad that I managed to come. I'm really grateful to the organisers for the trip, for their patience, their attention and the activities they organised. As usual, I am glad that I could come. It is important because I can compare how I was on the last trip and I can really see the changes in me."
Back in St Petersburg, we are working together to consolidate that progress, and help them become who they want to be amongst their more ordinary, everyday surroundings.