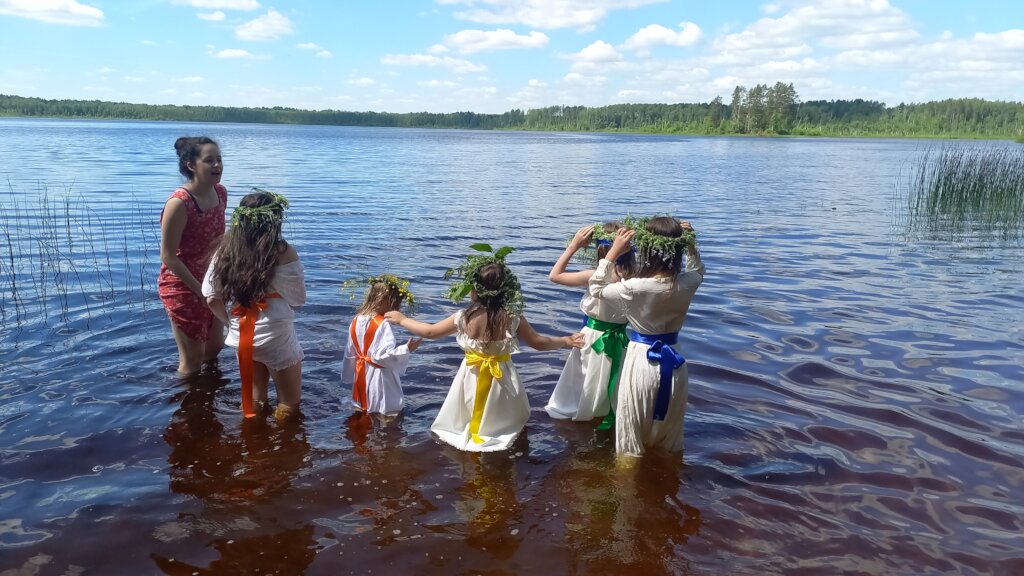 We do apologise for not reporting sooner on our summer camps. As you'll know, if you read our last report, this autumn has been a very trying time for us. So, in these cold months, it is good to remember our summer camps. Today, we have news from the camp we led for parents who grew up in orphanaged and their children aged 2-9.
This year a small group of five families took part most with more than one child. One of the themes that ran through the camp was the ancient Slavic mid-summer festival of Ivan Kupala. This was a focus for discussions and activities exploring family values and growing up. Many of our parents struggle with giving age-appropriate responsibility to their children. They often expect their older children to take on a parental role, but equally may not support them to take on more appropriate responsiblity. Preparing for the festival, the Sunflower team, helped families work through these questions. The families were also able to spend time together collecting flowers and making their wreaths. The celebration itself was very striking and memorable for the city-dwelling families.
We continued some of these discussions using the fairy tale The Magic Swan Geese. In the story, a girl is left in charge of her little brother. She loses track of him and he is snatched away by the swan geese. The girl goes to search for her brother and finds him in the witch, Baba Yaga's house. The little girl manages to rescue her brother with the help of a mouse, a river, an oven and an apple tree.
The older children identified strongly with the story and the discussion was lively. One thought that the children should tell their parents what had happened, otherwise "Yaga would catch the children again and eat them." Others said, "no, because Masha will be told off for not looking after her brother properly." They had possible solutions too. One girl thought that Masha could say that she was taken with her brother, so it wouldn't look as if it was her fault. Another thought that "another woman should be sent to look after them so it won't happen again." As well as discussing the practicalities, the children were able to express their own feelings of guilt and fear they have when they are trying to carry responsibilities that are too big for them.
Since the camp, the parents have been more thoughtful about the responsibilities they give their children. Liza (aged 8) has been allowed to go to the shops on her own, but her mama helped work out the list with her beforehand and made sure she understood what to do.
Over the week, you could see the children playing with each other more co-operatively, and families becoming closer. Dliana, Timur's mama, said, "We understood each other really well. It worked out - we had fun and we managed to negociate." Having worked out family rules together, the children have become better behaved. The children have been taking pride in some of the jobs they are able to do, now that they have the right support and feel more confident in their roles.
Since the summer camp, we have resolved difficulties in transferring money to Russia given the international sanctions. We have been working with the Charity Commission (the regulator for UK-registered charities) and our lawyers, and have now found a legal and safe route to transfer your donations to our colleagues in Russia. We are relieved that we will be able to transfer funds for next year's summer camps. Your ongoing support for our work is very much appreciated in these difficult times. We are hoping and praying that the work that we have built up over fifteen years will be able to continue, despite the challenging climate, and that we will be able to continue to serve our families. They always repay our efforts with great committment of their own, and we remain as proud of them as ever.