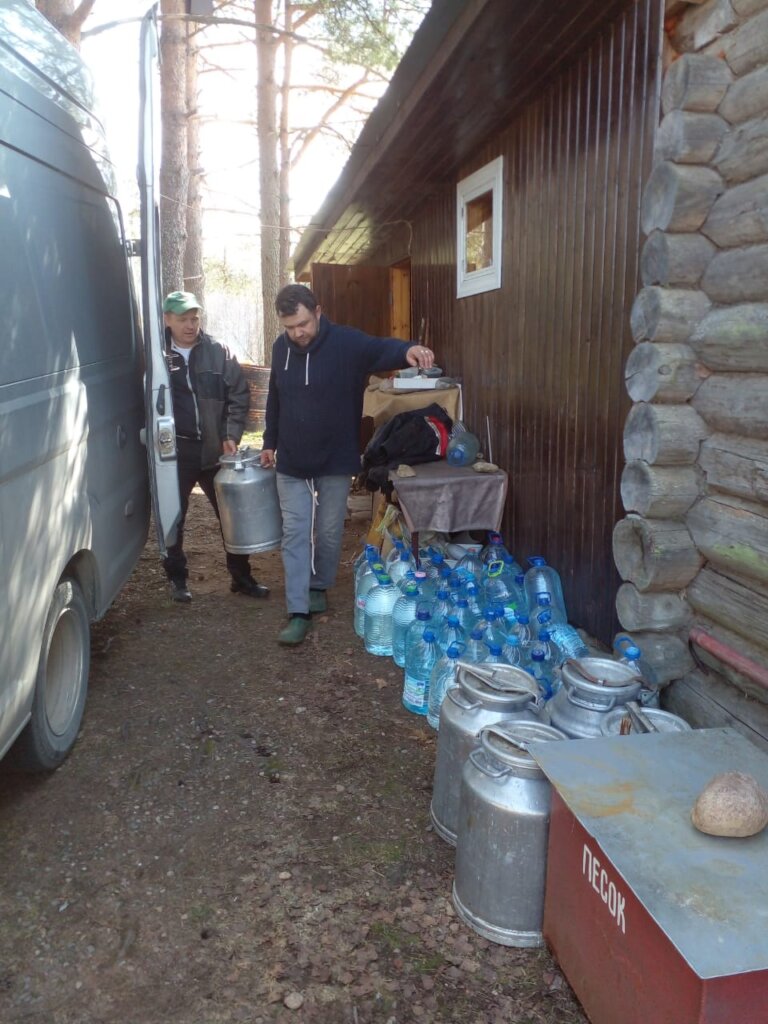 First of all, I want to thank everyone who has continued donating to make this year's summer camp possible. Our hope and prayer is that the devastating crisis in Ukraine will end swiftly. However awful the situation, it doesn't change our opinion of our families who are working so hard to strengthen their relationships and improve their lives. Nor does it make us think less of our colleagues, all committed and compassionate people. The families we help are amongst the poorest. They will be hit hard by the soaring inflation, the job losses and the financial insecurity in Russia today. Part of our work is to help them adapt to change and to cope with the stresses of life. Our summer camp will be as valuable as ever this year.
May is always a month of preparation for us. Our administrator and volunteers have visited our summer camp base near the village of Dolbeniki. They travelled down roads with verges still covered in snow. Spring seems in no hurry this year. As usual, they have cleared our outdoor play areas, refreshed the ever-popular sandpit, and got the supplies of drinking water ready. They have put up an arial so we can get internet access, and set up outdoor hand-washing stations.
Meanwhile, our families and young people are also getting ready for the trip.
Liza is planning which toys to take with her so she can show them her favourite place, where she loves to go for walks, and play with her mama and her sister. Timur is also looking forward to a return visit: "I want to go again. I can play with mama and the other children a lot when I'm there. I can't wait to go."
The parents are also looking ahead and reflecting on what they want to learn this year. Dliana says,
"During the last session, I learnt how to be more emotionally stable with my child. It is important to be stable and not to explode with my child when something goes wrong, or it's stressful at work. When I saw that if I understand what's going on with my child, then it become much easier for me to help and to cope with the situation. That's how the summer training has helped me. In every day life you let so much pass you by, you don't pay attention, and it turns out you miss important things in relation to your child. He is growing and already demands not to be treated like a baby. It's important for me to learn to see and accept my child as he is, rather than as I'd like him to be. For me, this would be difficult without help from the team."
The teenage and young adult orphanage-leavers are also preparing for their trip. We will have a mix of newbies and old hands. The new participants are getting involved in the planning. They are working out all the details, such as how they will get independently to the train station. Sasha, Tania and Kirill have not been able to come with us for some time. They are working hard to get the time off work so that they can make it this year. Sasha says, "I must go. I just can't miss such an important get-together".
We very much hope that our whole group will be able to make it, after a couple of years of health and work difficulties. There is so much we all want to learn from the experience, and so much growing to do.