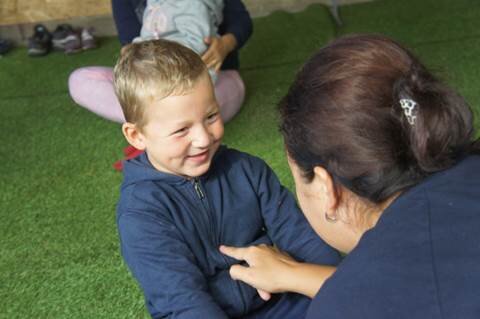 We can take it for granted that children play. But when our summer camp started back in August, the children didn't know how. They found it difficult to play on their own, and they certainly couldn't play together. It was hard to stick to the rules, hard to resolve their conflicts, hard to lose themselves in their imaginations. It was easier to hit each other, push one another aside, or simply hang back and stay on the fringes. Timur found it particularly difficult and was often agressive to the other children.
Over nine days, back in the summer, thanks to your donations, five families with children 8 and under were able to learn how to play together, how to talk to each other and how to listen. We had invited eight of our most motivated families. Sadly, three had to drop out at the last minute, either because the parents fell ill, or, in one case, because the child unexpectedly had to go into hospital. Those that did come, were fully committed to learning and changing.
During the children's playtimes, the professionals were there to gently guide the children. They showed the children how to ask each other to play, how to say if they didn't like a particular game. We took the children with and without their families on lots of walks. The sandpits were a particularly popular area. The children were able to roll around, run and scramble up big hills of sand. They released a lot of tension through physical activity, which they often lack in their home city environment.
However, the real breakthrough came as their mamas learned how to be more attentive to their needs. In our play therapy sessions, we asked the mums to show care for their children by brushing their hair, rubbing in hand-cream, or using face paints. This intimate activity was difficult for parents and children to start with. The mamas learned not to interpret their child's refusal to take part as naughtiness. Gently, they invited their children to be cared for, several times if necessary.
Another bonding activity involved decorating a piece of cloth with pictures that were meaningful to the whole family. Timur created a whole story on his blanket involving a battle a journey through a labyrinth. When they had finished their blankets, they were able to sit on them and tell each other stories. The children particularly liked hearing tales of when they were babies, and when their mamas were little.
Gradually, as the children became more confident that they would get positive attention from their parents, their behaviour improved. They were more relaxed, they learned new ways of resolving their conflicts, and began to make friends. They took the inititative more often and developed more complex games that were appropriate to their age. Instead of playing babies (which was popular at the start of camp), the older ones suggested building a den and came up with ideas of how to go about it.
Back in St Petersburg now, we build on what we have learned at camp and also the mamas pass on their new understanding to their peers. Our weekly support group helps maintain the progress, continues to strengthen our families and gives the children valuable play skills they can take with them to school and the playground.
Thank you very much for making this camp and our camp for teenagers and young orphanage-leavers possible.