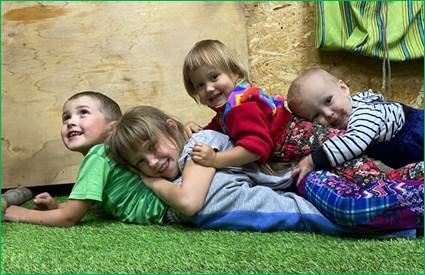 In our last report, we told you how our families with older children got on on summer camp. Today it's the turn of the families with young children. Thanks to your generous donations, we were able to host five families, including nine children. Numbers were down on last year to keep within the pandemic regulations, so we chose families who were highly motivated to strengthen their relationships.
The spring and early summer were so difficult for our families, and we saw this very clearly in the first few days of our camp. Some of the families had found it very stressful to be thrown together without a break during the quarantine. Others had been separated during the quarantine, with the children staying with their father or grandparents. And they had all been separated from each other, from their friends. In the first few days, the children found it difficult to settle to our activities and games. They needed to reestablish their friendships, and spent most of their time playing chase, or a game which involved all piling on top of each other. We also found that all of our families had lost fitness through the weeks when they weren't allowed to go out. We had to adjust and shorten our usual walks. All the same, the children took great pleasure in getting out into the forest, collecting berries and splashing in puddles.
Recovering from the stresses and strains of the pandemic restrictions was our first goal. After that, we helped parents balance the needs of their two children. We helped them reassure their children, so that they could take turns playing with their parent, confident while they waited that they would get a turn soon. The children all learned to allow their sibling more attention without becoming disruptive, and to enjoy the attention when it was their turn to play.
We also organised some listening exercises to encourage good communication. The parents were asked to find out what made their children happy and then to report back to the group. This simple task made the parents very anxious because they weren't used to having such conversations with their children. However, for most of the families, including Natasha and Nikita, it was a real breakthrough moment.
"To begin with I was shaking I was so scared. Nikita was busy drawing and didn't want to talk to me. But I did what we had been shown, and gradually he started to answer my questions. Then he began to tell a story about how we ran through puddles together. He was laughing the whole time he told the story. I was in shock that it was so simple to talk to him, and that all I needed to do was listen. He just talked and I only listened. I don't think I have ever seen his eyes like that - they were so big and bright. I really want to hold onto that moment."
We are very grateful to everyone who helped fund this summers camps. They were more valued and valuable than every before. Although we were only able to take a few families with us this year, we know that they will work on what they have learned when they get home, and they will share it with their friends. Our most committed families often become mentors to new families joining the project. They are absolutely invaluable in guiding and encouraging their peers. The camp you supported is the most solid step towards this level of commitment. Thank you!