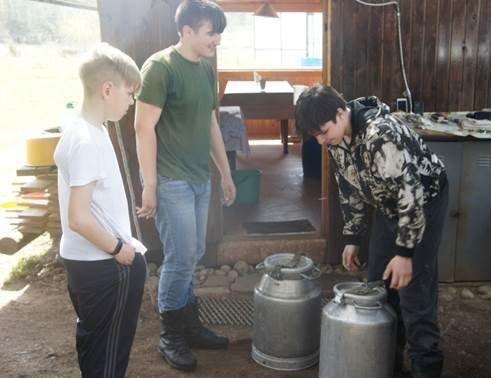 We have come back to the city after the summer camp season, full of enthusiasm and full of stories. We ran two summer camps, one for parents with teenage children, who were joined by members of our support group for young people who are about to, or have just left a children's home, and a second summer camp for parents with young children. Today, we'd like to report back on the first camp, and we will tell you about the second in a separate report to come soon.
So, we had four families with us and also four young people who have no family. We were expecting two more from this group, but one couldn't get time off work, and the other was taken ill before we left. Combining these two groups gave the young people a chance to see family dynamics at work before they even start their own family. We quite frequently do joint group activities, and it is something that interests everyone. The young people who took part are amongst the more committed from their group. They had even come out to our summer camp base in the spring to help get it ready for the camp, and they continued to work on its maintenance alongside our other activities.
As it turned out, three of the families had a very similar background. The mothers had also had their first child when they were young – 17 or 18 – with their first husbands. At first the child had lived with their husband's relatives while they finished their studies. In some cases this had continued until the child was four or five years old. Zhenya's story shows some of the difficulties this can create:
"My son, Sasha, is 14 now and we have been members of the support group for two years now. This year, as well as the group sessions, we have also been going separately to individual sessions with the psychologist. I don't know how we would live together if we didn't have this help. I have got a new family now, I had a daughter who's 5 now. Sasha is always trying to go back to my first husband's relatives in the village where his grandad brought him up. He is very fond of that family and I don't understand it. It's very important to me that he has a good relationship with my husband and daughter. I feel very guilty about his early childhood, about not being there for him and it is difficult for me to maintain contact with him now. He is already a teenager and he doesn't need the kind of care he did in childhood. He needs something different, and it's difficult for me to understand what. When we're talking he clams up, and then I do the same. I realise that we need help."
During some of the creative activities, Sasha was able to use some of the skills that he picked up from his grandfather in the village. It's very unusual for a city boy to know how to use an axe or how to make a fire. Zhenya was able to appreciate her son's skills and it helped her to begin to accept the importance of Sasha's other life with his grandparents and to make space for these relationships in their life.
The camp provided an opportunity for all the families to work on their relationships and to become closer. Tonya said, "Although I try to be close to my son, I understand how little I know him. Here, I could see that I don't relate to him in the right way – I just make it look like I'm listening to him, but really I don't take his opinions into account. Now it's clearer to me why he can be really happy with other people, but his mood changes when I'm around and he tries to avoid me. I looked at my behaviour and I realised that I criticise him constantly, re-do things he has done and the result is that he doesn't trust me."
Our families set such a good example for the young orphanage-leavers. They showed that family life is not always plain sailing, but that families can stay together and work to improve their relationships. We are very proud of the progress they have made. Thank you very much for helping us fund this valuable opportunity for all our families.