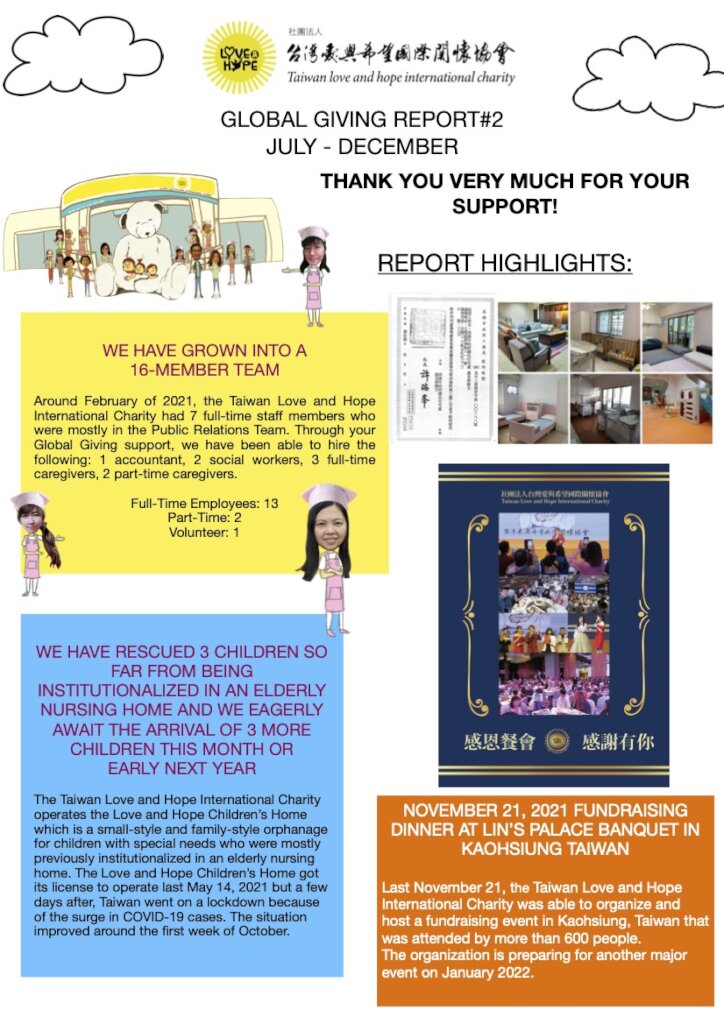 Around February of 2021, the Taiwan Love and Hope International Charity had 7 full-time staff members who were mostly in the Public Relations Team. Through your GlobalGiving support, we have been able to hire the following: 1 accountant, 2 social workers, 3 full-time caregivers, 2 part-time caregivers. Our team is growing and positioning us to be able to provide the best services and love to the marginalized children in Taiwan.
Our goal is to be able to find the right persons in strengthening our team.
The Taiwan Love and Hope International Charity operates the Love and Hope Children's Home which is a small-style and family-style orphanage for children with special needs who were mostly previously institutionalized in an elderly nursing home. The Love and Hope Children's Home got its license to operate last May 14, 2021 but a few days after, Taiwan went on a lockdown because of the surge in COVID-19 cases. The situation improved around the first week of October.
Your support helped us survive and even thrive during the lockdown in Taiwan.
Last November 21, the Taiwan Love and Hope International Charity was able to organize and host a fundraising event in Kaohsiung, Taiwan that was attended by more than 600 people.
The organization is preparing for another major event on January 2022.
We hope for your continued support as the Taiwan Government is requiring the organization to produce a NT$10,000,000.00 bond by February 2022 if it wants to continue operating in taking care of children with special needs and disabilities. Initially, the government asked for a NT$30,000,000.00 bond if the intention was to serve at a national level. It was reduced to NT$10,000,000.00 which allows the organization to be recognized as a foundation registered to a particular city in Taiwan (not for the entire country). We really need your support and feel free to email or contact us to inquire about this.
Links: