Project Report

| Mar 16, 2017
Operation Purple Family Retreat in the Tetons is a MIlitary Family's "Rest Stop"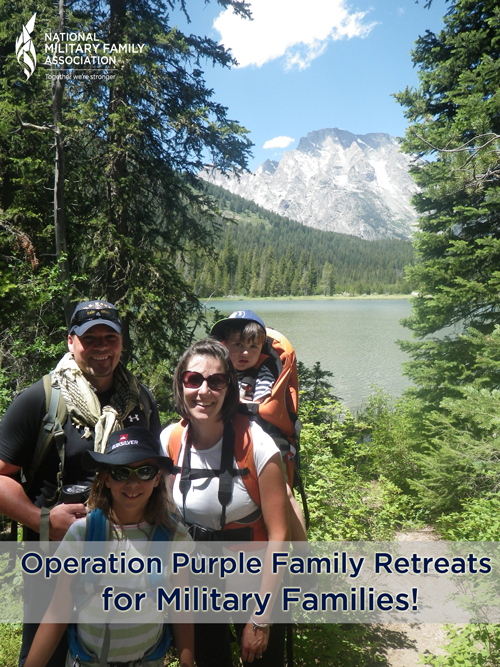 There are a wide range of emotions that happen after a service member returns home from deployment. Reunions are filled with excitement and joy that overwhelms the house, leaving a 'honeymoon feeling' that can last for days, weeks, even months.
But after the excitement settles, reintegration starts. This can be a long hard journey; it's like the best road trip you ever took with your family. In the beginning, everyone's excited, but two hours in things get rough and everyone keeps asking Mom, "Are we there yet?" Dad is telling everyone to settle down, kids are pouting in the backseat, and before you know it, this once fun road trip looks like an upset, stressed out family that needs a rest stop.
Operation Purple Family Retreats® at Teton Science Schools is that rest stop. Families drive from all over the country to reunite and reconnect at this family retreat. The best part is that families get to come together in the Grand National Teton Park doing activities they have never done before, seeing sites together for the first time, and enjoying time with one another in a place where they can stretch out and be a family after a long journey. They make new friends with other families, just like them, and get to celebrate what makes being a military family so special.
With amazing views that house beautiful wildlife and mountain ranges, our Operation Purple families build bonds with other families going through the same stressors of being a military family. These families all understand what it's like to be military service member, a military spouse, and a military kid.
At Operation Purple Family Retreats in the Tetons, military families will go on hikes through the Tetons, sit in a raft and float down a river seeing beavers, eagles, and sometimes a moose (if you're lucky)! In the winter, families go cross-country skiing and snow shoeing, and will get one-on-one attention from trained outdoor educators. All while learning resiliency skills from trained licensed professionals.
The best part of Operation Purple Family Retreats at Teton Science Schools is the bond and recharge the families have at the end of camp. It's a week-long retreat, but in the grand scheme of things, it's a rest stop on their reintegration road trip. Operation Purple Family Retreats can be any military family's break to stretch out, relax, and get everyone excited for the road ahead.