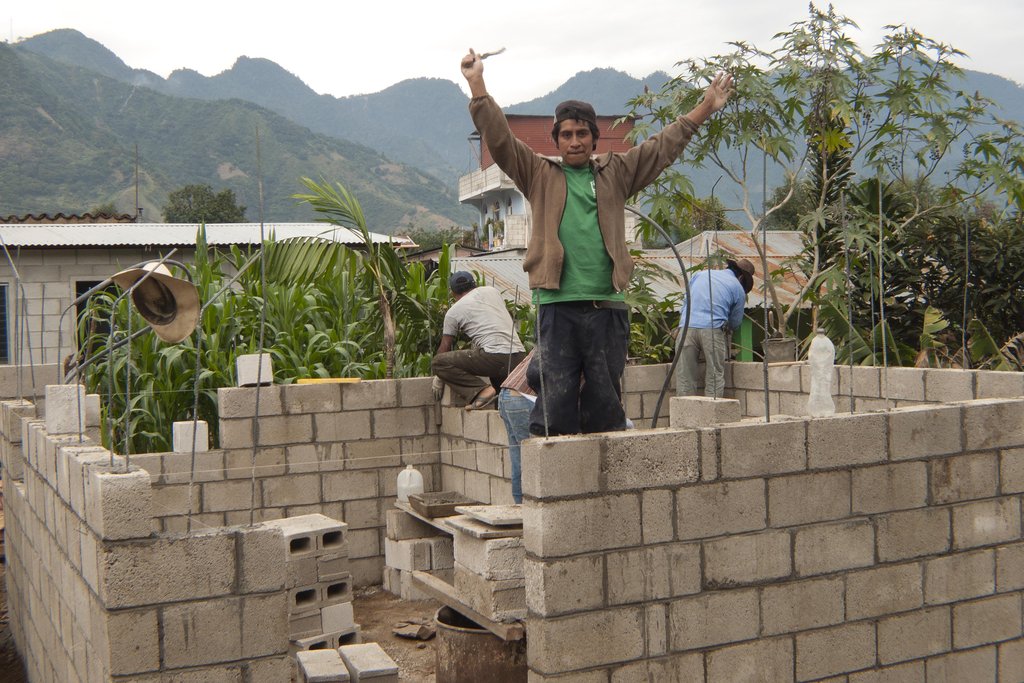 With over 20" of rain falling last month, those families enjoying the healthy comfort of new solid floors send their gratitude. To date 57 families in San Pablo La Laguna have benefited. When the skies cleared some, we took a break from the floor project to help 6 families in immediate need of roofs. In most cases these were entire rebuilds of all the timbers as well as the corrigated panels. More floors are planned for August.
In other GHA news, we have created a music program that is serving over 400 children weekly in the community of Pasajquim. The following works are all taking place in Pasajquim, a much neglected community of about 1800.
We also just this week finished our 15th house build, this one being in Pasajquim and with the help of teenagers who are touring Guatemala with Walking Tree Travel. We love to see young people, exposed probably for the first time, react with grace and generocity.
Also this year, under the GHA mission of education, we developed a beading program that benefited 10 single moms who now have a livelihood and with the tutorage of our director, Miriam Navichoc, have created a cooperative.
Through a GHA alliance with Centro Maya, now the handicapped children are getting the help they have long needed, with therapists coming weekly to the community.
57 children benefit from GHA provided scholarships this year.
Be on the look out for an upcoming fundraiser to provide 'summer school' in Pasajquim. Currently even the tiny, malnourished library in that town closes down for the 2 vacation months, November and December. This year will be different, with reading hours, music lessons, science experiments, crafts, art and stories told by the community's elders
We are a young organization, encouraging communities to define their needs to us, and we are very proud to stretch our donor's money so significantly.
Thank you.