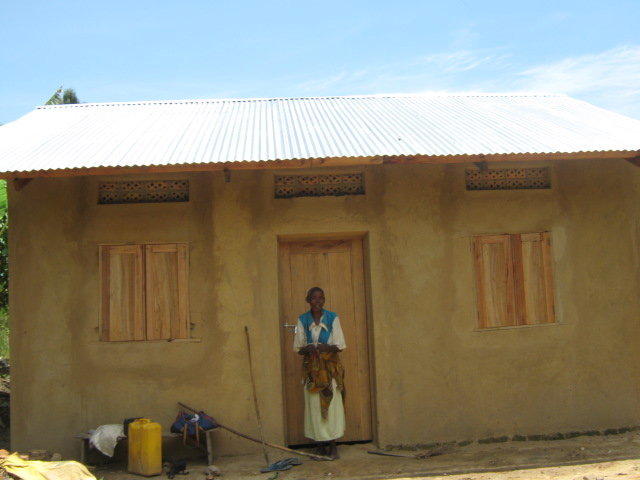 This month I wanted to share with you the power of your gift to a woman who lives near the village I grew up in. It is only through your generosity and others like you that we can continue to provide hope and care to the elderly in this
world like Mukaaka (grandmother) Dinah. Thank you!
"When my case manager asked me to explain how I felt about my new house, I cried from deep in my soul, as I couldn't find the words to describe how happy I am today. Before my new home, whenever it rained in the middle of the night, I would wake up together with my 12 year old grandson and seek shelter in the neighbors' verandah, as my very small poor grass thatched leaking house, had no kitchen or pit latrine. One time my grandson and I had collected grass to repair the roof, but the young boy was unable to put them on the top of the house and I am too old to climb up. I asked my neighbors for assistance, but they had too many problems themselves to help me. However, The Nyaka AIDS Orphans Project came to our rescue. I couldn't believe that I was going to get a real house until I saw a lorry carrying sand, cement, and iron sheets to my little plot of land. Now I have a permanent house, an indoor kitchen, and a pit latrine. My life has greatly changed and the best part is that my granddaughter who had left home due to poor conditions is back living with me! Thank you Nyaka for saving me and my little family I'm caring for during the sunset years of my life!" Nyamijumbi Dinah, is a 62 year old of Nyabirehe village in rural southwest Uganda.
Truly we say – the best is yet to come!
Links: