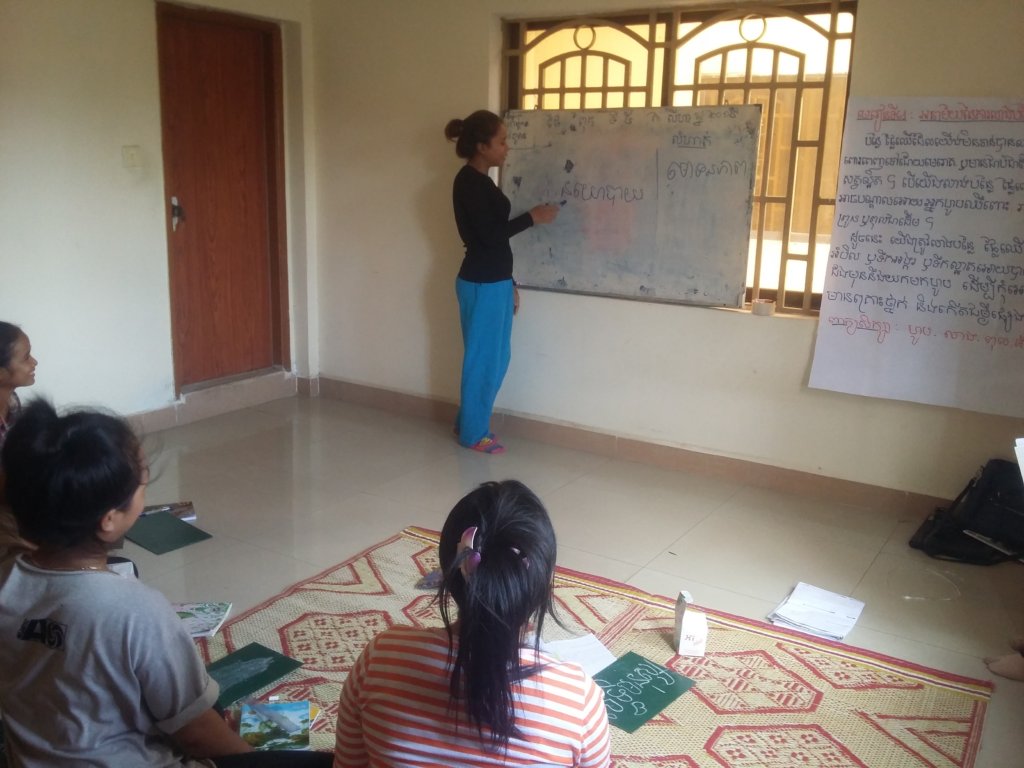 Lotus Outreach's Non-Formal Education (NFE) program serves over 100 young women working to escape sex-work and harsh labor by learning basic skills like literacy and numeracy, in addition to skills like sewing, food service and cosmetology. Beyond skills and education, these girls and young women gain a new found self-confidence. Here is Muon's Story:
Muon is 24 years old. She was born in Prey Lich Village, Ahcha Leak Commune, Steung Sen District, Kompong Thom Province. She is the youngest among her 5 siblings (2 girls and 3 boys). When Muon was young, her parents got divorced. Her father eventually remarried and her mom passed away when she was in 8th grade. Muon has lived with her Uncle on her mom's side who has four children. Muon's uncle was very poor so she worked on the weekends to save money to buy her school uniform and materials. She often helped her uncle farm after school.
Once she had lived with her uncle for 4 years, she was sent back to live with her father because her uncle could no longer afford to feed her. While living with her father she had to sell vegetables at market to earn the means to support her education.
With all the struggle and difficulties Muon had been through, she successfully graduated high school in 2013. Without support and guidance after graduating, Muon ended up working in a beer garden as a hostess in Phnom Penh. She was told by a neighbor who had worked in the beer garden that she could earn $100 + tips. Women who work in Beer gardens make a good salary but are also pressured to make arrangements with men. Muon said that before working in the beer garden, she didn't know the nature of the work. Muon just wanted to be able to make enough money to support herself.
When Muon first started the work, she was very shocked that she was made to sit and drink with customers to entertain. She was approached for sex often, but always refused. Still, she was physically and verbaly harassed everyday. Although Muon disliked her job, she didn't know that she had other options. She continued to stay in the business until one day her friend (NFE graduate) told her about NFE program. Muon was told that it was not just about learning to read and write (something that didn't interested her because she already graduated high school) but also about health issues, life skills, setting goals, skill training such as tailoring, beauty skill and cooking etc. Having heard that, she decided to enroll in NFE program in April 2015. Muon started taking classes and she found out that she really enjoys both literacy and sewing classes.
Eventhough she graduated high school, she still finds the NFE program very useful and interesting. The subjects are much more relevant and more practical than what are being taught in the curriculum of formal education. Muon lives 2kms from her NFE/sewing class so the program has provided her with a bicycle so that she can continue to study and do skill training.
Since she joined the program, Moun has been studying very hard. She is only working one shift at the beer garden now and dedicates the rest of her time to learning literacy and doing tailoring skill training. She hopes to have her own tailoring business in the future so that she doesn't have to continue working at the beer garden. She wishes to recontrsuct her life so that she never has to face the men at the beer garden who take advantage of her.
She is very happy having joined the program as she has been receiving great mentoring from the programs officers and teachers. She feels the warmth and care the program staff and is very happy to be in a positive environment. Most importantly, Muon is starting to form a plan for her future and how she will achieve it. She would like to express her gratitude to the program staff and the donors, without whom she wouldn't see light of her life and future.