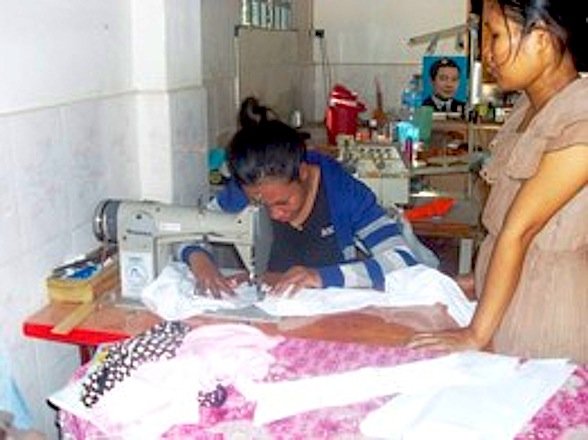 In the red light districts of Phnom Penh, Cambodia, the perils of the sex trade abound, and there are few chances for economic advancement. Cambodia's chaotic history has turned it into a notorious destination for sex tourism, and Phnom Penh is the epicenter of it all. Here, karaoke bars and restaurants serve as fronts for brothels where the employees serve Cambodian men and tourists mostly from the United States and Europe.
In this once desperate area of Phnom Penh, young women are studying and working with the inspiration of a new hope. Tieng Sophy is 20 years old and currently enrolled in Lotus Outreach's Non-Formal Education (NFE) program. She is learning the technical skills to be able to work in tailoring and escape the degrading work of Cambodia's red light district.
Sophy was born in the Tuol Kpuos Village of the southeastern Svay Rieng Province. Tragically, by the time she was 10 years old, both her mother and father had passed away. Following her mother's death, Sophy lived with her 6th sister and advanced only to the 5th grade.
She acquired some experience in sewing and came to Phnom Penh in 2009 to work in a garment factory. Dire circumstances faced by so many women her age led her to start working at a karaoke bar in the Sen Sok District. Fortunately, she discovered another karaoke bar where Lotus Outreach's NFE class was running and found a new chance to pursue her dreams!
Sophie joined the NFE class in January, 2013 and is currently bolstering her sewing skills through a special skills training. She was selected for the training because of her hard work as a student and her previous experience with tailoring. Sophy is very happy with this new opportunity and dreams of returning to her home town to run a sewing shop and grocery.
Nearly 700 persons have been enrolled in Lotus Outreach's NFE classes, and less than 4% of graduates return to work in the sex trade. Many move on to further their skills in cosmetology and tailoring and acquire much-sought-after positions in garment factories and beauty salons.
Non-Formal Education not only gives young women a chance to move out of exploitative karaoke bars but also creates develops the economy and creates job opportunities for other people. Students of the NFE program have gone on to start their own businesses which employ other Cambodian women and men. One such graduate started a business which now employs over 100 people!
Education is the cornerstone of any economy, and it's the center of Lotus Outreach's development strategy. Women who are educated and economically empowered are more likely to invest their money in their children's health and education. The long-term impacts of educating women reverberate throughout the community and through future generations.
Links: