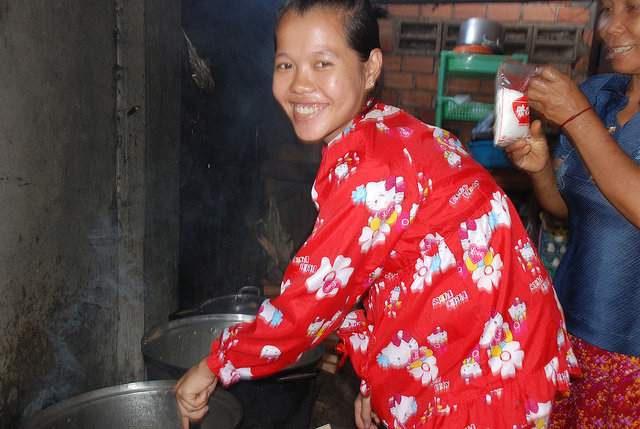 Srey Mach demonstrates the importance of Non-Formal Education benefits that cannot be measured, like confidence, as well as the close bond that NFE students develop with project manager Sokhorn. Although she finished the course in 2007, our staff is still in touch with her and easily arranged an interview during our visit in December.
"The NFE course had a profound impact on my life journey," says Mach, who is now married and eight months pregnant. "Before NFE I was aimlessly going from one thing to another. The course helped me to think for myself, taught me how to set goals and to understand what steps were required to reach them."
Mach, just 15 years old in 2007, was struggling to help pay off her family's $2,000 debt through the only work she could find at a seedy karaoke bar in Phnom Penh. She heard about a new program called NFE and decided she had to make time for it. Focusing primarily on math and sewing skills, she was able to qualify for a position at a garment factory, which she found with the help of Sokhorn.
"I needed to find acceptance and be valued," says Mach, "and I realized I would have to achieve my goals to win that."
A career change was the first of many goals Mach has since set and achieved for herself. She worked and saved at the garment factory for a year before returning to her home village at Odor Meanchey to set up a food stall with her mother. Eventually, though, the $100 monthly rent for the premises proved too burdensome, and they closed it.
Mach returned to Phnom Penh for long, hard hours at another garment factory, but she was able to recover from the food stall setback. Today she still works in the garment business, but closer to home where she is able to help her mother run her new restaurant. This time, they're using space owned by a relative, and rent is more manageable. Her mom clears $140 a month, and the family eats their meals there, as well.
Mach's earnings have increased, too, from $100 to anywhere between $140 - $160 a month. Her sister, Raksmey, who also completed the NFE course with her, is making almost the same. Always reinvesting in her future, Mach recently spent $150 on an advanced tailoring course and she has already started selling her own clothes.
"I now plan to do more tailoring training so after the baby is born," says Mach. "I can make the very best clothes I can and will continue to help my mother's business."
There's no reason to doubt that she will succeed. Together in the last five years, the three women have paid off the family debt, sold their house and bought a plot of land, built a new house and just recently bought a motorcycle. After recounting everything that has changed in the last few years, Mach remarks, " I feel that I have now achieved the recognition I was looking for, and feel proud of myself, who and what I am."
Current NFE students we met the day before told us that for the first time they could think and analyze for themselves. They felt they had been given a rudder to steer through life, where before they were floating aimlessly. We hope you share our enthusiasm at having given such an opportunity to Srey Mach. You are providing the same chance to dozens of others today through your generosity. Thank you for believing in this project!
TODAY ONLY!
Your donation can be matched 30% TODAY! GlobalGiving put up $50,000 in matching funds at 12:01 am EST, Wednesday March 14 to give your charitable contribution to our cause an extra boost. Check out how your donation today will grow:
$10 = $13
$50 = $66
$75 = $100
$150 = $200
What's more, for this first Bonus Day of the year GlobalGiving is awarding $1,000 to the project that raises the most money and another $1,000 to the project with the most unique donors. This is exactly how you won GlobalGiving's Girl Effect Challenge for our Blossom Bus project last October, and we know you can do it again!
But remember, once the $50,000 in matching funds runs out, the contest and bonus boosts are over. So to make sure you snag that extra 30% AND put us in the running for the $1,000 bonus money, submit your donation now!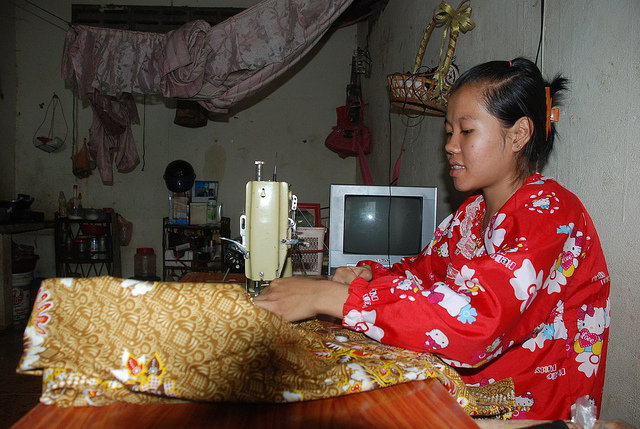 Links: