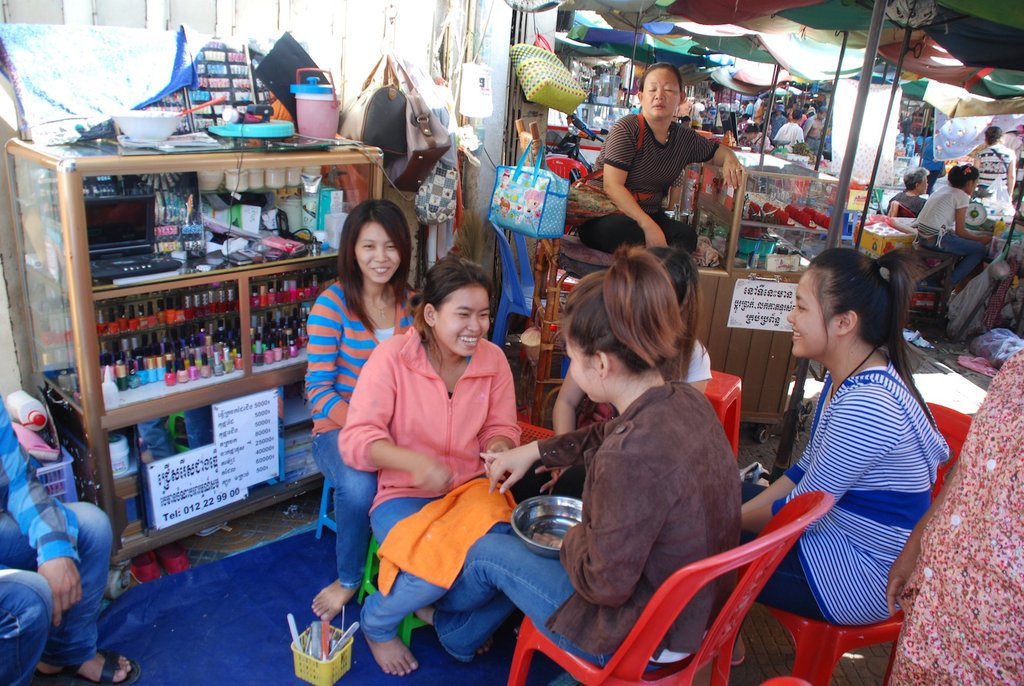 This month our team visited NFE graduate Srey Leak ("lee-ack") at her new job as a beautician in Phnom Penh's riverside Old Market. Formerly a karoke bar worker, Leak completed NFE in 2010 and in 2011 was one of five graduates to receive additional beauty skills training from the program. LO Director of Field Operations Glenn Fawcett describes the observable change in Leak's appearance:
"I remembered Leak's apparent sadness and lack of energy on the many occasions we met during our visits to the karaoke bar where she lived, and could hardly believe how happy and easy going she is now," says Glenn. "Her happiness to be away from her former life, where she was prone to abuse and exploitation, and to now be among good friends that nurture and love her is so apparent - the transformation is extreme."
During the visit Leak laughed often with her co-workers, and her boss, Pov described the atmosphere: "We all love each other very much." There is little reason to doubt her sincerity – in addition to full-time work and a living wage, Pov provides Leak with free training in nail design.
What's more, Pov has invested heavily in a training course in Hong Kong, and is saving to open up her own training school. It's clear that Leak has landed in a positive, future-focused environment where she will have room to thrive, living on her own terms.
"I will continue to add to my skills," says Leak. "I plan to open my own small business in this market, maybe on this very spot when Pov opens her training school."
While Pov partially hired Leak out of pity for an orphaned young woman trying to make a better life for herself, Leak wouldn't have been a viable candidate without the training in hair, nails and make-up she received from NFE.
Bridging the small gap in education and training to make these women marketable in their communities is precisely what NFE is designed to do, and it makes us incredibly happy to see this come to fruition in a case like Leak's. Thank you so much for making these happy endings possible!