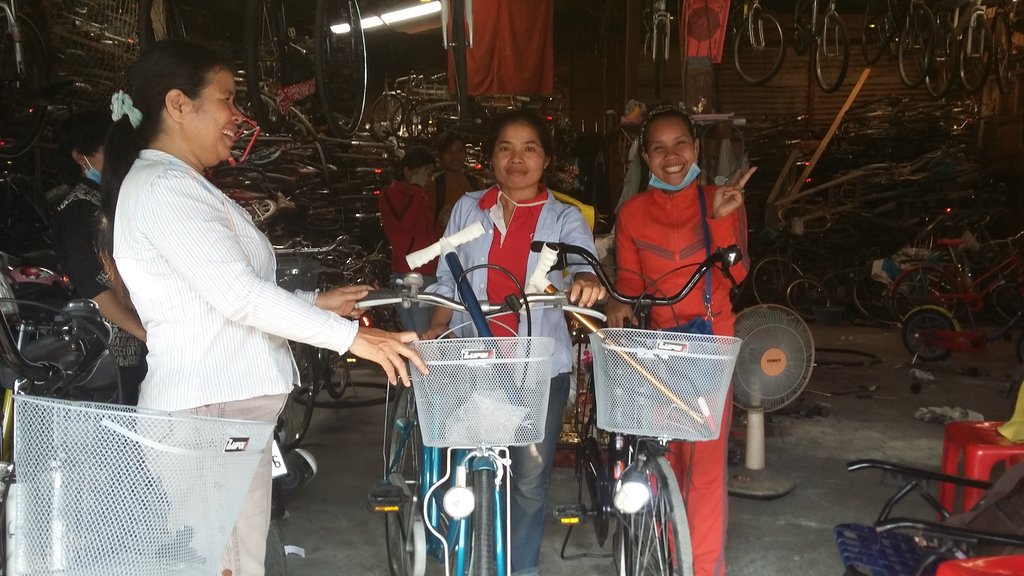 The following story explores the success of Lotus Outreach's Non-Formal Education (NFE) program and the way it has impacted a Cambodian women's life. The women who are a part of NFE are survivors of urban sex working and are seeking to escape the Cambodia's commercial sex industry. NFE provides education and vocational training to 130 sex workers and their children for 2-3 hours, 5 days a week for 1 year. With this training, 75% of the NFE students leave the red light districts for jobs or peruse further educational training.
Sreynan is 29 years old. She was born in Banang Village, Ratanakmondol District, in Battambang Province. Sreynan is the youngest among 3 daughters of the family. In 1997, Sreynan's mother got seriously sick and passed away, so Sreynan had to drop out at 7th grade to raise pigs at home to help support her family. Three years later she left her hometown to come to Phnom Penh City with her neighbor to work in a garment factory. She made $70 per month including over time.
After working in the garment factory for 10 years, Sreynan was introduced to Karaoke work by a friend.. She was told that the work was easy—working less hours just serving ice and playing disc— and she could get tips. Since she often got scolded by the manager at the garment factory, she decided to follow her friend to work in Pipop Rikreay Karaoke and got $60 per month as a fix salary. However, after working there for only 15 days, she quit. Karaoke has long been a standard camouflage for sex services. Sreynan expressed that she didn't like when men would enter the room with out her permission. When calling home to her family, she would say that she was working at a garment factory.
Following that job, she got another Karaoke job with a basic salary of $70 and could earn around $10 tips per day. Working there she still had to put up with guys' mistreatment (physical and verbal harassment). After leaving that job, she ended up at another Karaoke job and met our NFE project officer who was promoting NFE in hopes to inspire more students. Sreynan was inspired by the NFE project officer and wanted to work towards a brighter future.
Sreynan wanted to improve her reading and writing skills because since dropping out of school in the 7th grade, she had forgotten almost all of her school skills. She also wanted to be able to do some math, especially division and multiplication, so that she could develop skills for sewing. She enrolled into the NFE program at the end of January and started sewing skill training (provided by the program) on April 22, 2015. She also received a bicycle from the program, which enabled her to go to her skill training that is 4km from the NFE class she is attending.
When being asked about how she felt about program, Sreynan answered "I feel very happy because I am now able to do more math, I'm acquiring the skill that will make a big change to my future, and I am cared for—the program takes me to hospital when I am sick and consults me when I have any problems."
When asked if she's noticed any changes in herself, Sreynan answered "Yes, many things. I started to think about future and how to live a better life which I didn't before; I have a better saving plan—allocating certain percentage of my earning for saving rather than saving what's left at the end of the month; and I am motivated to continue to struggle and strive for a better future." She added "I think the program is very useful. It helps women to become stronger, more independent (not having to rely on men) and having skill to support ourselves, so we don't have to do the work which was filled with guys harassing us and excessive alcohol drinks."
Sreynan is thankful for the wonderful changes she has experienced thanks to the NFE program and the program donors who are continuing to support her towards her happy, healthier life.