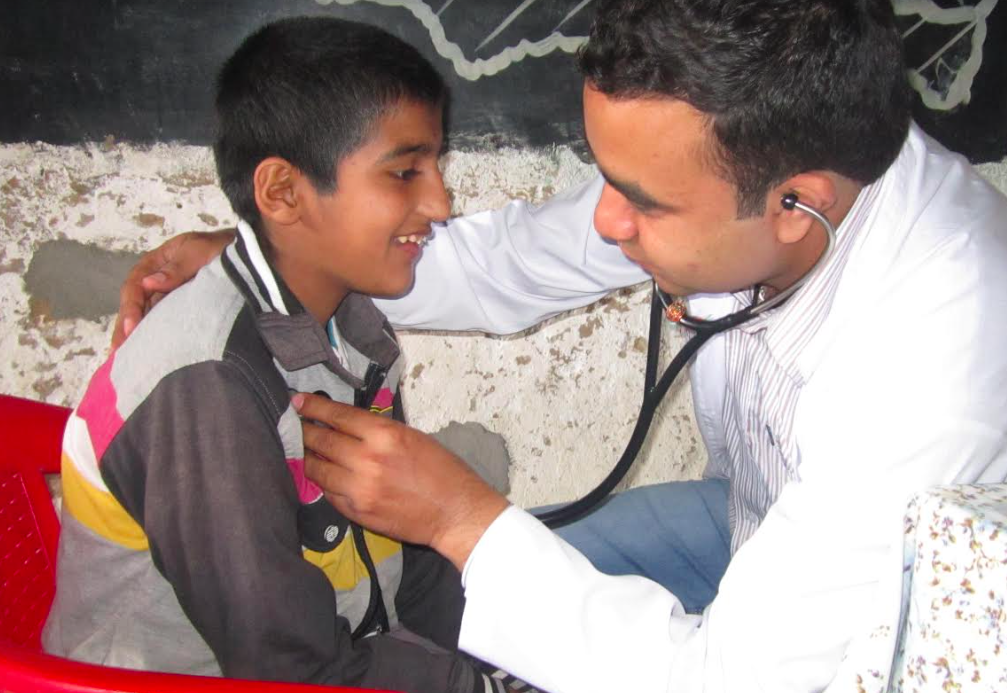 This February, Himalayan HealthCare (HHC), in collaboration with AmeriCares, handed over the completed Chhatredeurali health post to the District Health Office in Nepal's Dhading District.
Following the devastating 2015 earthquakes, HHC and AmeriCares have been collaborating on the repair and reconstruction of eight health posts in rural Nepal, including Chhatredeurali, and the Dhading District Hospital. The structures are being retrofitted to make them more resistant to seismic activity and to minimize the risk of injury in case of future earthquakes.
The Chhatredeurali health post will serve a population of 7,690 people. The handover ceremony in February follows the completion of the Bhumisthan Health Post in 2016.
In addition to our earthquake relief and recovery work, HHC has continued with our core health programs, including several health clinics carried out in Northern Dhading and Ilam.
In December, in Ilam, HHC conducted a medical camp at the Shree Ambar Higher Secondary School for children with mental disabilities. A total of 67 students were treated from area schools, including 17 mentally disabled youth between the ages of 11 and 22.
HHC conducted educational workshops with the students and caregivers about personal hygiene, safety during recreational activities, first aid and overall health awareness. All patients were given a general check-up and HHC treated several upper-respiratory tract infections, musculoskeletal pain and a self-inflicted lacerated wound.
The following medicines were provided free of charge by the Ilam District Hospital: Syrup Cefpodoxime; Syrup Cetrizine; Syrup Cifixime; Syrup Ibuprofen and Paracetamol; Syrup Ampicillin and Cloxacillin; Ointment Polysporin; Doclofenac Gel; ear drops and eye drops; Tab. Ciprofloxacin; GammaBHC; Betadine solution and AlMgOH.
In January, also in Ilam, HHC treated 109 patients in a free medical camp coinciding with an annual festival called Maibeni Mela. The timing took advantage of the fact that community members had already travelled long distances to Ilam to participate in the festival celebrations.
In November, in Northern Dhading, HHC treated 590 patients, including 73 children, at its Borang Eye Camp in Shertung. More than 200 of these patients were treated for cataracts.
HHC was assisted by over 50 local volunteers who went door-to-door helping HHC to identify patients in need of care, and helping to get the patients—many of whom were elderly—to Borang. With no road access, many of these patients had to be carried for more than a day to reach the HHC medical camp.
In addition to cataracts, HHC treated patients for more than a dozen complaints, including presbyopia (farsightedness), corneal opacity, conjunctivitis, ocular allergies and corneal ulcers.
The local community supported the patients by providing blankets, hot water and care for patients.
HHC is grateful for the team of Nepali doctors, health providers and volunteers who came together to assist our village supervisors, field coordinators and other local staff in helping us to treat nearly 800 patients who otherwise would not have had access to medical assistance.
We are also grateful to AmeriCares for supporting the reconstruction and repair of Dhading District's health clinics, and for the Chhatredeurali health post management committee, representatives of local political parties, television reporters, health providers, volunteers and local community members who came out to support the handover of the health post.
Finally, we are grateful to our donors like you who have helped us to bring life-saving healthcare to hundreds of thousands of people in rural Nepal since 1992.
Thank you for your support,
Christina