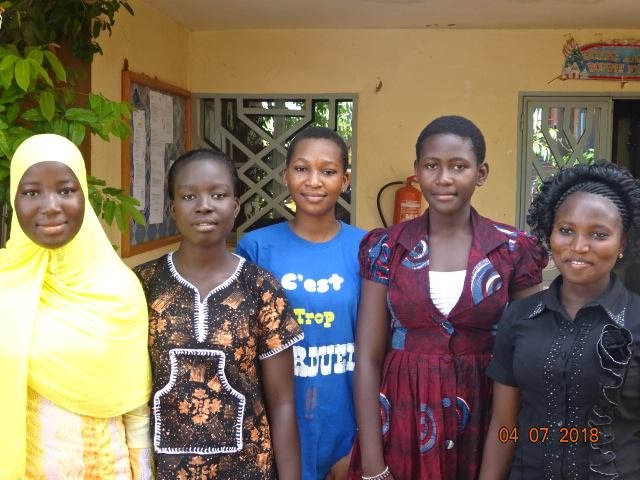 "Education is the basic human right of every girl. Once you educate girls, you change the whole community, you change the whole society." Malala Yousfzai, 2017 UN Messenger of Peace.
The right learning environment - committed teachers and a modest noon meal - contributes to academic success among bright village girls in Burkina Faso!
Thanks to your support for a noon meal at the Lycee Modern de l'Amitie (LMA, the combined middle/secondary school or girls in northern Burkina Faso), 72.5% of middle school students have passed national year-end exams, qualifying them to go on to secondary school, compared with 43.9% of middle school students region-wide.
The top grades in the entire region were earned by the five girls in this photo. The top student was Ruth (second from the left), who scored 100% in math and hopes to study engineering at the university. Close behind was Aida (third from the left) who hopes to become a physician and serve the country's health needs. Both young women credit the quality of instruction they received, along with a noon meal, as motivating and enabling them to work hard.
These are the faces of future women leaders in Burkina Faso. Your support for modest lunches (rice, beans and spaghetti – the main meal of the day for most of the students) gives these girls the energy and encouragement to work hard through the heat of the day.
As the fall semester approaches, we want to ensure that the village girls attending this school have the basic conditions necessary to succeed. Your support for noon meals is crucial and very much appreciated!